In his news conference head coach Ryan Day said the first playoff rankings are great for building fan interest, but that this is the time of the season to avoid slip-ups and to play championship football.
Columbus, OH – There are five weeks remaining in the season, including conference championship games, before the College Football Playoff committee decides which four teams receive the coveted golden tickets to the only post-season games that matter.
Anyone knowing anything about the game at this level understands that the first week's rankings don't mean much to the tortoises who are outside the top spots pursuing the hares.
No question, Ohio State head coach Ryan Day was sitting in front of the widescreen television watching the rankings show, but he wasn't feeling as if it was fourth-and-one on the goal line against Michigan in the fourth quarter.
What he saw was the Buckeyes receive the No. 5 ranking behind, from No. 1 through No. 4, Georgia, Alabama, Michigan State and Oregon.
"I don't really say much about it (to the players),'' he said at noon Tuesday. "I mean, I know it's great for college football and everybody likes to talk about it. But nobody talks about who was ranked in week eight, nine or 10. They always talk about where it was at the end of the season. If we want to be ranked, we have to keep winning.''
The Buckeyes (7-1) have opened as a 15-point favorite to defeat Nebraska (3-6) on Saturday. Kickoff is at noon at Memorial Stadium in Lincoln.
Of course, Day built up the opponent. This time, he had every right to say glowing things.
The Cornhuskers have lost six games, but none has been by more than eight points. They lost 23-16 to fourth-ranked Oklahoma, 23-20 in overtime to fifth-ranked Michigan State and 32-29 to ninth-ranked Michigan on a field goal with 1 minute, 23 seconds left.
The previous two weeks they lost 30-23 to No. 20 Minnesota and 28-23 to Purdue.
"I have watched the film and this is a very good team,'' Day said. "On both sides of the ball, they are very good. I think they are 27th in the country in scoring. They played that team up north tough, they played Oklahoma tough and they played Michigan State tough. I've just been very impressed with them. Just like every game in the Big Ten, when you go on the road it's going to be a battle. This is truly like March Madness. If you win, you move on.''
This is what he told his players: You can look at the record, or you can watch the film.
With regard to the national scene, Day said "a lot of things have happened this year, and we can't let that happen to us.''
Day said he thinks the players realize they have a chance to be special.
"Just the day to day, I've been impressed with how they these guys have approached practice, how serious they approach their preparation,'' he said. "I think this team likes football. Now, we've got to prove how serious in November because this is when championships are won.''
The Buckeyes are coming off their toughest ballgame since a 35-28 loss to Oregon in Week 2, and Day said a 33-24 win against Penn State on Saturday was ugly, but that it said a lot about the team's grit.
RED ZONE OFFENSE MUST IMPROVE
What helped the Nittany Lions stay in contention so long was Ohio State scoring one touchdown on six possessions in the red zone.
Place-kicker Noah Ruggles was chosen the Big Ten co-special teams player of the week for kicking four field goals, and no one wants him to become a repeat winner because of red zone flops.
Slot receiver Jaxon Smith-Njigba was the only offensive player to be a champion, meaning he was in for at least 15 plays and graded more than 80 percent.
No player was selected offensive champion of the week.
"We can try to make people feel better, but that's not the way this game works,'' Day said of grading.
Penn State's opponents scored seven touchdowns out of 23 red zone opportunities before playing Ohio State.
But, Day said, his team's execution and schemes weren't up to snuff.
"I think you have to be able to win down in the red zone running the football,'' he said. "If you want to be able to win championships, you have to be able do that. We didn't do that well enough down there. Three- and 4-yard gains have to turn into 5 and 6. We've done a really good job of throwing down there and we've got to do a better job of running it.''
A false start on true freshman tailback TreVeyon Henderson on a fourth-and-goal at the 1-yard line in the third quarter forced the Buckeyes to bring on Ruggles for yet another field goal.
Day said a 5-yard penalty in the red zone "feels like you are a mile away.''
There were faults, he said, with the team's scheme, but that the execution was not good against Oregon and Penn State in scoring territory.
Penn State's pre-snap movement, Day said, threw off the offense at every spot on the field. Center Luke Wypler had two snap violations, tackles Dawand Jones and Nicholas Petit-Frere had one on the same play and left guard Thayer Munford and receiver Chris Olave each had one.
"I can't sit here and think there was one thing that got us out of whack,'' Day said. "There was nothing else in particular that we could point to in that area other than lack of focus and discipline. Usually if a guy false starts or something, we have them run a lap (in practice). We're all over that. We haven't had many of those issues. We'll be all over that this week.''
TARGETING PENALTY MUST CHANGE
Steele Chambers, who has gone from being a backup running back to the best linebacker on the team since spring practice, will have to sit out the first half against Nebraska for a targeting call on quarterback Sean Clifford.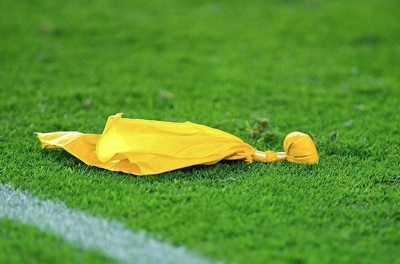 What bugs Day is that Chambers was penalized on the first play of the second half.
Had he been flagged the last play of the first half, he would have been available for the entire Nebraska game.
"It has really brought light in my eyes that there's some inequity in the rule,'' Day said. "When you do it shouldn't be the determining factor on how the penalty is assessed."
He is all for making targeting a 30-minute penalty.
Yes, Chambers did make helmet-to-helmet contact with Clifford, but it sure looked to be a love tap at best and unintentional.
"I just feel like in real time, it's a very difficult call," Day said. "If you're Steele in that spot, if someone's full speed at you, then goes down to their knees, in real time that's very, very difficult. I think the rule is in place for the right reasons – to protect our players – so for that, I absolutely support it. But I also think that there's a difference between what's going on in real time and what's shown on the replay. That's the challenge that our referees are faced with, and it's not easy, don't get me wrong."