Week one of the high school football playoffs rendered a lot of predictable results, and questions relative to the future.  Are 16 teams too many?  And does anyone really care?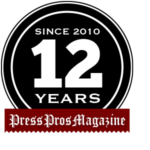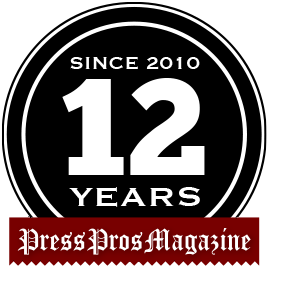 Monday morning the Press Pros mailbox (email) had 82 responses from readers from around the state – many with questions relative to Friday and Saturday's first round playoff games locally.
"How tough was Marion Local's first round opponent?"  someone asked from Lake County.
"I've been watching Versailles on Press Pros,"  said a reader from Butler County.  "How far do you think they can go?"
"You write a lot about Milton Union.  Indian Hills isn't a bad football team.  Is Milton Union that good?"  a writer from Cincinnati, where teams like Wyoming (beat Waynesville, 50-0, McNicholas beat Washington Court House, 48-13, and Bethel-Tate beat Schroder, 44-0) play.
Most I read and moved on, occasionally adding a score with a reply.  (Marion Local beat Twin Valley South, 41-0, Versailles beat Summit Country Day, 49-14, and Milton beat Indian Hill, 33-0).
But there were other questions, as well.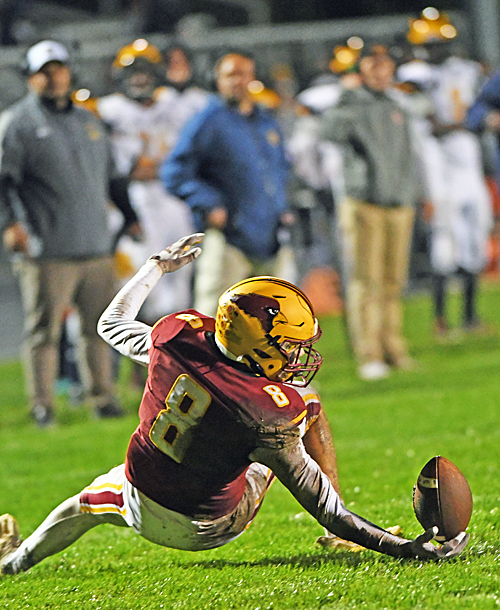 "I watched the Press Pros podcast.  Do you still think 16 teams are too many?"  wrote Russ from Scioto County.
No, I'm really not a fan, Russ, and I think some people left the stadium (if they went to a game) last weekend, disenchanted.  Frankly, from the Press Pros scoreboard on Friday alone, of the 67 results we posted 33 had a winning margin of five touchdowns or more – running clock in the second half.  Of the 129 we posted for Friday and Saturday, 20 had a winning margin of 42 points or more.  And frankly, a lot of those games shouldn't have been played.
Expansion was presented as an opportunity for more schools and communities to experience and appreciate the playoff experience.  But at Piqua's Friday game with Little Miami, by actual count Little Miami had no more than 75 people in the visiting stands (which seat approximately 4,000).
At New Bremen's Saturday game with Lockland, 26 people came from north Cincinnati to support Lockland.  If they all bought their tickets ahead of time it amounted to $260 for the OHSAA.  Granted, the weather was miserable, but except for the fact of winning and moving on to week 2, New Bremen might have lost money by hosting.
I asked Lockland coach Mike Tudor if he had any second thoughts on the expanded opportunity, and whether the game (51-0) was one he would want to play again.
"Sure,"  he said.  "Our kids just wanted a chance.  They were anxious to play."
Lockland only played eight regular season games, having lost three games to teams on quarantine.
But around the state there were many predictable results from #1s playing #16s.  Kirtland beat Harrison, 56-0.  Lakewood St. Ed. beat Lorain, 49-0.  Upper Arlington beat Thomas Worthington, 56-0.  Nordonia beat John Hay, 40-0.  All of those teams had sub-.500 records…in Division I, the big schools!  All told, about 75 teams got in this year with losing records.
Yes, there was one #16 that won, and some other surprises from #13 and #14 seeds, enough for some to justify it.  But pair of coaches contacted on Monday morning said they were aware of a competitive disparity, and their starters never saw the field after halftime, as it should have been.
Are 16 teams too many?  I guess it depends on what you think of 33 of 67 outcomes with a running clock.
But the most haunting comment came from a reader in Madison County.
"You you think anyone really CARE$?"  he asked.
That remains to be seen.  I'm not convinced there wasn't some second guessing on the Lockland bus on the way home.

Among the emails were a couple pointing out some issues with officiating over the weekend.
"I would think they'd try to get the most experienced guys they could find," wrote one.  "There were too many huddles to sort things out in the game I saw."
To that point I would remind again that veteran officials in all high school sports are becoming as rare as the Dodo bird.  Personally, I was delighted to see veteran Bob Juliano working Piqua's game on Friday night.  Bob's been doing it a long time, but a lot of guys from his era have hung up their whistle and the fraternity lacks the kind of experience that prevents those huddles from happening.  Guys like Mike Sims, Joe Duncan, Roger Smith and Chet Roberts have all quit working.
To another point brought to my attention, someone sent a photo of another official with this question:  "Isn't there some requirement for physical conditioning with officials?  The guy I saw tonight would have gone 350 bills."
To the best of my knowledge conditioning has always been encouraged by the OHSAA, but nothing is mandated.  But that particular fraternity is growing (pun intended), as well, like the rest of our culture.
Maybe the best thing I saw over the weekend was long-time Piqua Athletic Director, Ed Purk, who was on hand in the rain and cold Friday night to be recognized (along with PHS athletic booster Cliff Alexander) for their years of service and contribution to the Piqua community.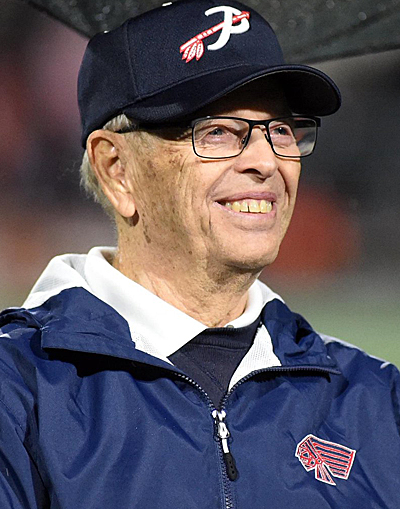 When my family moved to Piqua in 1965 Ed Purk was then a science teacher at Wilder Junior High School, on the staff with my dad, Tom Breeze, Dave Evans, Bill Parke, and Rhett Brelsford.  They were all good guys, and good teachers, but Purk always stood out to me as a guy who really enjoyed what he did.  After I graduated in 1970 he became the athletic director for Piqua, and held that position for many, many years until (I think) Dave Palmer took the position twenty years ago.  Palmer has since moved to Troy as their AD.
Purk was so highly appreciated and respected that the Piqua playing field is named for him.  And of course the stadium itself at Piqua is called Alexander Stadium, for the community and school support provided through the years by Cliff and Joyce Alexander.
Now 84, Purk still looks great and we shared some laughs and stories about those guys that once patrolled the halls at Wilder.  You didn't mess with them because you knew not to.
Sadly, there'll never be a collection of personalities like that again…because times have changed.  Ed Purk has not.
And I'm glad.