Hunter Schaefer ran for 123 yards and three touchdowns, and New Bremen's defense held Lockland to just four first downs in a 51-0 Division VII rout.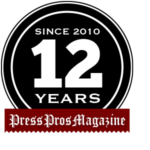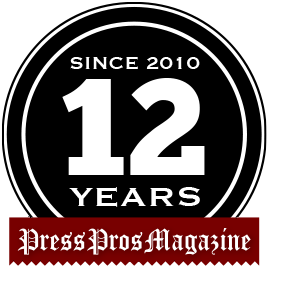 New Bremen, OH – It wasn't a classic, or hardly a thing of beauty.
What it was, however, was a playoff win and what New Bremen coach Chris Schmidt called afterwards…a chance to play one more game on the Cardinals' home field.
Staged on a muddy track in front of a sparse crowd, New Bremen parlayed 330 yards – 275 of it on the ground – into a 51-0 romp over an outmatched Lockland team from Cincinnati Saturday night, a team that made the long trip to Auglaize County with just 20 healthy players.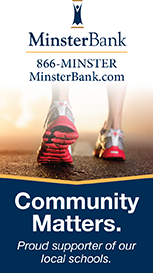 Afterwards Lockland coach Mike Tudor said, "We knew what we were getting.  It's hard to beat a good team that has 60 players with a team that has 20.  But our kids wanted to play and they wanted to compete."  No regrets!
New Bremen was a #7 seed, and probably even better than Tudor and the Panthers suspected, notwithstanding the Cardinals being the defending state champions.  Lockland was the #10 seed, and frankly, never had a chance, as reflected by the final stats.  They had just four first downs for the game, and a total of 80 yards gained – 90 on the ground, and a negative 10 through the air.
New Bremen resorted to what any good team would do under the conditions – they ran the ball.  Hunter Schaefer, the hero of last year's playoff run to a state title, carried it just 11 times, but he made them count.  He gained 123 yards, scored three touchdowns, and spent the night picking his way through blockers and the slop to gain his yards in big chunks.
Schaefer, who's not that fond of talking, or interviews, nonetheless stated the obvious.
"It's never fun when you can't cut or do anything like that, but the offensive line really opened up some holes for me to run through.  Any playoff win is good, especially when you win by 50."
But Schaefer shined, his patient running style perfect for the conditions.  Working behind his blockers, he waited until the holes appeared and then had the extra gear to turn it upfield and outrun the defensive pursuit.  Lockland was at the disadvantage because Schaefer knew where he was going…and they didn't!
Lockland got the ball first, went three and out, and had to punt.  New Bremen quarterback David Homan lost little time and putting points on the board.  On their second play from scrimmage Schaefer ran it 37 yards to score and put the Cardinals up, 7-0.
Lockland got the ball for their second possession, and did get a first down, albeit by penalty.  New Bremen was called for roughing the kicker on a punt attempt.  When they had to punt it again Homan drove them down the field on seven plays and Colton Muether scored this time from 7 yards out…14-7, New Bremen.
Lockland was still stuck in the mud, although running back Jadyn Thomas was obviously a talented weapon…but Thomas had little help.  Bremen's defense simply overwhelmed the Panthers offensive line, and a turnover resulted in a third Cardinal first quarter touchdown, by Schaefer again, from 9 yards, to make it 21-0.
This was the script.  Lockland had helmets that looked like Michigan, but that was the end of the comparison.  They were overmatched, frustrated, and every time they kicked it away New Bremen would promptly run it down the field and score.  Dylan Bambauer caught a 10-yard pass from Homan two minutes into the second quarter to make the score 28-0.  And at 6:04 Schaefer scored his third touchdown of the half on a 5-yard run to put the Cardinals totally out of range.  Owen Gabel missed a point after, 34-0, but a missed extra point was barely a footnote on what was soon to become a running clock.
In fact, Gabel would atone for his miss minutes later with a 32-yard field goal to give Bremen a 37-0 lead at halftime.
At 5:12 of the third quarter Braden Suchland would score to push the deficit to 44-0, now with a running clock.
And as the field conditions got worse, Lockland's chances to get as much as a first down, got worse with them.
Chris Schmidt put his second stringers in for the fourth quarter and Hunter Schaefer's younger brother, Trevor, would score the final touchdown of the game on a short run to mercifully end the scoring…51-0.
"You got to start from square one,"  said Chris Schmidt afterwards.  "I wanted to see us come out and take care of business tonight, set a tone, and get off to a quick start.  I thought our defense did a good job because they had a couple of skill kids that worried us.  And I was pleased with the way our offense put points on the board and created that distance.
"From a mentality standpoint earlier in the year I think we had a habit of taking our foot off the gas when we got a lead.  But tonight I think we stayed locked in the whole time, which was good.  Now it's matter of cleaning some things up, get some more work and depth, and go from there."
When you win 51-0, however, it does beg the question of how to assess what needs to be cleaned up.
"Well we got a chance to be out on our field one more time, and that's important, and like I said…it's the first step and wherever you start you've got to start there and build.  I think we came through healthy, and with a 51-0 game there's always that fine line of how much work you can get those guys without getting an injury."
Bottom line:  The defending champs are through Week 1, with a confident win, and now look to the brackets to see who survived, and who they'll play next.
Bottom line:  Hunter Schaefer was great.  David Homan was unscathed. Nick Alig, Colton Muether, and company got some work and went home healthy.
Outside of actually winning, there's nothing more important with playoff football.  Except, maybe…who's doing the laundry on Monday!