Marysville broke on top and stayed in control to thwart Olentangy Berlin's comeback prowess and claim control of the OCC Cardinal. 
By AARON BLANKENSHIP
Marysville, OH — Marysville coach Brent Johnson knew that Olentangy Berlin would be a formidable threat in a close contest, after watching the Bears go 6-0 in games decided by 10 points or fewer, including four victories by seven points or less this season.
Therefore, Johnson emphasized the importance of playing well enough early to make sure the Bears weren't in a position to pull off another clutch performance in the fourth quarter.
Fortunately for Johnson, the Monarchs heeded his warning, as they bulled their way to a 21-point halftime advantage en route to earning a drama-free 34-6 victory Friday in Impact Stadium.
"We actually talked about them being a second-half team, and the importance of being ready to play well in the second half to close this game out," Johnson said. "They made some adjustments and played well in the third quarter, but we were ready, and I'm pleased with the response we had."
With the victory, Marysville improved to 8-0 overall and 4-0 in the Ohio Capital Conference-Cardinal Division to clinch at least a share of its second consecutive league championship.
After the game, the Monarchs celebrated on their wet, rain-soaked field by ringing their victory bell several times and posing for a team photo in one of their end zones.
"This means a lot to us because we're the first Marysville team to win back-to-back OCC championships (since the 1999 and 2000 seasons) and it feels good to make history," Marysville junior linebacker Colton Powers said.
Berlin coach Mark Nori was hoping his squad could stay within range of another magical comeback, but he tipped his cap to the Monarchs for playing swarming team defense.
The Bears finished with just 177 yards of offense, and they were held to negative-2 yards while falling behind, 21-0, in the first half.
"This is the best defense we've seen all year," Nori said. "Their linebacker (senior Gabe Powers) is going to Ohio State next year, for crying out loud. But they have great athletes all over the field and they play great team defense."
As usual, Gabe Powers made a big impact in all three phases of the game. On special teams, he returned a punt 58 yards for a touchdown to put Marysville up 14-0 early in the second quarter. He also punted five times, and rumbled 14 yards for a first down on a fake punt. On offense, Powers rushed for 43 yards on nine carries and threw a long pass which drew a pass interference penalty. And on defense, Powers harassed Berlin's quarterbacks with constant pressure on passing plays.
But as Nori pointed out, several Monarchs' defenders had big games, including lineman Erryl Will (four tackles, two tackles for loss, one sack, one forced fumble, one fumble recovery), lineman Benjamin Bickerstaff (three tackles, two tackles for loss, one sack), Colton Powers (seven tackles, one tackle for loss) and safety Ethan Musel (interception).
Will stripped the ball loose and recovered at the Bears' 27-yard-line late in the first quarter, setting up a 2-yard touchdown run by Matt Krutowski eight plays later, which put Marysville ahead 7-0.
"They were trying to pitch it backwards on that play, but I hit the ball out of his hands and just fell on it," said Will, whose defense had surrendered an average of just 5.6 points and 159.4 yards through the Monarchs' first seven victories. "The success of our defense starts up front because our line has been able to keep offensive linemen off our backs so they are free to move, but really, it's been a whole team effort."
The Monarchs' wing-T offense also featured one of its most balanced efforts of the season, rushing for 214 yards and passing for 119 yards.
Colton Powers rushed for 61 yards and two scores, including an 8-yard run with 2 minutes, 45 seconds left in the second quarter. On that play, Powers broke two tackles on his way to the end zone to help Marysville gain a 21-0 halftime lead.
"A couple of dudes jumped on my legs, including a big lineman, but I just kept driving forward until I got in," Colton said. "That was big because we know they are a second-half team, but we weren't going to let them come back and beat us on our Senior Night."
Berlin showed signs of life in the third quarter when Harrison Brewster tossed a 58-yard touchdown pass deep downfield to Gavin Conner to pull Berlin within 21-6 with 9:13 remaining.
But Colton Powers scored on a three-yard run early in the fourth quarter, and Brady Seger threw a 61-yard touchdown pass to Griffin Johnson with 6:05 left to effectively ice the victory.
Seger finished 4-for-4 passing for 119 yards and Johnson ran for a team-best 68 yards on 16 attempts.
"After they scored, it was important that we were able to answer to get the momentum back and make it a three-score lead again," said coach Johnson, whose squad is ranked fifth in the Division I state poll and has outscored its opponents, 254-45, this season. "Our defense has been solid all year and this was another good game for us."
Brewster finished 10-for-17 passing for 172 yards, and Gavin had five receptions for 117 yards.
"We got our passing game going and moved the ball a little more effectively in the second half," Nori said. "But when they scored again in the fourth quarter it snuffed out our momentum."
Bennett Lawrence had a team-high 8.5 tackles to lead Berlin, which dropped to 7-2 overall and 3-1 in the OCC-Cardinal.
To win a share of its first league title, Berlin must defeat Thomas Worthington at home in its OCC-Cardinal finale next Friday, combined with Marysville getting upset in its league finale at Olentangy that same night.
"We've got to finish strong next week because anything can happen," Nori said.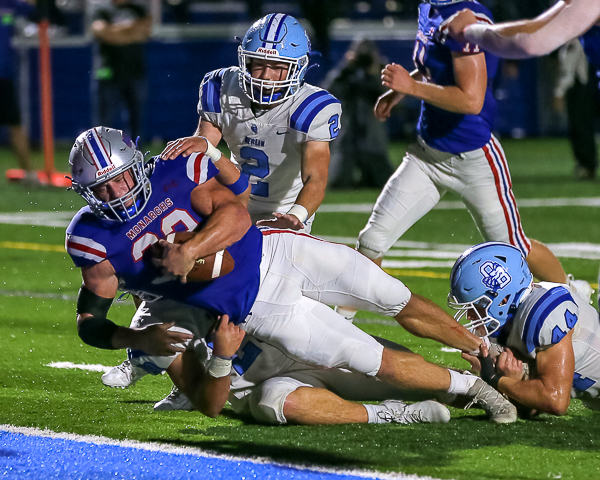 Colton Powers adds 6 more as Marysville routs Berlin 34-6