Versailles won a sixth straight game Friday, defeating St. Henry in a matchup between teams looking to maintain an outside shot of a co-Midwest Athletic Conference crown. 
By Colin Foster For Press Pros Magazine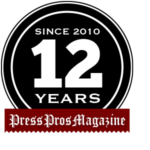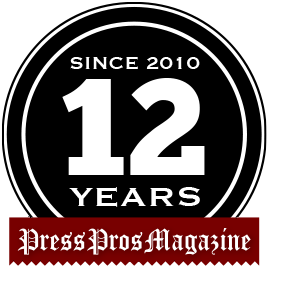 St. Henry, OH — The probability of Versailles winning a MAC title took a hit Friday.
A Division V state championship is still very much in play, though.
And the Tigers looked the part of a state contender as they dominated in the trenches, held the area's leading rusher (Owen Lefeld) to pedestrian numbers and defeated a good Redskin team by three scores. St. Henry had won its previous four games — including a 21-14 victory over then top-ranked Coldwater.
"Go win state," St. Henry coach and Versailles alum Brad Luthman told a Versailles player after the game.
Versailles outgained St. Henry, 316-178. Jack Osborne rushed for 128 yards and two scores to lead the bullying ground attack of Tiger-ball. Future Ball State lineman, Taren Tyo, added a 40-yard fumble recovery TD rumble in the second quarter — which sent the visitors into halftime with a 20-0 lead.
"We know that every game is going to be won in the trenches, and it's about making fewer mistakes, too," said Tyo, who had another fumble recovery later on.  "We were pounding the ball. We put in a few things this week that we thought would work, and they did. You've got to give credit to our coaching staff. It's not just about us…it's everybody. The scout team during the week…it's everybody who put in the work to win."
Four plays is all it took for Versailles to dent the scoreboard. Osborne shot through a gap, got to the edge and outraced St. Henry's defense for a 67-yard touchdown.
Moments later, the Tigers were again dealing deep inside Redskin territory after St. Henry's return man muffed the kickoff — one of many weather-related issues in the game. However, this series fizzled on four downs as Carson Bey's pass attempt to the end zone hit off the chest of his intended receiver.
The next five offensive possessions featured four punts and one fourth-down flop.
Versailles' offense eventually got rolling again. A 20-yard run by Osborne sent the Tigers across midfield. That was followed by a 20-yard completion from Bey to Eli McEldowney. Bey later capped the drive with a five-yard touchdown run at the 5:37 mark of quarter two.
The margin soon reached three scores.
After picking up a third-and-long, St. Henry standout Owen Lefeld mishandled a pitch. Tyo recovered the ball and posted the fastest 40-yard dash of his career for his first touchdown.
"I think Lucas Stammen forced a fumble, and I was in the right place at the right time. I picked it up and ran as fast as I could in the end zone," Tyo said.
St. Henry found the end zone in the second half — and appeared to find some momentum, too.
The teams traded punts to start the third quarter. Then St. Henry quarterback Bryce Brookhart and receiver Jaden Lange got cooking.
The duo connected for gains of 23 and 33 yards on St. Henry's next drive — which was capped by a 5-yard Lefeld TD run that cut the deficit to 20-7.
Shortly after, the teams traded fumbles near midfield. St. Henry had a series sputter on four downs at the Versailles 35. And the visitors then iced the game with a touchdown drive.
Facing a third-and-long, Bey connected with McEldowney for a first down. A helmet-to-helmet penalty on the play moved the ball 15 yards, and Osborne followed with a four-yard TD trot.
"All the credit to Versailles," Luthman said. "They did everything that you need to do in a good ballgame to win. They outhit us. They took care of the ball better. They broke tackles. They tackled better. They did everything they could to win a ballgame. We did everything we couldn't."
Lefeld — who entered the night with a whopping 1,241 rushing yards and 18 touchdowns — was held to just 68 yards on 19 carries. He was coming off a 200-yard performance in last week's win over Anna.
"We knew it'd be a challenge," Versailles coach Ryan Jones said. "(Lefeld) is really good. They've got big linemen, and they're good. A lot of credit to those guys. But our defense stepped up to the challenge. They did a great job of trusting each other and doing their job."
Brookhart completed 12 of 25 passes for 127 yards. Lange hauled in eight catches for 107 yards for the Redskins, who conclude the regular season at Delphos St. John's next Friday before embarking on the Division VII playoffs.
Bey rushed for 66 yards while completing eight of 15 passes for 114 yards for Versailles, which hosts Minster in the season finale.
Upon exiting the field, Versailles learned that Marion Local had stayed atop the standings with a narrow, 24-21 victory over Coldwater. Thus, a win over Anna is all that now stands between Marion and an outright MAC title. The Flyers edged the Tigers by a 19-17 margin in Week 3.
With that game well in the rear-view, Versailles is now focused on the bigger picture.
"It's not in our minds anymore," Tyo said. "We just won — we're going to celebrate that. We're just going to keep going and accomplish our goals."