In a magnificent match of will and toughness, Marion Local defeated Coldwater in an all-too familiar fashion from games past.  They turned the tables with a last-second field goal by Kevin Partington to win, 24-21.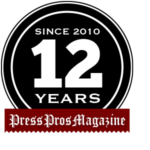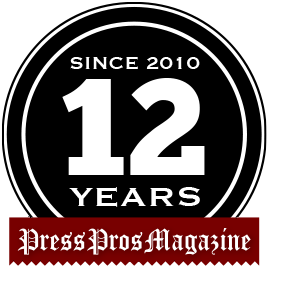 Maria Stein, OH – Afterwards Marion Local coach Tim Goodwin would simply describe it in the customary manner…as gaining some yards, tough sledding, and MAC football.
But during Friday's match between the state's top-ranked Marion (Division VII) and #5-ranked Coldwater (Division VI) he surely had some anxious moments and a different appreciation as Coldwater overcame a 21-7 Marion first-half lead to tie the game midway through fourth quarter at 21-21.
Then, his Marion Flyers had to withstand one last Coldwater drive that stalled on a fourth down and 16 at the Marion 32-yard line as Coldwater desperately tried to get within kicking range and gain some deja vu from Marion-Coldwater games past. Twice in recent history had Coldwater won this game as a result of field goals by former players, Kyle McKibben and Neil Muhlenkamp.
Instead, Marion stopped Coldwater, took possession with just over two minutes remaining, drove 65 yards downfield, and with two seconds left on the clock sent kicker Kevin Partington out to attempt a 26-yard field goal for the win.
"Perfect snap, perfect hold, and perfect blocking by the offensive line,"  said Partington afterwards.  His kick sailed just inside the left upright to keep Marion Local unbeaten with a 24-21 win.
Goodwin might justly have embellished a bit by calling it 'magnificent' MAC football…for the fact of a slew of big plays, big hits, and just plain toughness on the part of both Coldwater and Marion Local.  In a game where graduated players from each school later admit they grow up thinking about, the 2021 edition left nothing to be desired.
"If you're just a casual fan it was a great game," said Coldwater coach Chip Otten.  "On both sides you have to feel good about the effort.  Lot of big plays, lot of good plays, and darn it…we felt like we should have been kicking that field goal at the end.  But they stopped us and Peyton Otte willed his team to win, and we knew that when it came to crunch time he'd be the guy."
And Otte, indeed, was the guy, rushing for 159 yards and two touchdowns on 23 carries, while throwing efficiently – completing 6 of 12 – for 100 more yards.  Of Marion's game total of 338 yards, Peyton Otte accounted for 259 of them – 76%!
"He's a warrior,"  said Goodwin, afterwards.  "He is.  That kid is in such good shape, and it's incredible what he's done for us.  I don't like doing that, I really don't, but every week the whole offensive load is on his shoulders, and he's covering the other team's best receiver on defense.  That's just a big load."
He assumed the responsibility Friday with a 39-yard run as time ran out in the first quarter that set the Flyers up first-and-goal from the ten, then scored on a six-yard run in a steady rain to give the Flyers a 7-0 lead with 20 seconds remaining.
On Coldwater's ensuing possession, running back Luke Sudhoff got popped near the 25-yard line, the ball squirted away and Marion's Josh Kuether fell on it to give the Flyers another excellent scoring opportunity.  At 10:04 of the second quarter, Dylan Fleck delivered, running it in from five yards out to make the score 14-0 and create some anxious moments for Cavalier partisans that filled the visiting stands.
But Coldwater's Reece Dellinger shook off the shock and showed some 'warrior' of his own, directing the Cavaliers on an ensuing seven-play drive that took four minutes and culminated with a wide-open touchdown throw of 24 yards to Tanner Muhlenkamp to close the margin to 14-7 at 6:58.
Marion and Otte came right back, taking the kickoff and driving past midfield, where Otte got a great block at the line of scrimmage and sprinted free and through the Coldwater secondary for 39 yards and his second touchdown of the half to put Marion up 21-7 with 2 minutes and 21 seconds remaining before halftime.  Too much time!
Dellinger came right back with a series of dink and dunk throws to pick up yards and first downs, going 77 yards in 12 plays to set up a touchdown pass to Jesse Meyer from 11 yards out with 35 seconds remaining to cut the deficit to 21-14 at the break.
Both teams settled in for physical football to start the second half, trading possessions in a scoreless third quarter.
But Dellinger started the fourth quarter with another drive of quick throws to Meyer, Tyler Schwieterman, Muhlenkamp and Marcel Blasingame — 12 plays for 77 yards before he again found Meyer in the end zone for 16 yards and the tying touchdown with 6:29 left in the game.
"Reece played really well,"  Otten would later say.  "He had a fumble early and we said, 'Hey, dude, if we're going to be in this game, you're going to have to forget that.' We made some good catches after that, tried to spread it out a little bit and throw the ball quick.  He (Dellinger) played well tonight, and hopefully he can carry that over."
Dellinger finished 23-of-40 for 259 of Coldwater's 281 yards and three TDs. He got one more golden opportunity with five minutes left in the game.  Marion failed to move the football after Meyer's touchdown and had to punt, only the punt was off the side of the foot and went out of bounds at the Marion 43-yard line.  Suddenly, Dellinger and company had an opportunity the likes of which they hadn't had all night.
They quickly drove to the Marion 29-yard line with 3:46 remaining and a first down.  But on four successive plays, the Flyer defense stiffened, pushed them back, and suddenly the prospects of kicking that late field goal again to go ahead and possibly win became improbable. Facing third down and 13 yards to go for the first down, Coldwater lost three yards and faced fourth-and-16 from outside the 30-yard line.  The field goal was out of range; the only option was try to gain the first down, and Dellinger's pass attempt fell to the ground incomplete.
On the previous Marion possession, Peyton Otte had taken a heavy hit while fighting for an additional couple of yards and lay on his back for a long time before getting up.  Visibly shaken, he missed a series of downs on defense before returning to the game.
But now he had the ball back on offense, with just over two minutes remaining to get the Flyers into scoring position.  He ran, of course, picking up a tough first down in front of the Coldwater sideline.  On the next series of downs, facing third-and-long, he put a perfect pass on the hands of receiver Aidan Eifert in the middle of the field for the first down to extend the drive — an overlooked, but critical play to the ultimate outcome.  The clock continued to count down as Otte and company finally moved it to the Cavalier seven-ard line…with two seconds to go.
Goodwin called a time out to get Partington on the field to attempt a kick of about 25 yards.  Though he had proven to be a dependable kicker for the past two years, Partington had never been in a situation to make a field goal for a walk-off win.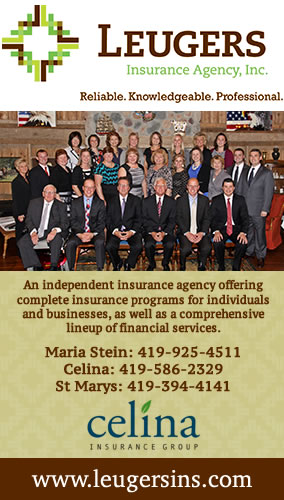 "I just tried to take the same steps that I do in practice every day,"  said Partington.  "Hittin' it on the right spot of the foot and let it fly…see where it goes.  For kicking, this was the biggest point of my career.  I had never kicked a field goal for a win, or anything."
And Coldwater was going to let him consider just how big a moment it was, calling a timeout to 'ice' him a bit.
But when they got lined up. he got the perfect snap, the perfect hold, and good protection from the offensive line and he drilled the ball through the uprights.
"We won a game on a field goal,"  Tim Goodwin later claimed.  "Hey, we've been on the wrong side of that a couple of times.  We were over there on the sideline saying, 'One time, let's win this thing with a field goal.'  That's a kicker's dream, and Kevin is just an outstanding individual.  He's so dedicated to everything he does.  He's put in countless hours kicking, and that's what you dream of doing — a field goal to beat your biggest rival when the score is tied."
But to get to that point, Goodwin and Marion had to endure that final Coldwater drive that fizzled on his 30-yard line.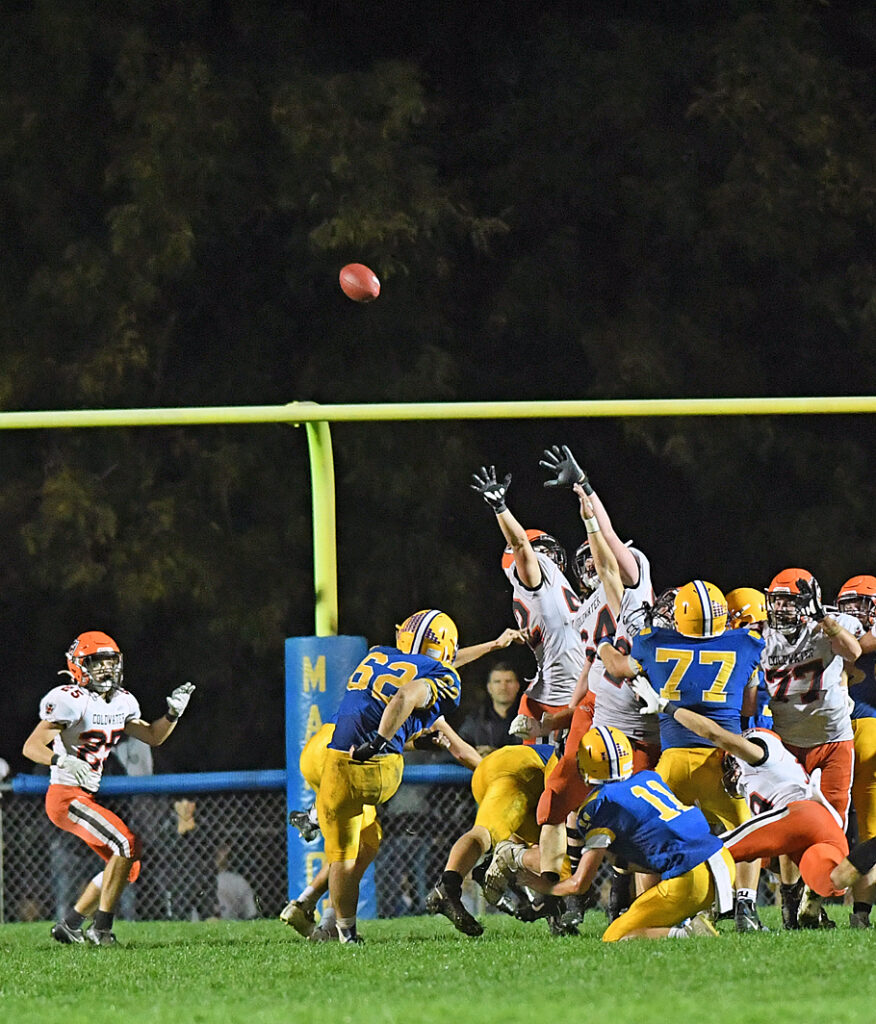 "They had momentum, but our kids weren't going to quit,"  he said.  "Our secondary battled against a heckuva' receiving corps.  We were outmanned in those positions and they played alright.  We tried to keep everything in front of us which allowed them to drive the field a lot.  They've got four fast receivers and a quarterback that can sling it.  But we did all right."
It amounted to a battle of wills, and toughness, something that both coaches acknowledged, and appreciated.  That's MAC football, and that's Marion vs. Coldwater football.
"For what we've been through and who we threw out there tonight, they just battled like crazy,"  beamed Goodwin, pleased almost beyond words. "It was like the Versailles game.  Win or lose our kids just played their butts off.  And Coldwater's kids did, too.  It was Coldwater-Marion."
It was everything you read about — what people will be reading about on Saturday.  About Kevin Partington and the biggest moment of his football life.
How he lived…a kicker's dream!