Fifty years after actually playing in the best damned band in the land, I'm often asked now by people if it isn't better than it was when I was a member.  My stock answer is…time, and change has surely shown.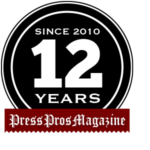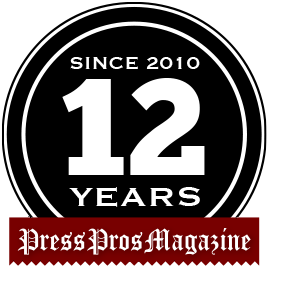 Columbus, OH – As a footnote to last week's home-opening loss to Oregon, the Ohio State Marching Band got a lot of social media attention this week for the fact of drum major Austin Bowman taking a nasty fall as he ran down the ramp at the north end of the stadium to take his place in front of the band during their pre-game ramp entrance prior to playing Buckeye Battle Cry.
Bowman, from Hebron, Ohio, is in his first year as head drum major of the band and it's not hard to imagine what he thought about it afterwards…doing a 'face plant' in front of hundred thousand people during most important entrance of your life.  I know from experience.  Your first appearance in Ohio Stadium with the band is a big, big deal.  I was a member of the band from 1970 through '72, played trumpet in 'A' row (the first row in the band), and I remember vividly the Duke game in 1970 when the hair on the back of my neck stood on end at all of that sound behind me as I marched down the field.  Truly, it was one of the great experiences of my life…because since fourth grade I had listened to the band on 33 rpm records and knew their repertoire by heart.
Bowman was unhurt, of course, popped right back up, and did the traditional drum major routines flawlessly.  In the photo above he at least looks no worse for the ordeal, or even shaken.
But I'm asked frequently from those who know that I once played in the band about comparisons to the way the band looks and plays now, and how it looked and performed back then.  "Is it better now?"  most asked.  "Surely, in fifty years there have to be improvements."
There's more sound, for sure, than when I played.  Back then we marched with 120 members on the field.  Now there's almost two hundred fifty – more tubas, mid-range brass instruments, and a helluva' lot more percussion than in the 70s.
Is the sound better?  Personally, it's a matter of taste.  With more horns it's harder to play intricate arrangements as cleanly with 228 than with 120.  And when I played the band featured some of the best trumpet players in the country, including John Harner, who later went on to play professionally with Stan Kenton's band.  I've never heard, before or since with the OSU band, anyone who had Harner's range and virtuosity.
Today's band features a lot of different instruments than the band of the 70s…like slide trombones instead of the valve tromboniums used back then for the sake of space and efficiency.  Mellophones have taken the place of the E-flat alto horn sound used then, because like the trombone, it does a better job of cutting through stadium crowd noise.  My good friend and band director at the time, Paul Droste, was a big proponent for those changes, and while they changed the look of the band, they probably achieved improvement, as well.
What is not improved is the percussion sound.  Today's band has a drum and bugle corps sound that's hard to appreciate if you grew up listening to the traditional snare drum.  The modern drums don't sound crisp, but hollow.  And the addition of all those extra duo drums further mute down the impact of the traditional military band sound.  In addition, marching with them looks unwieldy, like a guy carrying trash cans out of the curb.  Droste laughs at my observation, and says, "Well, it's a different day now, and you're just old-fashioned."
Perhaps, but I don't lose sleep over it.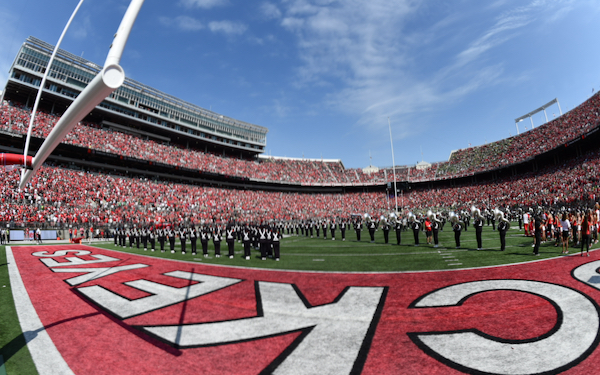 People ask me all the time if I'd like to be in the band again.  I was a proud member during my three years, but left the band the year before it became co-ed.  In fact, a number of us did knowing the culture of the band as we knew it back then would never be the same.  That has nothing to do with the girls, by the way.  That change was inevitable, fair and good.  But what was also inevitable was the politics, and the eventual charges of sexism that led to the firing of popular director Jonathan Waters in 2014 – charges that probably lacked merit if they were based on some of the petty traditions of the band that existed long before I was in it.  I was happy to have missed all that.
Paul Droste is right about being old-fashioned as it applies to the difference in music, then and now.  Back then we were spoiled with the incomparable writing of Jack Heine, John Tatgenhorst, and Ed Montgomery, the three men largely responsible for the incomparable sound of the band, even today.  It's Heine's arrangement of the Star Spangled Banner that they still play, and all the visiting school fight songs.  It's Tatgenhorst's arrangement of Hang On Sloopy that's become a marketed favorite.  And Ed Montgomery's harmonies heard in traditional campus songs were unforgettable.  Frankly, I don't listen close enough today to make a good comparison.  I just know it's louder.
The marching part – the choreography of the band – is markedly different and better to the average fan watching.  The formations are much larger than they were with 120 members, and again, feature more of a drum and bugle side-to-side and backwards style, than how we marched in 1972.  It's still unique, and it's still better than any other marching band I see in America.  Some of the alumni say they don't pick up their feet like they did back then,  but a lot of standards have changed at the Ohio State University during those fifty years, and I'm no worse for the change.
We played a lot of tunes back then that they don't play now – traditional military band marches like The Chicago Tribune and Barnum and Bailey's Favorite, because they were challenging and other bands couldn't play them,.  And frankly, I'm glad I still have the old Volume 2 recordings of the 50s and 60s, when Jack Evans was director of the band.  They'll never play those great marches again, and honestly…I don't know that they can for the sake of getting the sound right.  But it doesn't matter.
What matters is that Austin Bowman didn't break anything when he tripped and fell last week.  What matters is he got up and led the band down the field.  What matters is they still play Buckeye Battle Cry.
But I don't see them swinging 'Roger' around when the tuba players dance after touchdowns, anymore.  'Roger' probably isn't welcome now.
Time and change, you know.