New Bremen stunned Anna with 20 first quarter points, 459 yards of offense, and a record-tying five touchdowns by quarterback David Homan on the way to a thorough 48-13 win over Anna.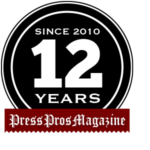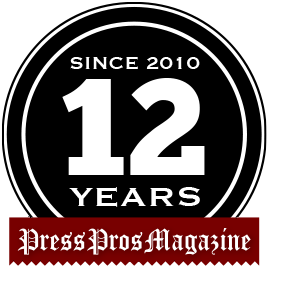 New Bremen, OH – To say his team got roughed up is putting it lightly, and Anna head coach Nick Marino was succinct – blunt – in his post-game assessment of Friday night's 48-13 loss to the hands of the surging New Bremen Cardinals.
"They got after us early on and we started playing shell-shocked,"  said Marino, his expression almost neon with displeasure.  "We didn't do our job.  We didn't take care of the ball.  We didn't play defense.  So we've got both sides of the football to get fixed before next week.
"You've got to play better football in a game like this.  We had made some strides since the beginning of the season, but we took some steps back tonight."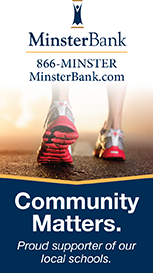 Shell-shocked!  On homecoming night the Cardinals hung 20 points up in the first quarter almost before the Anna ball boys could get the water bottles filled.
Didn't take care of the ball?  Junior quarterback Carter Seigle was 13 for 24 for 124 yards throwing in the first half…but was intercepted five times.
Didn't play defense?  New Bremen quarterback David Homan ran the ball 13 times in the first half for 155 yards and four touchdowns.
So Nick Marino didn't need any Saturday morning films to confirm his suspicions.  He went to bed Friday night with visions of better football burned on his mind.
And this from a team that coming in to Friday had played well in their first four games (3-1), their lone loss coming to Brookville in Week 2, and with impressive back-to-back wins over Parkway and Fort Recovery.  Everyone who came out for New Bremen's homecoming Friday night expected a competitive contest from what seemed to be two of the MAC's rising programs.
But Cardinals quarterback David Homan, for a second week in a row, asserted himself as a leading candidate for Player of The Year honors, rushing for those 155 yards and four scores in the first half…and finishing the night with 19 carries for 185 yards and five touchdowns, tying a school record for a touchdowns in a game.
It didn't take long to get going.
New Bremen scored on his first touch of the football, five plays and a 12-yard touchdown pass to Nick Alig to go up 7-0.
Three minutes later after an Anna turnover, Homan romped for the first of his five scores on a 50-yard run to make it 13-0.
After a second interception of Anna quarterback Carter Seigle, Homan scored on a 12-yard run to make it 20-0, and still 2:49 left in the first quarter.
Without question Anna was shell-shocked at this point, while New Bremen was dialed in on Seigle's attempts to throw the ball like a ground-to-air missile.  Whether he was locked in on his primary receiver, or just sloppy in his delivery of the football, there was always a New Bremen defender between the football and the person intended to catch it.
After a third interception at 8:37 of the second quarter, Homan again set sail for the end zone on a 22-yard run to make the score 27-0.
Finally, at 6:17 of the quarter, on their ensuing possession, Anna's Justin Richards drove the ball deep into Cardinal territory and score from the two yard line to break the ice, 27-6.  The extra point try went awry, too.
"I knew in my head how I wanted us to respond after [losing to Coldwater] last week,"  said Bremen coach Chris Schmidt. "And this was the start that I was hoping for."
But even the optimistic Schmidt couldn't have hoped for this much – Homan scoring his fourth touchdown of the half just three minutes later after yet another interception of Seigle, and a drive on a short field to increase the margin to 34-6 at halftime.
"When someone said we had five picks in the first half I said, 'Wow',"  said Schmidt.  "That's got to be some kind of record.  And I'm sure that took a lot of the wind out of their sails."
The second half started out like a tempest…for New Bremen.  At 9:02 Homan connected with Nick Alig for another score – after a sixth interception of Seigle by the Cardinals' Nathan Rindler – this time from 36 yards away and all alone in the Rockets' secondary.  This one pushed the score to 41-6 and kicked the clock into 'continuous' mode.  But showing some fortitude, Anna came back to score on a Justin Richards' second touchdown at 1:43 of the quarter…41-13.
The final touchdown of the game….?  Why not Homan, from 20 yards out, again benefiting from beautiful work at the line of scrimmage to push the final deficit to 48-13.
459 yards of total offense by New Bremen…317 yards on the ground, and 142 yards through the air.  Overshadowed by the sheer enormity of Homan's night, running back Hunter Schaefer added 15 carries for 77 tough yards.
Anna finished with 224 yards in the game, 162 of it through the air by Carter Seigle…and 62 yards rushing, most of that by Justin Richards, who scored both Rocket touchdowns.
"David had a great game, but we had different kids making plays, and that was nice, too,"  said Schmidt.  "Our line stepped up and did a great job, and normally we defer, but tonight we took the ball first and tried to get them running and maybe wear them down over the course of the game.  We got great blocks up front, David was able to get to the second level."
48-13, and Schmidt was still nervous.
"Yeah, because when you look at their offense I think they're second in the league.  But the combination of big plays we made…and when you get knocked around at the start and don't expect it…sometimes it takes some time to regroup from that.  I didn't expect us to come out and jump up on them like we did."
As it stands, New Bremen improves to 4-1 and prepares now for their second huge test of the season next week, on the road at Versailles.
"We feel pretty good about being 4-1, but we were hard on the kids this week because while we competed with Coldwater we still have room for improvement,"  added Schmidt.  "That's exciting.  We've been able to build towards some of the big games coming up through playing some non-conference games that we didn't have last year.
"Now we go to Week 6 with guys who've been starting since Week 1.  We had sixteen kids who came back from last year that we expected to contribute and help us quite a bit, and they have.  Hopefully, they're hungry and continue to grow."
Suddenly, no one's talking about the Cardinals being one-and-done after the mass graduation of seniors who led them to last year's Division VII title.  What you hear is respect for the replacements in the fashion of how Coldwater and Marion does it.
They're playing predictable football with those replacements – David Homan and Hunter Schaefer.  And yes, like Coldwater and Marion does it.