Dublin Coffman made its first win this season both memorable and difficult, overcoming three kick-return touchdowns and overtime to edge cross-town rival Jerome and make a winner of new coach Geron Stokes.
By Aaron Blankenship for Press Pros

DUBLIN — Outsiders began to speculate that perhaps the sky was falling down around Dublin Coffman after the Shamrocks opened their season with three consecutive losses by a combined score of 127-44.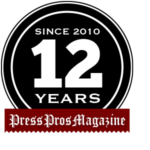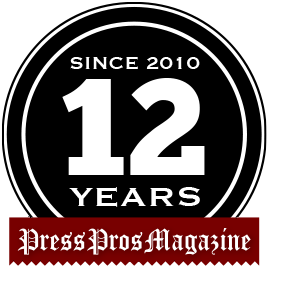 Not only had the Shamrocks lost 23 players to graduation from a squad that went 8-1 overall and captured the Ohio Capital Conference-Central Division title with a 5-0 league mark a year ago, but longtime coach Mark Crabtree also resigned during the off-season.
Crabtree hoisted the program to unprecedented heights during his 20-season run with the program, when the Shamrocks went 179-55 overall, won seven OCC titles, reached the playoffs 18 times and finished with a 22-17 postseason record.
Yet, first-year Coffman coach Geron Stokes knew better than to panic, despite his squad's slow start. After all, Stokes experienced plenty of success of his own while guiding Minster to a 71-31 overall mark, two state championships (Division VI in 2014 and Division VII in 2017) and a state runner-up finish (Division VII in 2016) before leaving to coach Coffman.
Stokes was confident that it was just a matter of time before his team turned the corner, and that happened in a major way Friday when the Shamrocks rallied to upset previously undefeated Dublin Jerome, 49-42, in overtime at home.
With the win, Coffman improved to 1-3 to avoid its first 0-4 start since 1992. Jerome dropped to 3-1 and fell to 0-6 against the Shamrocks all-time.
"We don't value wins and losses," said Stokes, as he clutched the game-ball that was presented to him by his players at midfield afterward. "We're more growth-focused and we're concentrating on getting better and playing to a standard. We hadn't met many of our standards early on, but we practiced the right way and lifted hard recently, and it is starting to show more on the field.
"This wasn't pretty. But we want to be gritty. We just kept fighting. We kept standing back up and swinging because the toughest team was going to win this game."
The Shamrocks were able to grind out their first win on the shoulders of quarterback Mason Maggs, who rushed for a career-high 218 yards and four touchdowns and threw for 168 yards and another score.
"We were kicked down for three weeks and all we heard was how Coffman football is done and we weren't going to do anything this year," said Maggs, who sported a huge smile as fans and teammates celebrated on the field around him. "We knew we could do better, and this game was very important to us because (community bragging rights) were on the line, because we've know these guys since we were all little growing up in Dublin together.
"The fans were loud the entire game and this is the most electric atmosphere I've ever experienced."
Maggs seemingly willed his team to victory in the second half, running past, and sometimes through, defenders on the way to first down after first down. The 6-foot-3, 210-pound senior rushed for 126 yards on 20 carries in the fourth quarter alone.
"Their quarterback carried them," Jerome coach Brett Glass said. "They ran their quarterback 1,000 times because they saw that it was working and they just stuck with it. They had the ball the entire second half and we just couldn't get a stop on defense when it mattered."
After the Celtics pulled ahead by eight points midway through the fourth quarter, Maggs engineered a 16-play, 80-yard touchdown drive, which was capped by a six-yard run up the middle by Jarel Heard with just 44 seconds remaining in regulation.
On that drive, Maggs carried the ball five times and completed four passes to account for all but the final six yards of the possession. Then, Maggs caught a short pass from Trey Hedderly on a successful two-point conversion play to knot the score at 42 and force overtime. On that play, Maggs handed off to Heard, who then pitched the ball to Hedderly on a reverse, setting up Hedderly's pass to Maggs in the end zone.
Hedderly said it was fun to throw to Maggs, especially after Maggs had connected with Hedderly deep downfield on a 47-yard scoring pass late in the third quarter.
"Mason and I were talking running that play even before we scored that last touchdown, and we were excited when coach called for it," Hedderly said. "I just made sure I threw it high because Mason's a tall dude and I knew he was going to catch it if I put the ball high enough."
Coffman received the ball first in overtime and it took the Shamrocks only four plays to score the winning touchdown, as Maggs bowled his way in from a yard out for the winning score.
Jerome then fumbled away the ball inside Coffman's 10-yard line on its ensuing overtime possession, before hundreds of the Shamrocks' fans rushed onto the field to celebrate the victory.
"Sometimes I had big lanes to run through and other times I just had to put my shoulder down," Maggs said. "I'm a little sore and tired, but I just had to do what my team needed me to do, and I'm going to sleep good this weekend."
Glass walked off the field feeling frustrated after Jerome took the lead on six occasions only to squander it each time.
The one area Jerome exceled at was special teams, as the Celtics' kickoff return unit scored three touchdowns to put Jerome in a position to win the game.
Luke McLoughlin opened the game with a 78-yard kickoff return for a touchdown to give Jerome its first lead, and the junior returned another kickoff 83 yards for a score to put the Celtics ahead 28-21 with 4:42 left in the third quarter.
Jerome quarterback Zakk Tschirhart was 6-for-11 passing for 102 yards and two touchdowns, including a 41-yard scoring bomb to David Adolph in the fourth quarter.
Preston Everhart rushed for 114 yards and a touchdown on 21 carries, and returned a kickoff 90 yards for a touchdown to put Jerome ahead 42-34 with 6:11 remaining in the game.
"We wanted this, and even though it was real close, I feel like we deserved to win this one," Coffman senior linebacker Mitchell Broskie said.