It'll likely come sooner than later for the Butler Aviators, but the Troy Trojans' volleyball team kept a pair of streaks intact after Thursday's three-set win. Butler hasn't beaten Troy since 2011 and hasn't taken a set off the Trojans since 2013 … but they're getting closer.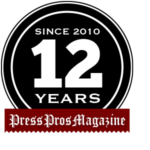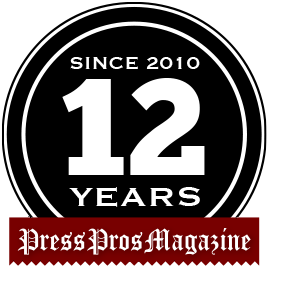 Vandalia, OH – Two days ago Anna Boezi told the Georgia Tech Yellow Jackets she's coming to play volleyball for them next season. On Thursday, the Troy High School senior celebrated by delivering some stingers.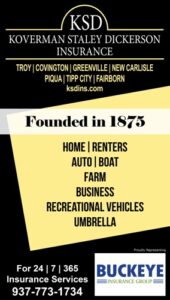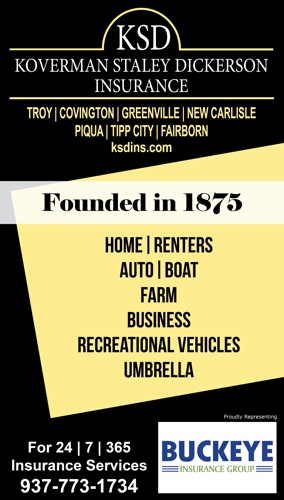 Boezi and her Trojans teammates powered through a three-set victory (25-23, 25-20 and 25-12) against the up-and-coming Butler Aviators. Troy hasn't lost to Butler since 2011. They haven't dropped a set to the Aviators since 2013.
There have been some close calls, including a pair of 27-25 sets last year. The Aviators came just as close on Thursday at the Student Activity Center.
The first set featured eight ties and three lead changes. Butler's last lead came at 9-8 on a Lauren Dady kill. The Trojans gradually pulled ahead on a couple Boezi slams, an Ellie Fogarty ace, a hard hit from Morgan Kaiser on a play kept alive by Fogarty's diving, one-handed dig and Macie Taylor's cross-court winner.
Troy led 17-12 and appeared ready to run away with the set. But the Aviators ran off three straight points with Grace Martin serving to pull within 17-16. Troy restored the lead to four points three times, only to see Butler rally back. A Bailey Florhe tap helped Butler tie the match at 23-23.
Their shot at taking a set off Troy ended with a net serve and Brynn Siler's slam that deflected off an Aviators' defender for the 25-23 win.
"These are the games we all look forward to the most," Boezi said of the back-and-forth battle. "The energy in the gym tonight was great. We haven't had that before. The cheering wasn't always for us and we're not usually used to that, so it was good to overcome that and get used to it."
It continued into the second set. Troy trailed once in the early going but it took them some time to gradually build up a 16-8 lead behind a strong front line of Kasey Sager, Boezi, Siler, Taylor and Fogarty.
"We have some good outside hitters, some good versatility," Boezi said. "It's not just one player. It's everybody in the front row, which is really good.
"We have really good chemistry. We're friends off the court which really helps us on the court. Just a really good group of girls. Everybody is out there playing for each other."
Still, Butler battled back behind Olivia Follick and Dady, among others. Butler pulled within 19-18 on the Trojans' illegal touch.
Kaiser's ace and two plays at the net from Fogarty put the Trojans back in control. Sager ended it with a kill, 25-20.
Troy scored the first five points in the decisive third set. Neither the Trojans nor the Aviators could put together a run until Troy scored six straight behind Fogarty's serves for the 18-7 lead. The lead dipped below double digits one more time before the Trojans restored it for good. Boezi ended the match with an ace.
"We have a really solid, all-around front-row performance," Troy coach Michelle Owen said. "Both our lefts, Taylor and Siler, they did some great things tonight. Sager, for her first year playing middle, she's really coming along well. It's nice having a good balance with her and Anna in the middle.
"We're proud of all of our kids. I thought our passing game tonight did some nice thing and our setters did a nice job running the offense."
Butler hasn't won a league title since winning the Greater Western Ohio Conference North Division in 2010. Troy had won eight straight combined GWOC and Miami Valley League titles until Tippecanoe wrestled it away last season.
Troy (6-0 overall, 5-0 MVL) kept pace with Tipp (6-0, 4-0 MVL) following its three-set win against Greenville on Thursday. The two MVL frontrunners play Sept. 9 in Tipp City.
"We want to take that back after losing it to Tipp last year," Owen said of the rivalry with the Red Devils. "… We're anxious to get on the court against them and hopefully take that back."
Added Boezi: "I want it back so bad and so does the team. Last year was really disappointing but it's always a fun game. The energy is amazing."
Thursday was good primer and the Trojans came through. Boezi led Troy with 11 kills and Kaiser added 10, Taylor six and Sager and Siler five each. Taylor led Troy with 14 digs, Fogarty had 13, Kaiser 12 and Lauren Rice nine. Fogarty also had 22 assists and three aces.

"This is a quality rivalry for us from back in the day," Owen said of the Aviators (4-1 overall and MVL). "We played some great matches here in the SAC. We know every day we have a target on our back. People want to win the MVL and they know we're one of the teams to beat. … It was good to come out in set one and set two and be tested.
"(Butler coach Lindsey Suess) is really bringing the program back. We're happy to see that. We're happy to have increased MVL competition. We expected them to come in playing at a higher level than they did last season."
The Aviators have talent with players like Brooke Long, Dani Holop, Dady, Florhe, Follick and Martin among others. Building the program back to that conference championship level is the goal for Suess. They're making progress.
"This is by far the most we've gotten blocked. We haven't faced a middle like Boezi yet," Suess said. "I told the girls you have nothing to lose right now. We're just going to go for it. They really went for it. One or two points here and there and they had a set. We're getting there.
"I think we lost our legs a little bit (in the third set). I think Troy got a bit of a lead and we sunk down into a little bit of a hole. But I couldn't be more proud of my girls' effort overall. They're determination to hang with Troy and prove they can hang in this league, I'm super proud of them."