With 35 players on the roster, Troy Christian coach Steve Nolan has concerns about his team's depth with injuries. There's no such worries at running back. The Eagles' offense runs deep in the backfield … and they put it on display Friday night against Dayton Christian.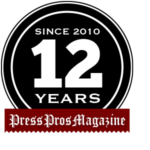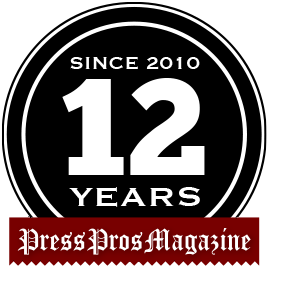 Troy, OH – On Friday night, the student section theme for Troy Christian High School was Luau Night. Lei's adorned the students' necks. Some wore Hawaiian shirts. Others had on grass skirts. There was a large red inflatable lobster that was thrust into the air in celebration … which happened often.
While the student section enjoyed themselves in the stands, the football players celebrated Luau Night their own way … by feasting on their bash-and-gash running game.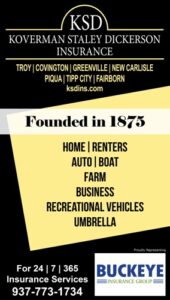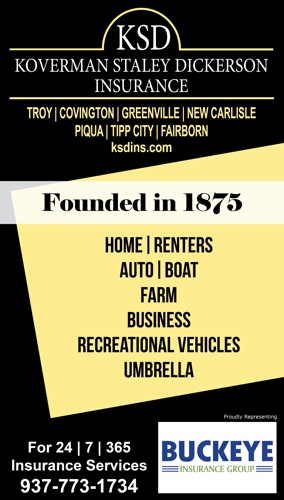 Though Dayton Christian used a pair of late touchdown passes to make a 48-24 game seem closer, the Warriors didn't mind saying aloha … as in good-bye … to Troy and jumping on I-75 for the trip home following the Eagles' win.
"This feels great. I'm glad to be back and have all the fans," said Troy Christian senior Landon Rich, who (unofficially) rushed for 208 yards and five touchdowns on 23 carries. "Today we were just on point. The line and the defense, they made my job easy. I owe it all to them."
Rich ran over, around and past Dayton Christian's defense for touchdown runs of 1, 1, 25, 7 and 8 yards. When Rich … a 6-foot, 225-pound bulldozer … wasn't delivering punishing blows to the Warriors' defense, he was blocking downfield. Rich helped spring senior Gavin Blore for a 42-yard gain on the game's second play. He picked up a key block on Blore's eight-yard touchdown run two drives later.
Rich missed most of last season with an ankle injury.
"I felt like I had a lot to prove," Rich said. "I'm trying to do that this season."
Rich and his Troy Christian (2-1) teammates made believers out of Dayton Christian (0-3). The Eagles rushed for 381 yards on 41 carries behind an offensive line led by senior center Adam Twiss, seniors guard Tommy Dickerson and Peyton Doucette and junior tackles Spencer Inman and Jaden Thomson.
Senior Jonathan Haddad rushed for 67 yards and a touchdown on four carries. His 37-yard touchdown run was set up after he knocked the ball loose from a Dayton Christian receiver at the goal line on fourth down, turning the ball over to the Eagles on downs.
Blore added 42 yards and a touchdown on three carries. And junior quarterback Lee Burkett rushed for 52 yards on eight attempts.
Burkett missed the final play of the Eagles' first drive after getting what looked like a shoulder stinger following his four-yard run up the middle to the Warriors' one-yard line. Burkett, with his shoulder limp, jogged to the sideline before dropping to a knee in pain. He returned for the next series.
"He's always tough running the show," Nolan said. "He ran hard, got some key first downs and ran the offense. We didn't really want to throw because I wanted to keep (Dayton Christian) off the field a little bit. … Lee is a tough quarterback. He's a tough kid."
The Eagles suffered another blow early when senior tackle and defensive end Logan Crawford went down with an injury. He finished the game on crutches. With 35 players on the roster the loss of even one player can cause problems for coach Steve Nolan's depth.
With 1:24 left in the game sophomore defensive back Ryan Waltz was carted off with an ankle injury.
"See those little guys trying to defend the pass? That's all I've got," Nolan said of his offensive line options if he losses more players to injury. "I've got to make receivers guards. We're running out of bodies a little bit, but we'll do what we can and show up every Friday night.
"That's always been the issue here. I really enjoy the people and the school district. In the whole program, 9-12, we're down to six linemen. That's a real issue. Those kids never get to practice against any real competition. They can't get better until they get in the game."
Like Rich, they proved to be pretty good against Dayton Christian. After senior Gavin Blore's 30-yard kickoff return to start the game, the Eagles led 7-0 after an eight-play, 55-yard drive. Rich capped it with a one-yard run.
It was 14-0 barely two minutes later. Another Blore return from near midfield set Troy Christian up on the Warriors' 13-yard line. Rich needed two attempts to score.
Troy Christian led 21-0 on Blore's eight-yard run on with 2:29 left in the first quarter.
"We have guys who step up and we're backed by great coaches," Burkett said. "It's kind of a plug-and-play thing and we know that coming in being a small school.
"(I like our) aggression. I think the definition of success is getting a little bit better every single week. I think a lot of our mistakes that happened earlier, they're starting to get cleared up as we get into this conference run."
Aside from a few penalties, the biggest thing the Eagles needed to address after Friday night was the pass defense. With their ground game going nowhere, the Warriors' took to the air. Quarterback Preston Sellers completed 10-of-20 passes for 309 yards and four touchdowns. He also threw three interceptions that were picked off by Chase Brown, Burkett and Haddad.
Warriors' receivers … especially speedster Ty Powell … got past the defense for touchdown catches of 67, 80, 16 and 50 yards. Powell had the first three scores and finished with six catches for 218 yards. Owen Bohannon had the 50-yard score.
Dayton Christian trailed 48-12 until Powell hauled in a TD with 2:12 remaining in the game. The Warriors recovered an on-side kick and scored on the next play with the heave to Bohannon for the game's final score.
The game served as the final non-conference game before the start of Three Rivers Conference play. Troy Christian travels to Covington next Friday to kick off the chase for the inaugural TRC football championship. The new league also includes Bethel, Lehman Catholic, Miami East, Milton-Union, Northridge and Riverside.
"I've got a lot of friends from Covington, guys telling me they can't wait to see me next week," Burkett said. "I can't wait to seem next week. It's going to be a great time. … I'm sure we'll have plenty of smack talk back and forth."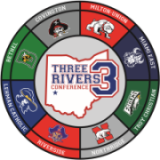 As for Rich, the game he has circled is Week 7 (Oct. 1) at Miami East. Rich, who lives in the East school district, played for the Vikings before transferring to Troy Christian.
"I've been wanting to play against them for a long time," Rich said. "We've got some talent on our team. I'm really happy with what we have going right now. …  I'm really proud of the guys. The last few weeks we were a little messy. We really stepped it up today and it shows."