What Dodgers' pitcher Mitch White did Wednesday was special, but the pitching mark he matched from sixty years ago led me to an even better baseball memory.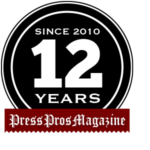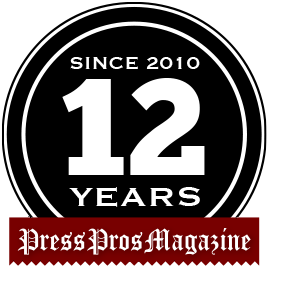 This short story is for my college friend Doak Ewing, in Naperville, Illinois, who has ALL of the old baseball cards.
It's for former umpire and friend Steve Partington, in Port Charlotte, Florida, who remembers all of the old baseball players.
Actually, it's for anyone who ever bought a pack of Topps baseball cards when they were a kid and stuffed them in a shoe box for posterity and forgot them.  It's for anyone who delights in old baseball nostalgia, like Press Pros baseball nostalgic, Greg Hoard.
So…channel surfing late Wednesday night/Thursday morning I happened onto the MLB network and saw highlights of Wednesday's Dodgers/Pirates game.  Actually, the Pirates really aren't a highlight in anyone's book these days because they got blown out by the Dodgers, 9-0.  Except for……
Dodgers relief pitcher Mitch White did something that's really rare.  He entered the game with two outs in the second inning for starting pitcher Justin Bruihl and pitched the next 7.1 innings to become the game's winning pitcher.  And by doing so he became the first Dodgers relief pitcher since a guy named Ed Roebuck to pitch 7.1 innings in a game, when Roebuck did it back in June (24th), of 1960.
OK, that's pretty special, because relievers don't pitch that long in games anymore.  It's a tough business.  Ask Heath Hembree.
But the name…Ed Roebuck…jogged my memory.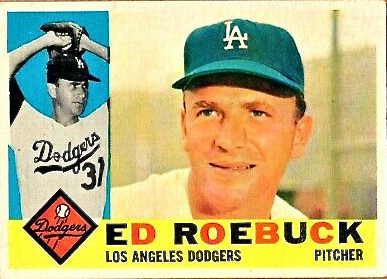 There's a box – a shoe box – of old baseball cards in my office closet upstairs that I remembered and went to find.  And voila…there it was.  I found it after some careful searching.  There was Ed Roebuck's old 1960 Topps baseball card from my second grade year;  from some judicious back-of-the-school-bus-on-the-way-home trading with Gerry Jerrells and Jerry Schnieder.  Cards were a nickel a pack back then, you got a stick of bubble gum and about eight cards (I think).  And while I didn't have a nickel and was too young to go to Dowling's General Store during lunch to buy cards, the older boys that did would give me cards they didn't want, or the duplicates.  Ed Roebuck happened to be one of the ones they didn't want, and sixty one years later…I still have it and share it with you.
Ed Roebuck wasn't a great a major league pitcher, but he did hang around for eleven seasons with the Dodgers and the Phillies…long enough to win 52 games and start one major league game  for the old Brooklyn Dodgers during the '57 season.
But for baseball cards aficionados, those 1960 Topps cars were some of the best-looking ones of that era – unique, with both an action and portrait image of the player on the front.
And whatever happened to Ed Roebuck?
Well, he passed away at the age of 86 back in 2018 after working as a scout for fifty years for a bunch of major league teams.
And yes, I agree, this story doesn't mean a thing to the average person, or even the average baseball fan.
It's only relevant…if you have that baseball card.