You like a running back with the power of a bulldozer and the speed of Barry Sanders?  You'll love Upper Arlington senior Carson Gresock.  OCC columnist Steve Blackledge shares his latest for Press Pros readers.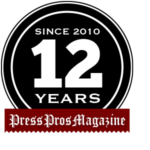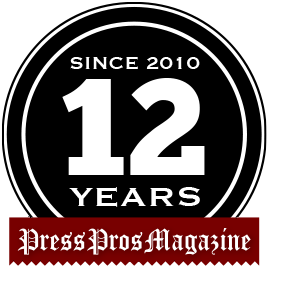 UPPER ARLINGTON, Ohio – Although Justin Buttermore took over as Upper Arlington football coach In March 2020 facing a lot of uncertainties created by COVID-19, he was 100 percent sure of one thing.
"It was very evident from day one that I had a great player coming back at running back," said the veteran mentor, who came in with a proven track record at Dresden Tri-Valley and Granville.
That "great player" was 5-foot-10, 210-pound plow horse Carson Gresock, who had rushed for a modest 529 yards and four
touchdowns as a sophomore in a triple-option attack utilized by Jeremey Scally, who spent just one season at the school before returning to Hilliard Davidson to succeed legendary coach Brian White. Scaly had been a long-time assistant at Davidson.
Long a proponent of the spread offense, Buttermore leaned heavily on Gresock and a stout offensive line last season. Gresock amassed 1,301 yards and scored 11 touchdowns for the Golden Bears (3-5) in earning first-team All-Central District. To gain some perspective of Gresock's workload in the shortened season, consider that he averaged 26.5 rushes and 162.6 yards per game. And he did so against a schedule that included perennial Ohio Capital Conference powers Westerville Central (twice), Olentangy Orange (twice), Olentangy Liberty, Dublin Coffman, Hilliard Davidson and Hilliard Bradley. His season-high total of 226 yards came against a Coffman defense regarded as one of the best around.
"I kind of figured out in the preseason that I was going to carry the ball a lot in a power run offense," Gresock said. "I was confident in my abilities and I had envisioned having a big season, but you never know until you actually do it. Changing from a triple-option to a spread is completely different philosophy, but it suited a North-South runner like me really well."
Buttermore offered this description of Gresock's running style and personality.
"Carson is a real explosive, violent runner who is built like a fullback but has the speed of a tailback," he said. "He reminds me of an old John Riggins (a standout with the New York Jets and Washington from 1971 to 1985) in that he just punishes people. He's a downhill runner who is very difficult to bring down. He has a really strong upper and lower body. Carson is a real quiet, steady, hard-nosed kid who plays at only one speed. He struggles to throttle it down even when you ask him to."
Gresock easily bench-pressed 365 pounds before Buttermore compelled him to stop. He also topped UA's preseason speed drills, topping out at 23 miles per hour.
It isn't difficult to trace the hard-as-nails makeup of Gresock.
His father, Steve, was a backup fullback at Ohio State in 1986 and 1987 after spending two seasons in junior college. At Youngstown Boardman High School, Steve shared the backfield with quarterback Bernie Kosar, who had a brilliant career for the University of Miami and the Cleveland Browns. Carson's brother, Chase, is entering his senior season for the Miami University ice hockey team.
"I play exactly like my Dad did," Gresock said. "People who watched him or have seen film of him always tell me that. He raised me to be what I am. My brother also has had a big impact on me. He's five years older than me, so he beat me up a lot and that made me tougher."
Gresock said he has received recruiting interest from the likes of Kent State, Akron and Army to name a few. Adamant that his star back is a Division I, scholarship-caliber player, Buttermore added that since some may regard Gresock as a fullback, finding a suitable program match is imperative.
Buttermore's spread offense is built with the flexibility to adapt to each team's personnel. During his 14 seasons at Tri-Valley in which the Scotties made the playoff 11 times, including a Division III state runner-up in 2017, his physical teams were known for running the ball, which led to big pass plays. His Granville teams, both of which made the playoffs, were smaller and faster and featured a high-powered, up-tempo passing game.
"My most successful teams tended to run the ball 60 to 70 percent of the time, and we want to become more balanced," said Butterfield, adding that only one starter returns up front but the skill positions are deep and talented.
Given Upper Arlington's rich history, which includes Associated Press poll titles in 1967, '68 and '69 and an OHSAA title in 2000, Butterfield came to UA with high expectations. Until 2020, when all teams made the postseason, the Golden Bears had not won a playoff game since 2015. Much of the fan base likely would regard the previous decade as mediocre by the program's lofty standard. And Buttermore's first season produced just the third losing season since 1963 and ninth in the program's 95-year history.
"We were much better last year than our record indicated," Buttermore said, pointing to three losses by seven or fewer points. "We got better and better and better as the season went along and came a whisker away from beating (regional finalist) Westerville Central (losing 21-20) in the playoffs. Considering we didn't have a whole off-season to put in new systems and the fact that there's never an easy Friday night our league, I felt like we installed some building blocks and put or stamp on the program. Our hallmarks are attitude, effort and toughness. We expect to be a more cohesive team and with that will come more wins."
No doubt, Gresock will play a large role in that rebuild which coincides with a massive construction of a new school and campus at UA.
"We want it all," Gresock said. "A conference championship, final four … all of this is possible. We've got a great senior class, a great coach and an offense that will be a more balanced and explosive, and, hopefully, will really take off this year."