The guys you watch on ESPN will be here in three weeks to compete in the annual Coldwater PBA Classic, only they don't seem like people you would watch on TV.  Professionals at their craft, the most impressive thing is that they're just regular people.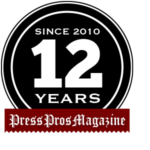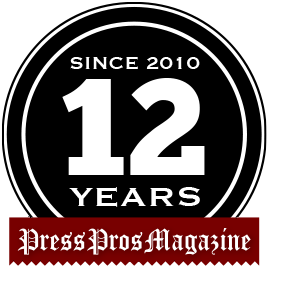 Coldwater, OH –  The 96 best professional bowlers in the world will be here in three weeks to compete in the 13th annual Bowlerstore.com PBA Classic, hosted by Pla-Mor Lanes in Coldwater.  And frankly, I can't wait.
I was there last year, er, uh, two years ago (there was no Classic last year because of, you know…Covid), my first live experience of watching the PBA pros do their thing.  I've seen some impressive athletic acts – Jack Nicklaus hitting a one iron.  I saw Steve Carlton at his peak from 60 feet, 6 inches.  Saw Pete Maravich score 42 points one night for LSU against Kentucky.  And I saw the great Rick Mears win his fourth Indy 500 in 1991.
But having tried to bowl over the years, I'm not sure there's anything more impressive than watching Sean Rash, or Kyle Troup, or Jason Belmonte string strike after strike after strike with the ball never more than a quarter inch off perfection as it hits the 1-3 pocket.  These are guys are that good, and they all do it differently…just like regular people.
In fact, they are regular people – some of the nicest, most approachable professionals I've encountered in any field.  Human, you might say, considering that 2019's winner of the Coldwater tournament, South Carolina's Tommy Jones won the tournament title while throwing not one, but two gutter balls in the deciding match.

"I might be the only person to ever win a title with two gutter balls because I don't think anyone else is dumb enough to do it a second time," Jones joked.
This year's tournament will be held on August 13-15, but for added bowling consider that Community Lanes in Minster will host its own regional event that same week, August 10 through the 12th.  So if you're a fan of the PBA on TV, here's your chance to see it live, up close, and even personal.
How personal?
Pla-Mor Lanes proprietor Rick Hartings had suggested that I talk with Ronnie Russell, from nearby Marion, Indiana back in 2019.
"He's a good guy,"  said Hartings.  "You'll see what I mean."
So when I approached Russell and fellow pro E.J. Tackett after they were done with their qualifying matches I asked Russell if he could spare me a few minutes.
"I thought you'd never ask,"  he cracked.  "E.J. and I are going downtown to the men's store to meet Gary Bruns for a fitting,"  said Russell.  "Meet us there in 30 minutes."
A fitting?  Tackett was getting fitted for a tux to wear at his wedding the following month.  Tackett, like Russell, is another Hoosier from Bluffton, Indiana.   Russell was just there for the laughs, the hospitality, and a few beverages.  And for the next two hours we sat there – Gary Bruns and me – listening to Russell and Tackett tell stories and detail how tough, and how competitive it can be – to make a living by throwing a bowling ball.
"It's a crapshoot every week,"  said Tackett.  "213 is a great average for a house bowler, but it's pretty pedestrian by comparison to the scores you see on tour.  When you have guys bowling 300s, you don't make much with a 213.  A lot of bowlers are just blue collar guys and they don't come from much, and they know that even the top tier guys in the sport aren't making a million dollars.  I know I can't retire on what I've made in bowling so far, or be set for life. It's a grind out here and the average bowling fan appreciates that."
But more, they appreciate sitting in the hospitality tent outside, or in the Pla-Mor lounge, just chatting it up with the likes of Sean Rash, Norm Duke, or local pro Michael Davidson, from Versailles, who's making his presence felt on the tour in just his third season.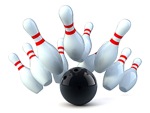 "We're just people like everyone else,"  said Russell.  "This can be a pretty humbling thing, and like the guy who hates his job at the mill, I can't tell you how many times I've threatened to do something else."
For more information on this year's tournament(s) call Community Lanes in Minster (419-628-2717) or Pla-Mor Lanes, in Coldwater (419-678-3113) or check them out on line.  Even if you're not stricken by star envy, you'll enjoy these guys because they put on a helluva' show, and if you get the chance to stick out your hand to Ronnie Russell you'll see what I mean.
"Friendships last longer than money,"  says Russell.  "I'd rather have a million friends than a million dollars."