An early investment of time by his uncle, and some hard-earned gear helped Zanesville's Solomon Curtis find a calling that brings him, and those he hopes will follow his example, a lifetime of peaceful satisfaction.
By Jim Abrams for Press Pros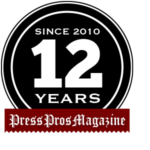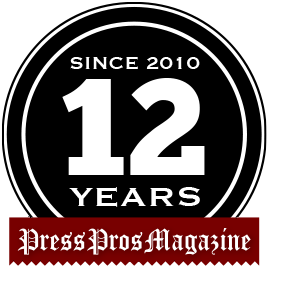 I don't spend much time on social media but I do occasionally scroll through the Ohio Fishing Reports Facebook page. Photos feature kids with their first fish and experienced anglers with some exceptional catches.
Over the months, I'd noticed one individual who kept showing off largemouth bass that would classify as trophies to any avid angler. Calling himself "Bass Curtis," I decided that there may be a column lurking with those lunkers. Everyone likes a good fish story so I messaged him. I had no idea I was about to be introduced to a hero.
"Bass" is the nickname that Solomon Curtis adopted when he started posting fish-photos on the internet and he graciously agreed to be interviewed. What I expected to be a relatively short talk lasted nearly two hours.
Solomon grew up in Zanesville, Ohio. He describes his childhood as one without much money or many luxuries. Needing some guidance beyond what his mother could offer, his Uncle Greg Norris took eight-year-old Solomon fishing. It was love at first strike.
Sunday afternoons became their special day together. The two spent time at Dillon State Park searching the depths for catfish and taking fishing trips along the Licking River. While catfish were Uncle Greg's focus, young Solomon wanted to explore other species swimming in the water. A copy of Bassmaster Magazine sparked his interest in largemouth bass.
Having been outfitted with borrowed equipment, the youngster yearned for his very own fishing gear. He cut grass, shoveled snow and saved his money while carefully exploring catalogs. Before long, he bought his first rod and reel. "That was a great day. It meant a lot to have earned the money…and it taught me a lot of good lessons. I can't remember what brand they were anymore but I wish I still had them. They landed a lot of smiles," said Solomon.
Now 42, he's come a long way since those early trips. He's well-known for his bass fishing efforts at Jesse Owens State Park and Wildlife Area/AEP Re-Creation Lands near Cumberland, Ohio. How well known? He recently spent a day in that area fishing with Governor Mike DeWine and ODNR Director Mary Mertz to celebrate Fish Ohio Day.
"We first noticed this guy posting some huge bass on the Division of Wildlife's website and that he was taking them in the AEP-ReCreation lakes. We reached out to find out more about him and we developed a great relationship with him and accomplished angler, Cornelius Harris (www.guruoutfitters.net). We hope that they might help with future angling outreach programs," said Kendra Wecker, Chief of the division.
Today, Solomon's rod and reel preferences have evolved and he's formed solid opinions about what works best. Shimano spinning reels spooled with 14-pound test Stren attached to his favorite St. Croix rods are his go-to combinations. "In my experience, the drag on the Shimano reels are the best available. The St. Croix offers sensitivity and plenty of backbone for a good hook set," he explains.
As for lures, he was just as specific. "Blue Rock Custom Tackle (bluerocktackle.com) have proven themselves to me. I have two favorites; Blue Rock's Pig and Jig can be deadly – but if I had to rely on just one, it would be their four inch Green Pumpkin Tube lure," Solomon said. He's also found that fishing from a float tube gives him better access and an angling edge.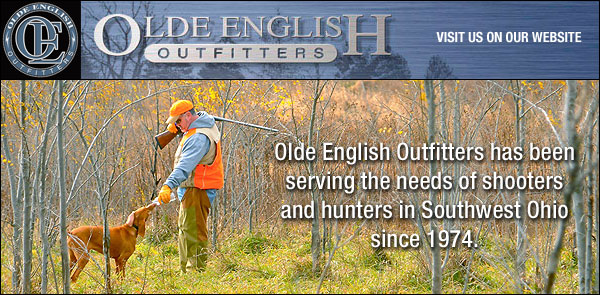 Solomon admits that he rarely catches the most bass on any given trip, but that's not his goal. He's looking for trophy bass and he adjusts his techniques to concentrate on them. Like his children's birthdays, there's one date locked in his memory. On April 17, 2011, he landed an impressive 10-pounds, 2-ounces lunker largemouth; his largest.
His goal is to break Ohio's largemouth state record which stands at 13.13 pounds. Every day he's on the water, he's preparing for that big one. He believes his best chances are in the earliest part of the season when bass are plumping up. He begins fishing in late February and doesn't quit until ice tops the water. Between trips, he studies fishing videos, programs devoted to angling and reads about equipment and fishing in general. My money's on Solomon. You can follow his angling efforts on Ohio's Finest Outdoors Facebook page.
Does he have a dream trip? It's actually already in the works. Next year, he plans to travel to Mexico's Lake El Salto, the most famous bass fishing lake in the world. He hopes to pit many of his tested techniques and equipment against some of the biggest largemouth bass that can be found.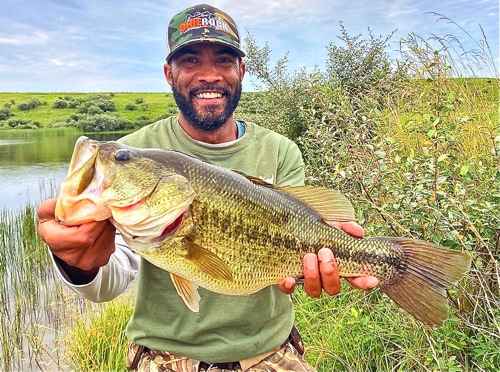 When not fishing, Solomon works with at-risk kids and mentoring programs. "I see myself in them," he said thoughtfully. "It would have been easy for me to go the wrong way but I managed to avoid it. These kids can, too. They just need help – to see that it can be done and that there are alternatives. That they're not alone and that people care," he explained.
Now you can see that I was indeed introduced to a hero, I just never got to talk to him. Uncle Greg Norris captures the honor for taking a young boy fishing, showing him a new direction, becoming his friend and helping create the man that Solomon is today. A man just like his Uncle Greg – one that loves fishing and helping kids. I cannot think of a better legacy.
If you'd like to try your luck at the Jesse Owens State Park and Wildlife Area/AEP Re-Creation Lands and need a guide, check out Guru Outfitters – www.guruoutfitters.net. Great fishing and top-notch folks.
"The charm of fishing is that it is the pursuit of what is elusive but attainable, a perpetual series of occasions of hope." – John Buchan
Abrams is a retired wildlife officer supervisor for the state Division of Wildlife in Findlay. He can be reached at P.O. Box 413, Mount Blanchard, OH 45867-0413 or via e-mail at jimsfieldnotes@aol.com.