The Michigan coach said his team "will die trying" to defeat the Buckeyes and Michigan State to regain footing in their annual rivalry games.  Ryan Day, though, said it's first things first, and that's defeating Minnesota in the opener.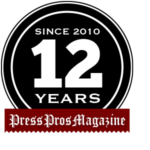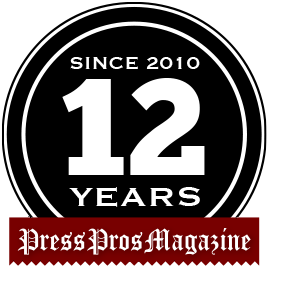 Indianapolis – The Big Ten likes to say that its annual conference football day is a "media'' opportunity, but, really, it's free advertising for the likes of Ohio State, Michigan, Penn State and the 11 other members to show off their brands in front of a couple hundred notepads, microphones and television cameras.
The two-day affair usually is full of bland and vanilla comments from the players and coaches not wanting to cause even a ripple of controversy.
Thank goodness for Jim Harbaugh. If you didn't know by now, the Michigan coach is the rock star of this thing. Since 2015, he has bristled at some uncomfortable questions, made some bodacious predictions and generally has given reporters some juicy stuff to work with.
We thank him for that.
The latest edition, which was held inside enormous Lucas Oil Stadium, was Jimbo's show yet again when he answered a question about the Wolverines being 0-5 against Ohio State and 3-3 against Michigan State.
That record against the Buckeyes very well might be 0-6 had last season's game not been cancelled because of a virus outbreak among the Wolverines.
"I'm as enthusiastic and excited as I ever am, always am, even more to have at it, to win the championship, to beat Ohio, our rivals Michigan State, everybody,'' Harbaugh said. "That's what we want to do.''
And then he added spice.
"And we're going to do it or die trying," he said.
These words come from a man who did get a contract extension, but with a reduced salary. He has been under fire – or at least has drawn grumbles – from a lot of fans. Let's not forget that he got rid of a good portion of his coaching staff in order to make it younger.
Harbaugh has his players thinking along the same line of becoming relevant again in big games.
"Every day. Every day. That's what it's about. It's about beating them. Every single day," linebacker Josh Ross said. "And that's one thing that's been a focus for our program, for the players, coaches, make the best of every day."
The Ohio State players on hand, offensive left tackle Thayer Munford, tight end Jeremy Ruckert and linebacker Zach Harrison, didn't have to shoot back with anything spectacular because this has been the team's blood game since Jim Tressel became coach in 2001.
"We're all treating it the same like we've always had. It's special,'' Munford said. "It's still the greatest rivalry in all of sports. As freshmen, we always were taught that we're always going to have a bull's-eye on our chests. We have practice as if it's our last practice. We know we are the front-runners for the Big Ten (championship). But we also have to act like it as well and be very humble.''
Ruckert looks back at having no 2020 game against the Blue as a missed opportunity of a lifetime because it would have been his last shot at that team up north at home.
"We respect the rivalry. We live it. We work for it,'' he said. "It's the greatest rivalry. With any rivalry, you are going to say things. We're excited to get out there and go up north and hopefully get out of there with a win.''
Coach Ryan Day stressed that this isn't 2019, when the Buckeyes ventured to a College Football Playoff semifinal against Clemson or last season, when they won their fourth straight Big Ten title and lost 52-24 to Alabama in the national championship game.
This time, Justin Fields won't be in the shotgun formation and none of the four linebackers in the rotation return.
The quarterback, whether it's JC Stroud, Jack Miller or Kyle McCord, will be raw.
Still, Indiana coach Tom Allen called Ohio State "the gold standard" of the conference.
The Buckeyes' opener on September 2 not only comes against a Big Ten foe in Minnesota that has gained some clout under PJ Fleck, but it's in Minneapolis, at night and on national television.
"We start right away,'' Day said. "The easy thing to do coming off of last year is to focus on how do we get back to the national championship game? But more importantly this year is how do we win that first game at Minnesota? We're going to have a young team with a young quarterback and we have to start the season really strong. This preseason is going to be very, very important for us. We're going to have to come out of the gate strong and harden ourselves as we go into the first game.''
Still, this is Ohio State and Day and his staff and the staff of Urban Meyer before him recruited and signed some of the best players in the nation. Only Alabama and Clemson reside in the same building when it comes to the high school harvest.
"I feel good about the team,'' Day said. "I feel good that we have some veteran groups. But there also is some inexperience in some areas. It sounds like coach talk, but in order to get back here we have to figure out a way to win the first game. Otherwise, it doesn't matter. How is that going to happen? It happens with an unbelievable preseason, and that's staying in the moment. If we can just stay in that focus, we're going to have a chance to play in some championship games. When you look at the youth that we have at linebacker and look at the youth we have at quarterback, that's something we've got to make sure we do a good job of addressing. But we also have some great players around them. We have really good depth on defense, the d-line, and our secondary has more depth than it has had in a while. Then on offense we have pretty good depth at all the other positions.''
Day said he and the staff are going to make it "a hard preseason for us'' to get ready.'' He promised that many freshmen from yet another sterling class will play right away.
Maybe even a fifth straight conference championship won't happen if Stroud, Miller or McCord fail to deliver.
"The quarterback situation, whoever is behind me and the offensive line is going to do their job whether it's CJ Stroud, Jack Miller or Kyle McCord,'' he said. "They will do their job. They are hard workers. They love to compete. They want to do the best for our team.''
Can any of them be a reasonable facsimile of Fields?
"Yes, 100 percent. I firmly believe that,'' he said.
Ruckert said whoever wins the quarterback job will have to be a special guy.
"Playing quarterback at Ohio State is mentally challenging,'' he said. "You've got to be able to lead all these guys and be the voice in the huddle and be the guy that they count on. At the same time, you've got to be able to master one of the most complicated offenses and be able to make plays at the same time. That's something he's looking for, to find a dude who's willing to take that extra step and be willing to lead.''
Now, for the fun stuff – at least for the players. Because of a Supreme Court ruling, college athletes are permitted to make money on their names, images and likenesses called NIL for short.
There was a time when Ohio State could sell jerseys with the names of its players on the backs and bank every dollar. The athletes got nada.
Day said the Buckeyes can make some good coin because of the team brand, university name and city of Columbus. He does worry about athletes not running, throwing or catching the ball losing out.
Alabama coach Nick Saban said his quarterback, Bryce Young was closing in on $1 million worth of endorsements. That is staggering considering the kid has attempted 22 passes in college.
"I do think that we need to consider down the road somewhere along the line – maybe it's a year from now – figuring out how we spread some of that money out,'' Day said. "Certainly, the quarterback at Ohio State is going to have an unbelievable opportunity. The wide receiver, the running back, there are going to be certain positions when you combine the brand of Ohio State, you combine the brand of Ohio State football and you combine the City of Columbus with our social media presence it's like the perfect alignment. The opportunity for our guys is going to be unlike anywhere else in the country.''
Munford has a deal to peddle automobiles for his girlfriend's uncle. He grew up poor in Massillon, Ohio.
"He has blessed me with a new car, which is pretty nice,'' he said. "I've also got some other things as well. I'm also going to Rooster's. It's awesome. It's nice to have some cash in our pockets. We have some people who came from nothing, and it's a great opportunity to actually have some money in our pockets but also give money to our families. We can help them out a little bit.''
Harrison, who is from the Columbus suburban high school Olentangy Orange, is sniffing the landscape.
"I definitely have some stuff in the works,'' he said. "I'm getting with some guys that I work with and we're going to hopefully get some of that stuff out soon. I'm trying to take it slowly. I'm not trying to jump into it too soon. I don't want to make a mistake. This is serious. This is money. You have to pay taxes on it. A little bit. I'm not a big media guy. I'm not a big self-promoter. I've got to learn how to do that a little bit and still be myself. That's a challenge. I'm trying to figure it out.''
What would Harrison like to endorse?
"Probably some food. I like to eat. . . . some free meals,'' he said. "I like a lot of food. I like cheesesteaks, I like Buffalo chicken wraps, I like pizza, I like mac and cheese. . . . something with all that food.''