Most of Rusty Allen's baseball players are multi-sport athletes … and that's just fine with the Ohio Starz 15U baseball coach. Allen and Monroe Swarm coach Ed Beck prefer trying a variety of sports compared to specialization, even if it means having to share athletes or find replacements for family vacations.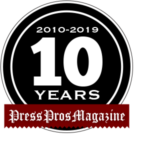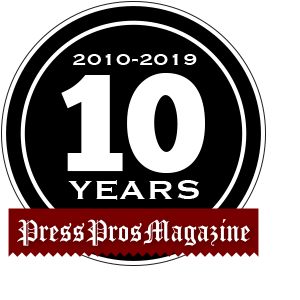 Pleasant Hill, OH – Summer travel baseball offers enough challenges for coaches without mixing in Saturday morning's weather.
A swirling mist alternated with a light rain during the day's first game of the Best of Ohio Championships at Pleasant Hill High School. A couple hitters sent bats flying as they lost their grip. Pitchers struggled with control throwing heavier, water-logged baseballs. And one base runner stole second base … only to slip-and-slide on the slick field turf right past the bag and get tagged out.
Those conditions are tough enough for high school seniors. But the guys playing the game Saturday – the 15U Monroe Swarm and 15U Ohio Starz – don't have that seasoned experience … yet.
The Starz benefitted from a handful of hits, walks and weather-induced miscues in the late innings for an 11-3 victory.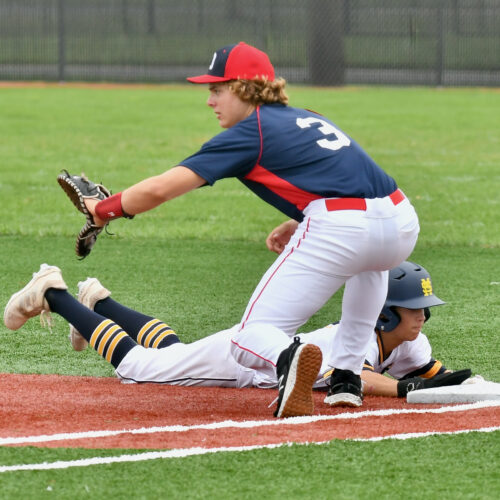 And then there's what the Swarm and Starz have to contend with most other weekends … vacations and sharing their three-sport athletes with other sports. The Starz were down to 10 players. The Swarm were missing two catchers to vacation and had to find a weekend replacement.
"We try to accommodate them as much as we can," Starz coach Rusty Allen said, himself a three-sport athlete during his time at Wapakoneta High School. "This is a team we kind of put together this year, to get them to see some different arms than what they see on their high school teams."
Allen – also the Wapakoneta Redskins' girls varsity basketball coach – played soccer, basketball and baseball before graduating in 1991. He encourages the multi-sport route for players instead of specializing in a single sport.
"We have about five or six guys where baseball is their No. 1 sport. They're athletic kids so we definitely encourage those kids to play as many sports as they can," Allen said. "Those three-sport athletes are a dying breed anymore. Maybe all but one or two guys on this team is a three-sport athlete. We've got a lot of football, basketball, baseball guys. We've got a cross country guy and a couple soccer guys.
"Guys get all caught up thinking colleges should be looking at them right now. You're going into your sophomore year. You've got time."
Especially, as Swarm coach Ed Beck emphasizes, as a sophomore-to-be. Players are just starting to hit the weight room. They're still learning the game. And they're still developing that mental toughness.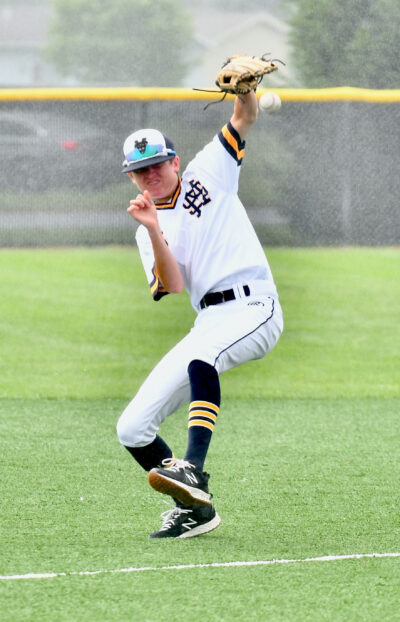 "The difference is the mindset in the batter's box," said Beck, also the Monroe High School varsity baseball coach. "Older guys have an approach. Some of the younger guys just don't have an approach. They get down a first strike and start thinking the guy's going to bring me a curveball and I'm not ready for it. They let it go by and their knees start shaking a little. Now they're not confident and their whole at-bat is gone because of one strike. … This game is 80 percent mental."
As the third-base coach Beck runs through the signs for his batters. One of his most used is making the letter 'C' with his hand. It stands for confidence.
Believe in yourself. Relax. Enjoy the game. The rest will follow.
"Just let the last pitch go (mentally). But when you're 15-years-old it's tough," Beck said. "You're trying ingrain in them you're supposed to be having fun. So the pressure you put on yourself is your own pressure …. Seeing them develop is the best part."
That's one reason Allen (among others) started the Starz first-year team. His group of ball players mostly see competition from their Wapakoneta and Lima surroundings. They'll have about a dozen games in the books by weekend's end.
"These guys know we're out here to play a game. Have fun. Try to get better," Allen said. "One game or one at bat isn't the end of the world. Go out there have fun and compete. Play the game you love to play."
No matter what game it turns out to be. Allen said the favorite of his three sports was basketball. But in hindsight, Allen said he probably should have focused more on baseball.
"You never know what sport it could be," Allen said.
So … as Allen and Beck and other coaches suggest to their up-and-coming players … try different ones while you have the opportunity.