His record was astounding, his personality unforgettable, and the impact he had on his players coaching football at Covington High School is irrefutable.  Hometown guy Ted Peacock had arguably the best four years of any coach in Buccaneer football history.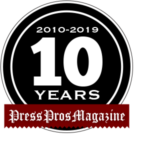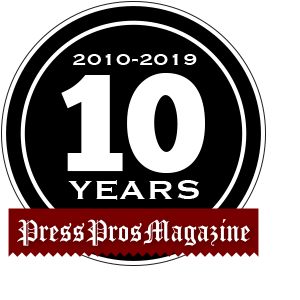 Covington, OH – When he greeted me at the door of his home in Covington recently former football coach Ted Peacock stuck out that big paw of his, shook my hand energetically, and said he was happy to see me.  I didn't doubt him.
Those who know him…his record, his story, and his comeback from some tough life adversities, rarely do.
The only thing anyone ever questioned about Peacock is the present question of just where he fits in rich legacy of football history at Covington, a town that boasts 523 all-time wins (since 1947) and coaching notables like Larrie Tisdale (89-30-4, in two stints as coach), Charlie Burgbacher (34-27-2), Kevin Finfrock (34-9), Dave Miller (86-20), Ty Cates (most recently, 38-18)…and Peacock, who in four years between 1999 and 2002 compiled a record of 42 wins and 5 losses.  He left after the 2002 season with a winning percentage of 89.3% and the distinction of owning 34 of the record 44 consecutive league wins by Covington between 1999 and 2004.  Anna finally snapped that string in the second game of the 2004 season, 42-7.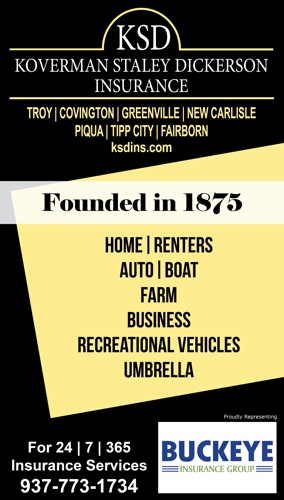 He is the quintessential hometown boy, growing up in Covington, playing football in Covington, and later coming back to coach in Covington after assistant positions at Miami East with Bob Riley and in Bradford with Kent Shafer.  Along the way he served a tour of duty in Vietnam, worked and retired from the Miami County highway department, lost his wife Ann, a pair of assistant coaches, beat cancer…and survived the death of a young man named John Starry, who would prove to be a life inspiration.
Now 72, and remarried to wife Deb (Placeway), he's completing his hometown circle of life.  But he's hardly done with football.  When Covington recently hired former Minster assistant Austin Morgan as their 17th head coach all-time, one of the first people to welcome him to the fraternity – to observe him in person – was Ted Peacock.
"I was impressed,"  says Peacock.  "He's got a lot of enthusiasm, and you need that in a town the size of Covington.  Enthusiasm is infectious.  It rubs off on the kids.  And the word gets around about the new coach and that gets more boys out to play football."
He was so successful in those four years from 1999 to 2002 that many ask, "Why so short?  Why didn't he coach longer?"
"I would have coached longer,"  he says, struggling to pick the right words.  "But those four years were about the time when Ann's health began to decline.  She needed me more of my time and I wanted to give her that time because she was a remarkably patient woman.  You have to be to be a coach's wife.  We traveled and did some things for a couple of years after I stepped down, but then she began to go pretty fast,"  he added, shaking his head and biting his lower lip.
And the other question pertaining to Peacock's time at Covington has always centered around his failure – if you can call it that – to win big post-season games against teams from the Midwest Athletic Conference – the MAC.  There are those who mistakenly say Covington never won a playoff game during his tenure as coach, but that's not true.  His overall post-season record was 2-4, with wins in 2000 against Bethel and Ansonia, both Cross County rivals.  It was the losses to Marion Local (41-6 in 2000), Southeastern (27-21 in 2001), and Troy Christian (20-16 in 2002) that have bedeviled Peacock and his record over the years.
"Honestly, Ted wasn't very lucky,"  says friend and former Covington athletic director Roger Craft.  "He came to Covington at the same time all those MAC teams were hitting their stride and winning all those titles.  I think Marion's record over the years pretty much tells you about the kind of challenge it was to beat them in the playoffs.  If it weren't for them you might make a case for Covington being the second best Division VI team in Ohio during Ted's time as coach."
"Marion was good, really good,"  Peacock now recalls the 2000 regional final game with the Flyers.  "We had won back-to-back games against Bethel and Ansonia and there was a lot of anticipation about playing this team from Marion Local.  It was a cold night in Troy and they just beat us.  I about froze and they went on to win the first of their [eleven] titles two weeks after that game.  I've always had a lot of respect for Tim (Goodwin) and his program.  Class guy, classy kids, and a great community of people.
"We were up against Southeastern in 2001, but they had this big fullback running the ball and we just couldn't stop him in the second half.
"But the game that bothers me the most is the Troy Christian game the following year.  I didn't sleep for a week after it, and I still don't know how we lost that game, except for not running play action and throwing when we were inside the ten yard line twice.  If we had I'm sure we would have scored.  We could have kicked and scored.  But we tried to run and they stopped us."
What Peacock did do was win all those games in succession against the Cross County Conference – 34 under his watch – while losing just one regular season game in four years (to Twin Valley South and Dave Miller in 1999), establishing Covington as one of the state's best threats for the Division VI title.
"Our league was not that good, overall,"  says Peacock.  "But the league had some good football teams during that time – playoff teams.  Arcanum was good, Ansonia, and Bethel had some years where they were a threat to beat anyone.  And Anna came along in 2001 and suddenly they were going to the playoffs every year.  But I was blessed with great kids and great coaches – Doug Swartz, Dave Tobias, Finny.  Those kids were as talented as any group I'd ever been around.  I mean, we had every position on the field covered and they got after people.  And not only were they great athletes but they were great students, too.  You look at how many of them went on to successful careers after football;  and every place I've coached success on the field follows success in the classroom.  It takes that kind of intelligence to understand and execute offense and defense in football."
But outside of his success on the field, it was a tragic incident off the field that had the most compelling impact on Ted Peacock.
"John Starry….", he says, his voice trailing off.  "John was a young lineman for us and he had worked so hard in the weight room to be a part of our team in 2000.  It was August that year and John was driving back to practice one afternoon from Troy when he lost control of his car and went off the road.  I'll never forget Bob Huelsman getting the call and walking out to the practice field to tell us what had happened.  John hung on in the hospital as long as he could, on life support, until the family finally had to make that awful decision.  His doctor knew football, and Lois (Starry) told me later that the doctor told her,  'He must have had a heckuva' coach, because he just kept working to live.'  I think of that all the time, still.  John Starry changed my life.  I'll always be grateful for having him, Jim (his dad) and Lois, and what our time together did for me."
2021 marks another new chapter in Covington football, of course.  They embark on it as one of the charter members of the new Three Rivers Conference, with a new coach, and yes…Ted Peacock, now living on Walnut Street, anxious as ever to hear the pads pop and the crack of helmets on Friday nights.
"This has always been such a good football town,"  he laughs.  "Man, during those four years the stands were packed and it was rockin' here.  Football is good for the kids, and it's been good for Covington."
But it's been the best for Ted Peacock.  Whether his four years were the best years ever for Covington is debatable, of course.  Blair Irvin coached and won a state UPI title in 1960.  Thirteen years later Larrie Tisdale won the 1973 UPI title, and then finished runner-up to Mogadore in the 1979 championship game that included two overtimes.
And Peacock isn't blowing his own horn over what he accomplished in such a short window.
"I was around for that 1973 team," he laughs.  "And they were beasts – BEASTS.  Those guys had something like eight shutouts against good football teams.  They just mauled people.
"But it was a great four years for me.  To come back to my hometown and coach, to have all those great kids and coaches…."
He paused to gather himself.  Ted Peacock is prone to wearing his emotions on his sleeve.
"I always told the kids to go out and have fun on Friday night…because they had worked so hard all week.  Well, we had a lot of fun."