He was the first recipient of the Press Pros sponsor scholar-athlete scholarship award seven years ago.  Since then, Marion Local's Dustin Rethman has put the money and his time to good use.  Now, he shares what he knows with 2021 winners, Brady Klingshirn and Ellen Naumann.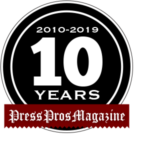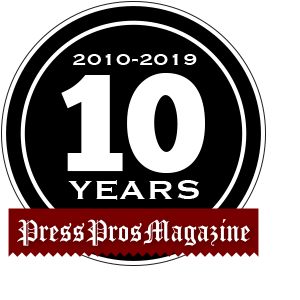 Maria Stein, OH –  Dustin Rethman jumped at the chance to host 2021 Press Pros MAC sponsor scholar-athlete scholarship winners Brady Klingshirn, from Coldwater, and Ellen Naumann, from St. Henry.
If you remember, it was Klingshirn's 26-yard field goal with no time remaining that gave Coldwater its seventh state football title last fall in a thrilling win over New Middletown Springfield in the Division VI title game.
You might not know, or remember, that Ellen Naumann is a four-time all-league,  all-state, and nearly all-everything golfer from St. Henry, and one of the league's best…all-time!
The irony in this is that Rethman was the very first MAC scholarship winner back in 2014.  Since then he's attended the Ohio State satellite campus in Lima for two years, then transferred to the main campus in Columbus, where he graduated two years ago with a degree in business management.
And one year ago this week he opened his own business outside Maria Stein on Voskuhl Road – Doc's (his nickname) Detailing, LLC – where he and former classmate and teammate Duane Leugers clean, polish, and do every last thing you can think of to cars, trucks, motorcycles, boats…almost any kind of vehicle except airplanes.  Their first year was such a success that plans are already on the table for expansion – facility, staff, and marketing.  A former state title winner in football at Marion (four times), Rethman has every intention of being equally successful in business.
This year's winners have something in common, despite heading off to different schools in the fall.  Klingshirn intends to attend Ohio State – Naumann is enrolled at the University of Dayton – but they will both pursue degrees and careers in the field of civil engineering.
"It's a broad field and there's a lot you can do in it,"  says Naumann.  "But I'm excited to get started at Dayton.  I won't play golf unless it's club golf, because varsity golf takes so much time and I don't want it to detract from my studies."
Klingshirn agrees that civil engineering appeals to him because it offers so many different opportunities, and likewise…he's done with football.
"It was a lot of fun on Friday nights, but I won't miss the practices,"  he admits.
As for his winning kick just seven months ago?
"I barely remember it now,"  he says.  "It happened so fast, and then it was over."
But life and the pursuit of their careers is just beginning, and for that reason we thought it apropos to have Rethman share some of his own experience and advice to someone else – a fellow scholarship winner – just starting out.
"First of all, that $2,000 was the biggest money award I received when I graduated,"  he smiles.  "My first year at Lima cost me about $3,000 and the Press Pros scholarship took care of two-thirds of my tuition."
Going to Dayton and Ohio State's main campus, Naumann and Klingshirn won't be that lucky.
"If I have any advice to give it would be to go out and do something you love, that you really like and look forward to every day," says Rethman.  "Then work hard to be the best at it you can be.  Prove that you're worthy of people's respect and trust.  Have fun with the new people you're going to meet at college, and learn from the experience of being in a new environment."
He practices what he preaches.  In just one year he's established a book of business that's dependable into the future, and unlike others who say they don't have room for new customers…Rethman's goal is to find a way to offer more service, products, and value through imagination and future expansion, including pick-up and delivery.  Like sports, he knows there will always be competition.
"You have to find a way [to win],"  he smiles.  He would know.
Among all the football titles, including his senior year when as quarterback he quarterbacked Marion to a 41-0 win over Norwalk St. Paul for the D-VII title, he remembers the 2012 title game with Newark Catholic as the most exciting.
"That was the game where we made a goal line stand to win it as time ran out,"  he says.
Klingshirn, of course, counts the game-winning kick as his most vivid athletic memory.

"I remember the punt return that Zack McKibben had to set up the kick,"  he said.  "None of us knew what was going to happen until he ran that kick back (70 yards).  Then it was just a matter of making the kick."
Naumann counts making the all-state team as a freshman as a highlight, along with competing in state tournaments…and a pair of eagles scored in competition at the Mercer County Elks course.
"I couldn't even see the flag stick,"  she says.  "But when I saw my family and friends going crazy I figured it must have gone in."
Holes in one?
"I came within a couple of feet once at the Elks.  That's the closest."
It was ironic to see the three of them together, not so far apart in age, but Rethman's business experience already in full bloom despite being just six years older.
"I appreciated getting that scholarship back then,"  he says.  "And now I want to give something back."
Advice from a former winner to 2021 recipients, Brady Klingshirn and Ellen Naumann.