After a two-year absence … one following and upset loss and another because of a cancelled season … the Fort Loramie Redskins returned to the Division IV district final. Coach Jeff Sanders' team shut out Bradford in a sectional final on Monday to advance in a postseason tournament where anything can happen.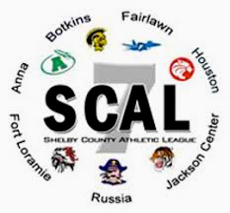 Pleasant Hill, OH – At first glance, the score from Fort Loramie High School's 9-0 victory in the Division IV baseball sectional final seemed like one of those early-tournament mismatches.
There is no such thing to Fort Loramie coach Jeff Sanders. Just two years removed from an upset loss to Russia in 2019 and a COVID-cancelled season in 2020, the Redskins are taking nothing for granted.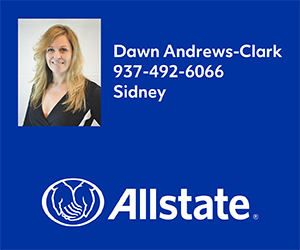 "Every game is stressful at this point," Sanders said. "You never feel good about anything. You're always worried that you have your team prepared."
If Sanders had any lingering doubts heading into Monday's D-IV sectional final – or district semifinal as the OHSAA prefers to call them – his Redskins answered them. All of them.
Eight of nine batters had a hit. Seven different players scored a run (including a pinch runner). Five different players knocked in runs.
The defense was stout behind starter Caeleb Meyer, who tossed a four-hit shutout on an efficient 83 pitches. He struck out seven and walked one … the first batter he faced to start the game on four straight pitches.
"If we're going to win these games and advance through the tournament we're going to need all nine, and in sometimes all 10 with a DH," Sanders said.
No. 7 hitter Grant Albers tripled in the game's first run – and in hindsight the only one the Redskins would need – in the second inning. Meyer, who singled for the Redskins' first hit, scored the run. Albers made it 2-0 on Devin Raterman's single.
"After that we felt like the momentum was ours and we kept it the whole game," Sanders said.
Fort Loramie added three more in the third, three in the fifth and another in the sixth. The Redskins had the potential run-rule, game-ending run on second with two outs before the Railroaders escaped.
Jake Sanders, Mack Fortman, Evan Eilerman and Meyer all had two hits. Derek Meyer, Darren Hoying, Albers and Raterman also had hits.
Fortman had two RBI. Hoying, Caeleb Meyer, Albers and Raterman each had one.
"I feel hitting-wise all of us can hit the ball. We're really good at picking each other up," Caeleb Meyer said. "I think we're just really consistent on offense and defense. Being a pitcher is hard enough, but having a defense behind you that makes great plays it's a lot easier to do.
"Most teams are going to want to throw their ace against us. They want to be the one to knock us off. They know they're going to have to play their best to beat us. We feel the same about a lot of other teams in this bracket. Most of the teams around here are pretty good and play top-notch baseball."
Fort Loramie (25-3) plays Troy Christian (21-6) in a D-IV district title game on Wednesday at a time and site to be announced by the OHSAA. Troy Christian beat Southeastern 8-3 on Monday.
"We definitely can't get overconfident or anything like that," Jake Sanders said of returning to the district final game. "Just stick true to what we know and what we've been doing all season. We're definitely in a good spot right now."
In 2019, Fort Loramie – the then-defending state champions at 25-2 – lost to a 12-16 Russia team 1-0 in extra innings.
In 2020, Fort Loramie and every other high school baseball team in the state never had the chance when the season was cancelled.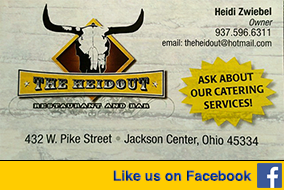 Now, in 2021 the Redskins are back in a familiar place.
"We always kind of have a target on our back," Jake Sanders said. "We're willing to take on anybody. Hopefully we can keep this thing going and make some magic."
Bradford (14-10) put six runners on base against Meyer. Two reached scoring position at second base.
Tucker Miller led off the game with that walk. He also singled in the sixth inning. Landon Monnin, Gage Wills and Landon Wills all singled off Meyer. Landon Wills also reached on a fielding error.
The defense, though, rallied behind Meyer.
Derek Meyer made a nice grab on a ball hit to right field in the second inning.
Hoying threw out a runner attempting to steal second in the fifth inning.
Bradford's Miller and Monnin hit consecutive one-out singles in the sixth. Eilerman ended the inning from his shortstop position by fielding a ball toward second, stepped on the bag and threw to Fortman at first for the double play.
There were a couple hustle plays that nearly resulted in highlight outs, too. Fortman nearly made a diving catch in foul territory after a long run. Sanders dove to his right to snag a line drive but the ball popped out when he landed on the ground hard.
Meyer struck out seven and walked one.
"Painting corners, that's what I'm known for. I hit my spots pretty well," Meyer said.
"His off-speed was good. He was getting ahead in counts, which makes him unpredictable to hitters," coach Sanders said. "He was locating his fastball and his curveball. He did a great job."
Bradford started Miller, who lasted 2 1/3 innings throwing 49 pitches. Miller allowed six hits, five runs and struck out one. He left after throwing a wild pitch that allowed the Redskins to take a 3-0 lead.
Taven Leach relieved Miller. His first pitch was also wild, allowing another run to score for the 4-0 lead. He allowed four hits, three runs and struck out three.
Gage Wills pitched the sixth. He struck out the first two batters, allowed back-to-back singles including one that scored a run, and ended the inning with another strikeout.
Fort Loramie stole five bases, including three by Sanders. Eilerman's stolen base came on a double steal in the fifth. Meyer jogged to second to draw a throw and when it came, Eilerman sprinted home for the 8-0 lead.
Even with another district final appearance, the Redskins aren't putting too much pressure on themselves. Sanders shrugged when the Redskins' No. 6 ranking in the coaches state poll was mentioned, adding "We don't pay much attention to that."
"It's just a game of baseball. We're just out here to have fun. Just hanging out with my classmates and friends for life. There's pressure but once you get in the game and get locked in you don't really feel it."