He came within an out of doing something really special – as if Brookville's Steve Jones isn't special enough. But in the end what he and his teammates really wanted was one more game, and they got it.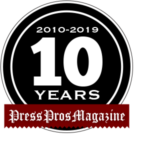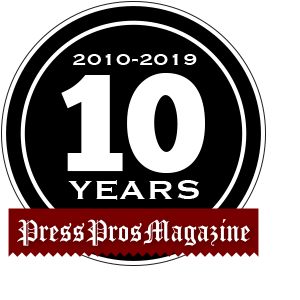 Arcanum, OH – Steven Paul Jones came within an out of pitching the #13 seed Brookville Blue Devils to Wednesday's district final in high style.
The Devils' 6'3 right-hander (who plays baseball exclusively) struck out 10, walked one, and hit a solo home run in the top of the sixth for the only run he'd ultimately need. And, oh yes…he came within an out, one measly out in the bottom of the seventh inning, of no-hitting #5 seed Indian Lake Monday night in the Division III district semi-finals at Arcanum High School.
But that part of the drama was not to be. This is tournament baseball and things like no-hitters are simply icing on the cake. The real drama is winning and moving on. Jones saw to that nearly by himself in a 3-0 Brookville win.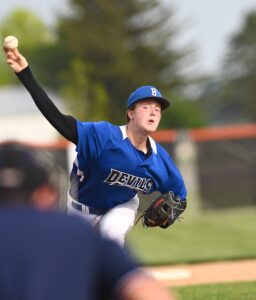 "He was something…really something," said venerable coach Chuck Harlow, who's now seen his 13-seed Blue Devils climb from a 1-7 start to a 13-8 season and a berth in Wednesday's district final with #1 seed Cincinnati Hill Christian Academy.
"He should have had the no-hitter, but it doesn't matter. Steve was great and the kids behind him were great, too. But we're going to the district finals now, and I don't know against who. But it doesn't matter. We're going to the finals and that's all that matters."
Jones is the epitome of a competitor and a major reason why Harlow's Blue Devils have reeled off twelve wins against one loss since that ignominious start back in April. All business on the mound, he pitches with tempo, not afraid to throw inside, and for added impact…he runs it up there at nearly 90 miles per hour.
"He's a difference maker," adds Harlow, who's had his share of difference makers in his 41 years of coaching high school baseball.

"And today was the second time this year when he's got us going with the bat like that. He's a real difference maker!"
But he didn't have things all to himself on the mound Monday. Indian Lake's Trenton Fulkerson saw to that, matching Jones out for out for the first five innings.
Fulkerson, a diminutive left-hander, was more crafty, mixing speeds and keeping Brookville hitters off balance, but when he needed to bust the fastball by someone he did that, too, racking up six strikeouts.
And for the longest time Fulkerson was the only blemish on Jones' pitching line, drawing a two-out walk in the bottom of the second inning. But he was quickly erased by Brookville catcher Matt Stark for the third out on an attempted steal of second.
Brookville did collect a couple of hits through the first five innings, but never had a runner beyond second base. Until the top of the sixth…..
Jones led off, hitting in the #9 hole, and when Fulkerson left an errant fastball in the middle of the plate he drove it deep into left field and over the wall of Arcanum's cavernous outfield. Indian Lake was stunned – Brookville was stunned – everyone was stunned as Jones trotted around the bases and slapped hands with Harlow coaching at third base. 1-0, Brookville.
Shaken, perhaps, Fulkerson left another pitch up to the next hitter, centerfielder Jack Stanoikovich (love that name), and Stanoikovich drove it to the left field gap for a double. The next hitter, Braden Chambers bunted for a single, moving Stanoikovich to third, and Sam Fullenkamp followed with an RBI single to make it 2-0. Another base hit ultimately plated a third run and Jones faced the final six Indian Lake hitters with all the offensive support he would need.
He cruised through the sixth, and struck out (swinging) the first two outs in the seventh, including Fulkerson for his tenth of the game.
The ensuing, and would-be final out then hit a pitch off the end of his bat and right at third baseman Zach Shore. Shore picked it up cleanly, crow-hopped with plenty of time, and airmailed his throw low and wide of first base.
"I didn't stay on top of the ball," said Shore, afterwards. "99 times out of a hundred I make that throw and we have the no -hitter."
But not this time.
The next hitter did it again…a pitch hit weakly off the end of the bat at shortstop Dylan Starnes. Starnes misjudged the speed of the ball, got a late break on it, and by the time he picked it up and threw the runner had reached first safely. No-hitter gone, runners at first and third, and shutout still intact.
The ultra-competitive Jones appeared to be fuming as he snapped the ball back in his glove and stepped on the pitching rubber to face what was now the fifth hitter in the inning. He blew a pinch hitter away on three pitches for the final out, the shutout, and his team's ticket to Wednesday's final.
"My mentality is never give up, and get every single guy that comes up to the plate," said Jones later, as affable off the mound as he is intense on it. "You have to go out there knowing you're better."
And the home run, from a ninth place hitter….?
"I like to hit ninth in the order because it gives me extra time to rest," he explained. "And it's good to have a guy at the bottom of the order that can hit. I got a fastball right down the middle and it felt smooth coming off the bat. I kinda' golfed it a bit, and I thought it might go foul, but it felt good.  And then my teammates got turned on after that and they picked me up."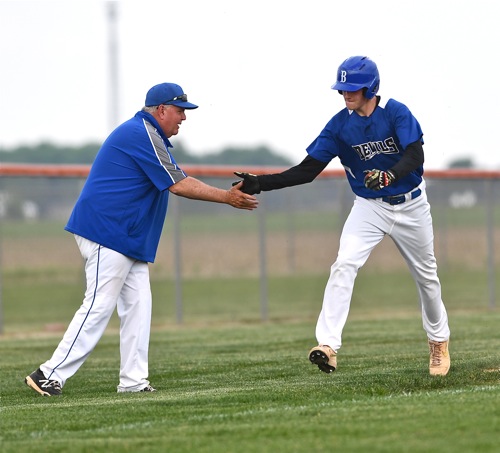 Headed for the University of Indianapolis next season to pitch in Division II NCAA competition, Jones finished up well short of the National Federation weekly pitch count, meaning he would have at least some availability on Wednesday if needed.
But that, like when, where, and against whom, was the farthest thing from Chuck Harlow's mind as he left the ballpark and boarded the bus home to Brookville.
And lest you thing the old ball coach isn't a bit superstitious, district bus driver Cheryl Hoops has driven the Blue Devils to each of their three tournament wins so far.
"If they play the next game in Cincinnati I'm not driving," she shook her head.
Wanna' bet?