It marks our eleventh year for the Hal McCoy scholarship for studies in journalism, and there's no doubt for Piqua senior Zurie Pope that words and writing are his life's calling.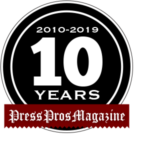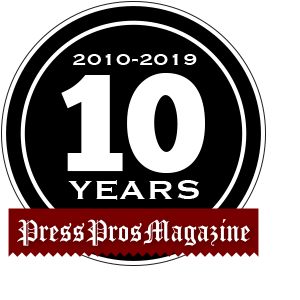 Piqua, OH – Piqua senior Zurie Pope became the eleventh recipient of the annual Press Pros Hal McCoy Scholarship award for studies in journalism Thursday, marking $27,500 awarded to area kids by Press Pros Magazine who want to pursue a career in words.
"I love words, and I love reading and books,"  says Pope, whose career goal is to write feature news, with a priority on politics.
"My aunt actually got me interested in writing because she's written a number of short stories, some with national reach.  My mother is an avid reader and read to me a lot when I was small.  So I grew up in a very literary household.  My mother insisted that I read, at least one book a day, every day when I was a kid.  It was entertaining, and books took me on great journeys to places that made life more enjoyable.  I realized that if I could write and do that for someone else, that's something worth dedicating your life to.  I owe a lot to my English teacher here at Piqua, Mrs. Allen."
In the next breath he admitted…"I've never read a Hal McCoy story in my life, so I sincerely apologize.  But I have heard the name.  And I know he's a great writer."
McCoy, of course, spent 48 years as the Cincinnati Reds beat writer for the Dayton Daily News, and appreciated the irony, along with their shared fascination with reading and writing.
"I had a typing teaching in high school, Rose Picciotti, who asked me write a story about the basketball team for the school paper," says Hal.  "And that's what got me started as a sports writer.  I got to Kent State with a baseball scholarship and had to declare a major.  I remember Mrs. Picciotti telling me I had a gift for writing sports, so I told them I wanted to study journalism.
"The great thing about writing is there's a lot to write.  You don't have to like sports to be a great writer."
He also shares Pope's fascination with reading.
"I still read a book a week," says McCoy.  "And sometimes I read two at the same time, switching back and forth.  It drives Nadine (his wife) crazy."
Pope is the first Piqua recipient of the $2,500 award, following past graduates from these area schools – Newton, Troy (twice), Lehman (twice), Miami East, Arcanum, and Minster (twice).  Since its inception, the Hal McCoy Award is sponsored exclusively by the Park National Bank (formerly Unity National Bank), with Miami County locations in Piqua, Troy, and Tipp City.
Zurie will enroll at the University of Cincinnati in the fall to pursue his chosen path.
"I chose Cincinnati for a number of reasons, one being Amber Hunt, who's an investigative reporter for the Cincinnati Enquirer, and she teaches a class at Cincinnati.  Also, there's a number of opportunities (papers) in Cincinnati – the Enquirer being the biggest one – and I thought it would a good place where a young reporter could find his bearings."
Bottom line:  Hal McCoy had never been to Piqua High School before Thursday, and Zurie Pope knew nothing of his work, career, or even Cooperstown.  It didn't matter.
It all worked out.  For the love of language and writing, Hal was happy to make the trip – delighted to find a fellow reader, and a future writer.