Ugly weather and ugly baseball, but somehow Coldwater survived to edge Lincolnview, thanks to Alex Knapke's bat and an inexplicable turnaround by reliever Carson Muhlenkamp.
Coldwater, OH – This was not what Abner Doubleday had in mind when he was alleged to have invented baseball.
Cold, rain, sloppy conditions, and sloppy play turned out to be the backdrop for Coldwater's 6-5 win over Lincolnview Friday night – a game that lasted 2 hours and 30 minutes in 48 degree weather, and a rain shower that turned the dirt portions of the playing field to slop.  And then this – 21 walks, four hit batsmen, and Lincolnview (15-6) had just one hit in the game.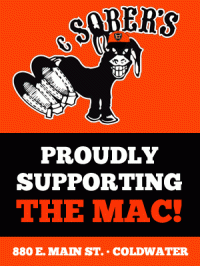 It might, in fact, have been the ugliest game in modern, or at least recent, Coldwater history, and certainly enough to make Brian Harlamert shake his head afterwards.
"I know the conditions were horrible, but Josh (starting pitcher Josh Kaup) went out in the first two innings and got six outs on like, twenty pitches.  And then…he couldn't throw a strike at all in the third inning."
Kaup wasn't alone.
And in fact, that's exactly what happened in a scoreless game when Lincolnview came to the plate to hit in the fourth.  Josh Kaup, a third or fourth starter for the Cavaliers, couldn't find home plate.  He walked the bases full, then walked in a run, and when it looked like he was going to get out of the inning with a ground ball to second base and just a 1-0 deficit…second baseman Adam Hrycko fielded it cleanly and threw wide of first base, allowing two more runs to score.  Lincolnview led 3-0, still didn't have a hit, and Kaup added insult to injury by loading the bases again.  By the time the rain began to subside, and Kaup got the final out, Lincolnview led 4-0 and looked to be in the catbird's seat.
Collin Overholt had started on the mound for the Lancers, but left the game after just two innings for reliever Cole Binkley when Coldwater came to bat in the bottom of the third.  Guess what?  Binkley couldn't throw strikes, either, walked the bases loaded, and Coldwater reprised the top of the inning by scoring three runs in bottom the very same way.
Kaup had done enough by the fourth inning, and Harlamert took him out in favor of senior Carson Muhlenkamp.  Muhlenkamp quickly retired the first hitter he faced…and then home plate starting hopping around like it was on a pogo stick.  Muhlenkamp ended up walking four, hit a batter, and by the time he retired the third out he had miraculously held Lincolnview to just one run;  but they had taken a 5-3 lead.
Binkley was lifted in favor of another arm in the bottom of the fourth, Creed Jessee, and Jessee picked up right where his successor left off.  Jessee walked the bases full, Coldwater ended up scoring twice to tie the game at 5-5…and when they started the top of the fifth the game took on another, different twist.
Carson Muhlenkamp suddenly looked like Mariano Rivera, throwing strikes, mixing in an impressive curveball, and the worst one could say was that he finally allowed a Lincolnview hit to start the inning.  Aside from the that, he pitched the final three innings allowing just one hit, striking out five, and eventually earned his first win of the season.
"The ball was wet, the conditions were terrible, and it wasn't very fun in the fourth,"  said Muhlenkamp afterwards.  "But when I went out for the fifth the curveball was working, I could throw it pretty much where I wanted to, and I had good movement on my two-seamer (fastball).  I just told myself to block the fourth inning out and focus on the mitt.  And that seemed to work out pretty good."
"Carson's a really good story,"  said Harlamert.  "He grew up here, moved to Delphos St. John in, I think, the eighth grade, and then decided to come back to Coldwater last year.  Great personality, great kid, and he's got a live arm.  The ball really comes out nice for him.  And…he really hasn't played that much baseball.  Tonight was the best he's looked in a while."
That said, he clung to that 5-5 tie for two innings – gave his team a chance to right themselves from the ugly start – and delivered them to the bottom of the seventh with Creed Jessee still on the mound.  Jessee, too, had found his groove since a rocky beginning, but his luck, like the temperature, was about to drop.
Alex Knapke led off with a single between short and third, his third hit of the night.  A sac bunt attempt died in the grass.  And then a hit batsman.  And in the span of a minute the bases were loaded and nobody out.  Myles Blasingame came to the plate, and on the third pitch he saw he lifted a towering fly to right field that the fielder lost in the lights.  It fell harmlessly to the ground, Knapke crossed the plate with the winning run, and Carson Muhlenkamp had delivered them to the smiling side of the scoreboard…a 6-5 Coldwater win.
Line scores:
Coldwater won it with 6 runs on 10 hits and committed two errors.
Lincolnview lost it with 5 runs on 1 hits and committed two errors.
And…there was a total of 21 walks in the game!  Had Doubleday been there he would have headed for McSober's long before the deciding seventh!
"It wasn't very good baseball, but it was like a tournament atmosphere,"  added Harlamert.  "Two teams with high expectations in their league.  And while there were a lot of walks, I thought we played good baseball offensively and defensively.  They came out with a lot of energy, our guys kinda' fed off that, and came back after being down four and got back in it.  I credit our seniors – Myles had to catch a lot of pitches behind the plate, Alex Knapke had three bit hits, and Carson pitched with a lot of swag.
"Bottom line is…we gotta get tougher.  Some of our younger guys are not ready for this atmosphere.  You can't be up there looking for walks, you have to be aggressive on pitches in the zone.  Tonight was a good baseball lesson.  You gotta' keep competing."
Ugly, but 'Harley' wasn't about to apologize.  A win's a win, and a lesson's a lesson.  The tournament draw was on Friday, coincidentally, and the atmosphere's about to amp up.
The tough…need to get tougher!