The Greenville Green Wave celebrated a Miami Valley League championship Friday evening. They hope that's just the start. Jerrod Newland's state-ranked team wants to hoist a trophy of another kind June 5 in Akron's Firestone Stadium.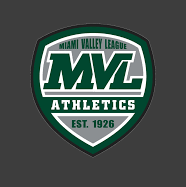 Greenville, OH – A brilliant and high-arching rainbow graced Stebbins Field following a sixth-inning downpour. It seemed fitting for such a display to appear during the Greenville Green Wave's final regular-season game Friday.
After all, Greenville's successful program has been a gold standard for Miami Valley high school softball for years. And Friday evening Greenville again added to its legacy.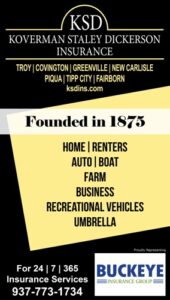 Riding a seven-run outburst in the fourth inning, Greenville handed the gritty Sidney Yellow Jackets an 8-3 loss. It was the Green Wave's second win over the Yellow Jackets in four days following a 4-1 victory in eight innings on Tuesday.
The game featured the Miami Valley League's two division champions – Greenville (25-1 overall, 18-0 MVL) in the Miami Division and Sidney (10-13 overall, 8-10 MVL) in the Valley Division.
Add in Greenville's 11 division titles from the Greater Western Conference (2011 through 2019) and the Green Wave have now won 12 straight overall. On Friday the players and coaches mingled on the field with the MVL trophy. They took turns taking photos and holding the championship hardware.
They hope it's good practice for what's to come.
In what many considered a rebuilding year for the inexperienced Green Wave, the Green Wave had other ideas … particularly lone seniors Grace Shaffer and Nyesha Wright.
"It doesn't matter what position or whatever is thrown at us, we always fight back," said Wright, a power-hitting center fielder.
"(Coach Jerrod Newland) said his all-stars need to take control and show the young'uns how it goes. There's only been three of us that's played varsity – me, Grace and (junior Susie Blocher). Everyone else, this is their first year pretty much and they're doing great."
It showed in the fourth inning.
Sidney tied the game in the top of the fourth on junior Alli Milanese's solo home run … the first of her two homers. Greenville responded with some pop of their own. Sophomore Skylar Fletcher walked. Sophomore Kenna Jenkinson doubled to make it 2-1. Junior Bri Fellers singled, moving Jenkinson to third. Freshman Savannah Leach plated her with a sacrifice bunt, making it 3-1. After junior Keira Beavins was hit by a pitch, sophomore Ashlynn Zimmer doubled home two more runs for the 5-1.
A ground out later, sophomore Alaina Baughn doubled in another run to make it 6-1. Then Blocher came to the plate. She lofted a high fly to deep left field that Sidney's Carleigh Rinehart tracked. Rinehart, reaching the warning track and with her back against the fence, leaped and nearly robbed Blocher. The ball bounced off the fence and ricocheted back toward the infield, allowing Blocher to race around the bases for the 8-1 lead.
"I think the ball went as high as it did far," Newland said. "When it hit the fence and rolled we weren't stopping. Just a good day for the girls out here running the bases.
"Sidney is a great ball team. They won their half of the league. Two neat pitchers and that one girl hits the crap out of the ball. A big, strong Division I team."
Blocher also had perhaps the defensive gem of the game. In the fifth inning she barely had time to spring from her catching position to bare-hand a low pop up in front of the plate.
"Wasn't that sweet? She does it right behind the plate," Newland said. "She's just a stud. She's a neat kid for a junior and has a really good softball future ahead."
Shaffer also excelled at fielding her position. She snagged a low line drive in the third inning and fired to first to double up the runner. She grabbed another liner ripped back at her in the fifth.
Greenville ended the game with a 6-4-3 (Leach-Jenkinson-Baughn) double play.
Not bad for a rebuilding year.
"Not having that junior year as an upperclassman and jumping to your senior year, that's a little crazy," said Shaffer, who improved to 19-1 in the circle. "We just have to keep the young'uns going. We have two classes that are both freshman (as far as experience). … I always try to think of the best of everybody. There were a lot of positions to be filled but I knew we could do it. We're just going to keep rolling."
Added Wright: "Playing here … this is definitely where you want to be if you're playing softball. It's truly a family."
Sidney, meanwhile, tacked on a couple more runs in the sixth. Milanese smacked a towering home to straight-away center for her single-season, record-setting sixth homer.
"The games were winding down. I knew we only had a couple left and I needed two more. I knew I needed to get on it," Milanese said. "My coach corrected my stance last night. I put that in my head and I went for it.
"I wasn't expecting (to hit two home runs tonight) at all. I was just motivated to beat the record. I set the goal."
Greenville's goal now shifts to the postseason … or as Newland calls it, "the real season." Greenville — ranked No. 3 in the Division II state coaches poll — has won district titles 12 of the past 14 seasons. They've also recorded 18 straight 20-win seasons … and 16 straight 25-win seasons.
"You play all season for the opportunity. Each week half the teams lose and the tournament keeps getting smaller and smaller," Newland said. "Just excited for the next three weeks. We want to represent the city of Greenville and the MVL. Miami Valley softball, it's been a hotbed for years. I just want some more teams to punch their tickets and play hard. I think Southwest Ohio is going to have fun in this tournament. Hopefully we're part of that and doing things the right way.
"It's going to be a fun month of May here because we want to play in June."
Shaffer has been in the circle for the Green Wave's last two district titles. Wright, who is hitting .387 this season, has provided a big bat.
"I love them to death. They don't get any better than No. 9 (Shaffer) and No. 10 (Wright)," Newland said. "Grace has two district titles on the mound and Ny, she's just does it the right way. They play for the name on the front. When they talk it's 'we.' That's what it's all about."