A pair of seniors did what seniors do as Minster crept to a game over .500 Thursday with a dramatic seventh inning 1-0 win over visiting Versailles.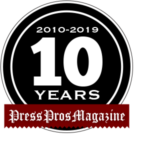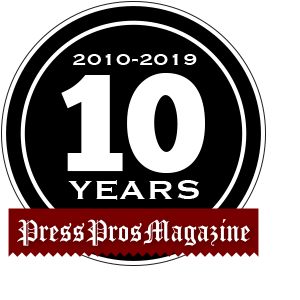 Minster, OH – Minster coach Mike Wiss smile over the irony of an age-old truth relative to high school sports.  Seniors do what seniors do.
This, after senior Justin Nixon's one-out single to left drove in senior Eric Schmidt with the game's only run in the bottom of the seventh inning Tuesday to seal a 1-0 Minster win over Versailles.
This, after senior Eric Schmidt had pitched brilliantly in a steady drizzle for seven innings, completing a 4-0 shutout while striking out eight Versailles hitters.  In a scenario not unlike trying to swim upstream, he put the conditions behind him, and his competitive nature out front, to help his team to a game over .500 and their ninth win of the season.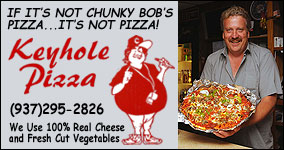 "Today was one of those situations where seniors rise to the top,"  said Wiss.  "Hats off to the kid over there (Versailles' pitcher Chase McEldowney), because he pitched a heckuva' game, as evidenced by the 0's be put up until the bottom of the seventh.  But that was a gutsy effort by Eric Schmidt to put the conditions aside and pitch like he did.  When it's basketball season I always say, 'What are you going to do in your moment…when your moment comes what's going to happen?'  And you can't prepare for those moments.  You just have to rise to the occasion.  Eric Schmidt and Justin Nixon did that for us today."
They announced that game-time temperature was 54 degrees.  It felt like 44, and dropping as a steady drizzle at first pitch began to gain intensity by the top of the second inning.
Schmidt, a splinter of a lefthanded pitcher, came out throwing strikes and navigated through a pair of first inning singles by Versailles to hold them scoreless.
Chase McEldowney, one of three of the same name (cousins) on the Versailles, roster, matched him out for out, pitching through a Minster threat in the third inning when Schmidt singled to lead off the inning, but was later thrown out at the plate after a double to right center by teammate  Adam Ketner.
Beyond that…Schmidt would surrender just two more hits from the second through the top of the seventh, and McEldowney would scatter ten hits through his six innings of work, but always with the pitch, or the strikeout, necessary to hold Minster scoreless.
"It was hardly ideal conditions,"  said Versailles coach Joe Harrmann.  "But both pitchers competed, threw the ball really well.  You can't ask for more.  Chase was coming off a shoulder situation and we were trying to nurse him back, trying to make sure we didn't have him out there for too long.  This was the longest he's gone in a while and he was a competitor.  He did what he needed to do to keep us in the game."
It grew darker by the inning, and by the fourth the lights were on and in full effect.  The drizzle increased to a steady rain , forcing the high school principal, Austin Kaylor, to apply and rake drying agent into the dirt on the pitcher's mound – one of the benefits of a master's degree.
Both teams had runners in scoring position – their chances to score – but Schmidt had been cut down at the plate in the third…and Versailles had run itself out of an inning in the fourth when Ben Ruhenkamp was caught in a rundown and tagged out between second and third.
By the bottom of the seventh McEldowney was pulled in favor of reliever Landon Henry as Minster came to the plate for what they hoped would be the final time.  His line:  No runs on nine hits, with three strikeouts and no walks.  He did hit a batter.
Henry, who got the win over New Bremen last week with a scoreless inning of work, retired the leadoff hitter in the bottom of the seventh on a routine fly ball to right field.  But with one out he walked Eric Schmidt, then another walk to Adam Ketner, bringing up Johnnie Nixon, who popped weakly back to the mound.  With two outs, senior Justin Nixon stepped to the plate as the rain increased its intensity.
Hitless for the game, Nixon took a strike, looked a ball out of the strike zone, and on the next pitched he hooked a belt-high fastball down the left field line and past Versailles left fielder Jack Gehret.  Schmidt came streaking around third base to score the winning run, and like that…it was over!
Minster (9-8, 6-3 in MAC) won it with 1 run on 10 hits and committed no errors.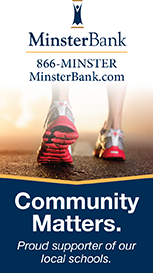 Versailles (11-12, 5-4 in MAC) lost it with no runs on 4 hits and committed no errors.
"Amazing effort to play that well in slop like that,"  added Wiss afterwards.  "The physical nature of the rain coming down like that makes the game so mental.  The ball's wet and there's so much more that goes into a pitcher's mind on a day like this.  And Eric was going to go back out there in eighth, if there was an eighth.  He had made up his mind.
But both teams played well given the conditions.  I was disappointed in the third inning when we make the out at the plate on a ball hit in the gap in right field.  But they made two great throws to get that out at the plate.  Hats off to both teams.
"We just couldn't get a timely hit,"  Harrmann lamented, drawing attention to the age-old scenario relative to games lost close in baseball.  "And you could tell by the way the game was going it was going to be a one-run game.  Unfortunate, but you talk about it, learn from it, and go on.  The tournament draw is tomorrow and hopefully we don't do it again the next time."
Eric Schmidt?  All smiles as he reflected upon the conditions, his performance, and the support of his teammates.
"It helps to have gone through adversity before with basketball,"  he said.  "Runners on first and second with one out…it helps to have been in tough situations before, along with the slop on the mound.  It really feels good to give up just four hits, especially when two of them came in the first inning.  And Justin's base hit was a big hit.  It really felt good to win, even though we only scored one run.  But that's all we needed."
And no doubt a win he'll remember longer than a basketball win in which he scored 15 points, given this particular degree of difficulty.
"Yes, definitely," he said.  "Baseball's always easier to remember."