Shortstop Zach Dezenzo went 3-for-4 with a three-run homer and starter Seth Lonsway was exquisite in giving up four hits and striking out nine in eight innings.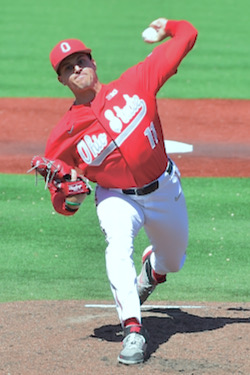 Columbus – The Urban Dictionary defines the saying "Boat Raced" as when an athletic team is beaten so badly to the point where it never had a chance to win.
It got its roots from the annual rowing competition between England's Oxford and Cambridge universities.
Technically, the Purdue baseball team did have a fighting chance in being one run behind going into the bottom of the sixth inning Saturday.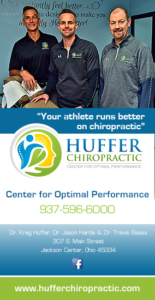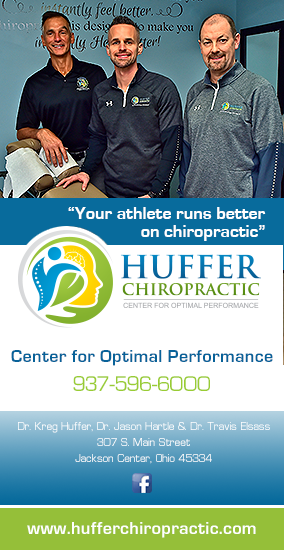 Then Ohio State went into muscle mode in scoring four runs in the sixth and three runs in the seventh and eighth to pull away to a 12-2 victory at Bill Davis Stadium.
Junior left-hander Seth Lonsway was a beast again in giving up four hits, two walks and two runs and striking out nine in eight innings.
It was the fourth victory in five games for the Buckeyes (17-13). They will attempt to get their first series sweep of the season at 1:05 p.m. Sunday.
There is still a lot of ground to be made up on Big Ten front-runners Nebraska (20-8), Michigan (20-9), Indiana (19-9) and Iowa (19-12) with four weekends remaining on the schedule after tomorrow's games.
The bats boomed with shortstop Zach Dezenzo going 3-for-4 with four runs batted in, including a three-run homer in the sixth, freshman center fielder Kade Kern going 2-for-5 and backup catcher Archer Brookman hitting two solo home runs.
Since last week's series against Penn State, the batters have been taking the ball the other way and have not been swinging for the walls in trusting the man behind them.
"It's unselfish baseball, it's team baseball,'' Dezenzo said. "I had a missed opportunity today and I'm kicking myself. It was my third at bat and there was a runner on second. I had a chance to move him over and I just didn't get it done. We've been so good at that aspect lately. We've been playing really good team baseball. That tells me we're all bought in. We're all bought in to each other and bought in to the process and we're all bought in to (playing) winning baseball.''
Dezenzo has been one of the leading men. He has raised his batting average to .317 and has driven in eight runs in this series.
All the while, he has stayed true to his approach of being an opposite-field hitter.
"My approach every at bat is to just hit the ball hard no matter where it goes,'' Dezenzo said. "If it falls, it falls and if it doesn't, it doesn't. My emphasis is to chase hard hits and it has been working out. I've been finding holes here and there. For the most part, I've been having success with this approach and mentality and I want to keep it rolling.''
The batting order was about more than slugging the ball all over the diamond. It was about baserunning, too.
In the fourth, first baseman Conner Pohl scored from third on a wild pitch. In the fifth, he tested the arm of right fielder Miles Simington on a shot hit off the wall and reached second.
Did Simington assume a 6-foot-5, 240-pound man wouldn't challenge his arm? Probably.
In the fourth, Purdue center fielder Skyler Hunter failed to glove a routine single hit by Nate Karaffa. The ball rolled approximately 10 feet to his right and Sam Wilson, who was on first, went to third and Karaffa to second.
Later in the game, Marcus Ernst took second when the ball trickled away from the catcher by a matter of several feet.
"There was a point where we were struggling a little bit offensively and what we talked about as a ballclub was doing all the things to complement our offense,'' coach Greg Beals said. "You see us going from first to third and if a throw is off line we're going to second base. We're getting extra bases like that. We were on our toes and looking for opportunities to complement the offense. In doing that it takes a little bit of pressure off the bats. When our bats are not feeling the pressure and feeling a little freer, our bats are feeding off that as well.''
Lonsway made a lot of noise, too, by quieting bats with 94 pitches in getting his third victory in his last five starts after being a perplexing 0-4. The stat of the day for him was getting nine outs on the ground.
One of the best plays he made wasn't a fastball or curveball on the black, but a throw to home plate in the fourth in which he threw out Ben Nisle by plenty.
Jake Parr hit a tapper to the right of the mound, making it an awkward pick up and throw for Lonsway. He had to throw sidearm.
"I kind of saw him take off out of the corner of my eye and just had to get my feet turned and my body turned and drop my arm slot like an infielder to make an accurate throw,'' he said. "It was cool to make that play and keep that run off the board.''
Lonsway needed only 17 pitches to get through the first two innings. Other than the sticky situations in the third and fourth, he dominated. He retired the side in order in the first, second, fifth and sixth. He gave up a lead-off homer to Simington in the seventh, but got the next three men in order. He walked the lead-off man in the eighth, and you guessed it, got the next three in order.
"I think early on it was kind of a mentality,'' Lonsway said of his poor start to the season. "We've put in the physical work and we had to change the mentality and understand what stuff is working for us and how to attack hitters. It's just attacking hitters differently and mixing up how we are attacking. That has been the big thing, letting the stuff play.''
How did he get so many outs on the ground?
"Just keeping the ball low,'' Lonsway said. "Credit to my defense – they made some really good plays behind me. It was just keeping the fastball down and hitting the bottom of the zone and not letting the hitters get their hands underneath the ball so they can get the ball in the air.''
Beals said Lonsway is attempting to do what every pitcher on the staff has been instructed to do, and that is to attack the batter from the first pitch in order to get ahead in the count.
The goal is to retire as many men as possible with three pitches or fewer.
"I think you guys are noticing the push to control the free bases and pound the strike zone and get ahead in counts,'' Beals said. "Some more fastballs early in the count. He probably had three or four one-pitch outs, and those are huge. His pitch count was pretty low, especially for a Seth Lonsway outing when he gets a lot of strikeouts. Those quick outs allowed him to go deep in the ballgame.''
Lonsway, Beals said, is evolving before our eyes.
"I like where he's at,'' he said. "He's finding himself and (learning) how to pitch. He has always had great stuff and can throw the ball really well and spin the ball really well. I think you are starting to see Seth Lonsway evolve as a pitcher.''