In a regular-season tournament that felt more like the postseason with three state-ranked teams, Bradford scored a pair of dramatic wins to capture the Katie Horstman Classic on Friday night. The 1-0, 11-inning victory against Russia capped a quality … and cold … night of softball.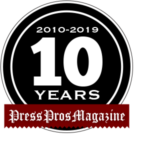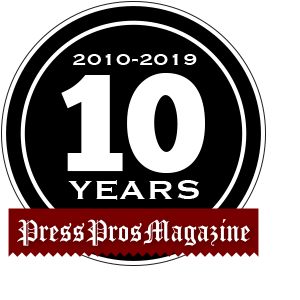 Minster, OH – A tournament honoring one of the best home runs hitters in the legendary All-American Girls Professional Baseball League was won with one of the day's shortest hits Friday night at Four Seasons Park.
With one out in the top of the 11th, Bradford High School's Nylani Beireis dropped a perfect bunt. As the Russia Raiders defense converged to field it a few steps in front of the plate, Bradford's Austy Miller sprinted home to score the game's lone run with a head-first slide.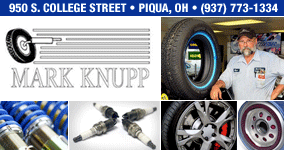 Bradford pitcher Skipp Miller sealed the marathon win in the bottom of the 11th with a strikeout, walk, pop out and strikeout to help the Railroaders win the Katie Horstman Classic title.
"There was a lot of pressure on that bunt. I'm glad I got it down, though," Beireis said. "The pressure is definitely what we needed. Throughout the whole season we've had easy games. Having some pressure is definitely a good thing."
"(Austy is) fast enough we can read it," Bradford coach Shon Schaffer said of the squeeze. "I told her she had to read this bunt. She took a deep breath and as soon as the bunt was down she took off."
The Katie Horstman Classic at Four Seasons Park featured a lineup that could easily have been mistaken for a regional tournament bracket, ignoring the fact one of the teams plays in a different division than the other three. Bradford, Minster and Russia entered ranked in the Ohio High School Softball Coaches' Division IV poll. Versailles, which plays in D-III, had a solid showing, too.
Bradford (19-2, ranked No. 6) beat Versailles 3-2 in the semifinals on Austy Miller's two-run single in the bottom of the seventh. Miller's hit scored both Buzz Brewer and Izzy Hamilton for the walk-off win over the Tigers (13-10).
Russia (18-2, ranked No. 5) beat Minster (14-5, ranked No. 6) in the other semifinal 8-4 Makena Hoying knocked in three runs and picked up the win on the rubber after allowing five hits, four runs (three earned), striking three and walking one.
In addition to dealing with each other, the four teams also battled the elements. A gusty wind blew consistently and dropped temperatures into the 40 for much of the championship round. A good-sized crowd huddled under blankets to escape the wind and attempt to make the cold a little less biting.
"The first game was really windy," Beireis said. "After that you just had to get in the mood and the coldness just disappears."
The Railroaders certainly weren't feeling the chill as much following their dramatic win. The game featured a handful of defensive diamond gems – including an unorthodox triple play from Russia.
In the top of the seventh, Bradford put runners on first and third after Maggie Manuel doubled and Emma Canan reached on an error. Rylee Canan ripped a line drive to short. Russia's Simone Puthoff dove to her right for the game-saving catch, jumped up and threw to first to double up Emma Canan. Manuel then broke for home on the throw to first. Russia first baseman Kelby Dosek fired home to Riley Hammonds for the tag that just got Manuel for the stunning triple play.
Skipp Miller allowed four hits in the championship game and struck out 19. One of the biggest came in the bottom of the ninth. Russia loaded the bases with a lead-off walk to Puthoff and a pair of two-out walks to Makena Hoying and Jaela Shappie. Miller, whose fastball can hit 65 mph, caught Sophie Francis with an off-speed pitch to end the threat.
Miller allowed three hits and struck out 13 in the win against Versailles.
"Skipp pitched a lot better her second game than she did her first game," Bradford coach Shon Schaffer said. "I'm very proud of her coming back like that."
Earlier in the week Schaffer said he was hoping for a pair of pressure-packed ball games to get the Railroaders ready for the postseason. He couldn't have scripted them better himself.
"That is exactly what we wanted. It's what we needed," Schaffer said. "I would have like to hit better the first game, but hitting into that wind was very, very difficult and frustrating.
"(Against Russia) it seemed like we were hitting the ball extremely well but we were hitting it right at them. The girls did a good job of keeping their composure and keeping their focus."
Bradford (6) and Russia (7) combined to strand 13 runners. Despite the loss, Russia coach Michelle Muhlenkamp was pleased with the effort … and the tournament-style atmosphere.
"That was some good softball right there. We said tonight was for fun," Muhlenkamp said. "A lot of things have played out this season where we told the girls we needed to make statements and prove the kind of team we were. We've done that all year. Let's just have fun tonight.
"I think our girls learned that we can compete with anybody. I think that was an important lesson. … We had some tears in the (team) circle tonight. We told the girls the season's not over. That's the best part about this game. We had fun but the game didn't go our way. We might see them again."
Versailles finished third in the Horstman Classic with an 8-3 win over Minster. Lauren Monnin allowed eight hits, three runs (two earned), struck out six and walked one.
She also went 3-for-4 with two runs batted in. Teammate Keri Dirksen went 3-for-3 with three RBI.
The tournament was chance for Monnin to reunite with former 14-U travel ball teammates Skipp and Austy Miller.
Monnin hit an RBI double off Skipp in the first game.
"I was proud of that," Monnin said, beaming. "It's nice getting to know them because they look so intimidating out there. But they're such nice girls to play with. It's nice facing them."
There was impressive pitching on display Friday night, including from Minster's Rachael Hoying and Russia's Sophie Francis and Makena Hoying. The best pitch of the tournament came before the games started.
Katie Horstman, who the tournament honors, tossed out the ceremonial first pitch. She almost did it overhand – instinct took over with four seasons in the AAGPBL – before quickly remembering this was softball.
Horstman, who joined the league as a 16-year old, was an All-Star third baseman in 1953 during her career spent with the Kenosha Comets (1951) and Fort Wayne Daisies (1951-54). Baseball Hall of Famer Jimmie Foxx managed Horstman's Daisies team for one season in 1952.
Horstman grew up on a farm outside of Minster and part of her chores was milking cows. Both Horstman and Foxx had that in common, along with home runs.
"I took a swing and I hit it pretty good," Horstman said. "(Jimmie) said are you a farm girl? I stepped back and said, 'Do I look like one? Yeah, I am.' He said I bet you milk cows. He could tell because all the farmers hit the ball farther because of their wrist strength from milking."
Prior to playing in the All-American Girls league, Horstman said she babysat four hours a day for $2. She signed to play pro ball for $250 a week.
"I always tell my kids you may not like doing something now (like milking cows) but you never know where it'll lead to," Horstman said.
When the league ended in 1954 Horstman ranked No. 6 in all-time batting average (.286) and No. 11 in home runs (23).
She returned to Minster and eventually started programs for basketball, cross country, gymnastics, softball, track and field and volleyball. Among her career coaching highlights, after finishing runner-up at the OHSAA's inaugural state track and field meet in 1975 the Wildcats claimed the next five state titles. She's a member of numerous halls of fame including the Ohio Women's Hall of Fame, Ohio Track Hall of Fame and National Track and Field Hall of Fame.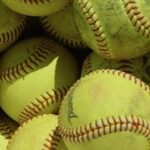 As she looked around Four Seasons Park on Friday, she smiled at the atmosphere around her that included four standout softball teams and a large crowd to watch them … especially considering when she came back to Minster in the 1975 the district didn't have physical education classes. Where she taught in Illinois as the first nun in the United States to earn a Bachelor of Science degree in physical education, classes were every day starting with the first grade.
"When I came back to Minster (as a physical education teacher) the kids didn't even know how to jump rope," Horstman said. "The boys were really upset with me. I told them they would never be a boxer like Joe Louis.  This is great. Girls sports have really come a long way."