Sophomore Luke Sudhoff showed his versatility on the mound, at the plate, and on the bases Thursday, helping Coldwater to a convincing 8-2 win over visiting Versailles.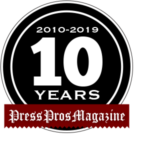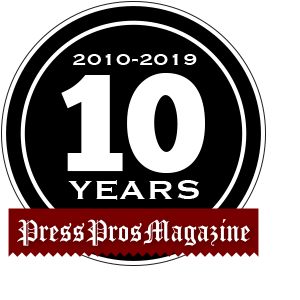 Coldwater, OH – Three years ago, when he was playing in the annual summer Craig Stammen Little League Classic as a seventh grader, I first noticed Luke Sudhoff playing for a 12-year-old team out of Coldwater.  Looking for a young, enthusiastic player to feature in a column about youth baseball, the coaches of his team directed me to Sudhoff.
"Who's the best player on your team?"  I asked him, tongue-in-cheek, tempting fate.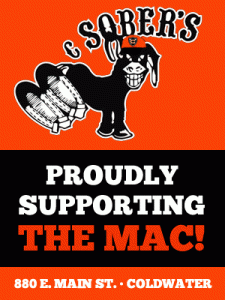 "I am,"  he replied without hesitation.  "I can do just about everything."
On that particular day he was right, banging out line drives to the outfield fence and making plays all over the field to help his team run-rule a team from St. Henry.
Thursday evening, and now a sophomore at Coldwater High School, Sudhoff made sure I hadn't forgotten.  He pitched a complete-game five-hitter, striking out nine, had a couple of hits, scored a couple of runs, and generally did just about everything in a convincing 8-2 win over Versailles (10-7), previously one of three league unbeatens along with Coldwater and New Bremen.
"To be honest I'm disappointed in the outcome, that we lost,"  said Versailles coach Joe Harrmann.  "But like I told my team…their pitcher was solid.  He (Sudhoff) was on tonight.  We couldn't make the adjustment and sometimes you just tip your hat to a guy who plays that well."
And to Coldwater coach Brian Harlamert's delight, they all played that well in an 11-hit performance that saw the Cavaliers score early and score often against Harrmann's Tigers and starting pitcher Ben Ruhenkamp.  Ruhenkamp, himself, showed plenty of competitive zeal, but on this night, against Coldwater and Luke Sudhoff, it just wasn't enough.
They plated a run right out of the chute, in the bottom of the first, when Zach McKibbon singled in the first, stole second, and scored on a Sudhoff single.
In the third they punctuated their 1-0 lead when Myles Blasingame walked, Reece Dellenger scored him on an RBI double, Sudhoff was hit by a pitch, Adam Hrycko bunted for a base hit to load the bases…and Blake Siefring singled to drive in two runs.  Alex Knapke drove in a fourth run with a sac fly to right and Coldwater had all they needed, and more, with a 5-0 lead.
But they would add three more over the final three innings…while Versailles finally cracked the scoreboard in the 6th inning on three hits and a Coldwater error to make the deficit more palatable, 8-2.
They played as well as Brian Harlamert had believed they could a month ago – athletic, competitive with five principal players from last fall's state championship football team, experienced…and the pitching, hitting, and overall play of Sudhoff.
He was the story, winning his third game of the season against a respected and unbeaten league opponent, Versailles, in a game that pretty well showcased that Coldwater, if they remain healthy, are going to do nothing but get better between now and the Division III tournament.
Already the author of a no-hitter and one-hitter this season, Sudhoff entered Thursday's game with eight strikeouts in his previous 16 innings of work.  He would finish with nine against Versailles, featuring a steady fastball, a sweeping overhand curve, and a machine-gun-like pace that kept the game moving.  He averaged ten seconds between pitches, and pitched like he had a cab waiting for him outside the park.
"My focus is to pound the zone and just throw strikes…let my defense get everyone out,"  said Sudhoff, minimizing his own impact on the game.  "I like to get it and throw it – focus – stay on pace.  That's the #1 thing you can do as a pitcher, I guess."
His ability to throw the curve, a big sweeping breaking pitch, was an important part of his Thursday arsenal.
"I've been practicing that pitch since I was a kid – down in the basement, in my room, outside with my dad.  It's a slow pitch and it's hard to sit back and wait on a pitch like that.  That's why I throw it the way I do – keep hitters off balance and make them guess what I'm going to do next."
Harlamert, of course, was delighted.
"We played well tonight,"  he said.  "From the get-go.  We were sharp warming up, the sun being out helped, and it was a MAC game.  Our seniors are good leaders and they're accustomed to competing and winning.  And we're getting better at it – this team, with these seniors – after losing a season last year.  This group is eager to play and they will compete."
He smiled at the mention of the story from three years ago when Luke Sudhoff was an anything-but-bashful seventh grader with the honesty to share that he was the best player on the field that day.
"Hey, you still got that picture from the story?  That would be pretty cool to use it again,"  chuckled Harlamert.
But more seriously…."Luke and Marcel Blasingame are both sophomores now and a couple of pretty good throwers.  And Reece Dellenger is a junior, so three of our best arms are underclassmen.  He gave up a couple of runs in the sixth, but he was very efficient. He could have come out after the fifth, but his pitch count was low and he finished with 91 pitches for the game.  He competes, and I'll tell you this…he just loves baseball."
And that photo from the seventh grade?  Yeah, we'll run it, just for grins and old times sake…and as a reminder.
Winners of seven state titles, and the defending champions from 2019, every year people inquire about Coldwater – from Wheelersburg, Cincinnati, and from Ottawa Hills, in Toledo.
"What's Coldwater got this year?"  they say.
Well, they've got a great senior class that's talented and experienced in winning state titles in football and baseball.  They've apparently got enough pitching.  And on any given day they've got a guy who plays like he's the best player on the field.
They've got Luke Sudhoff.