Fort Loramie's Mack Fortman dominated on the mound and the Redskins' defense did the rest, making several stellar plays to hand the scrappy Russia Raiders a tough 4-0 loss on Thursday.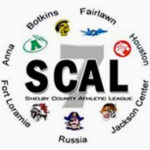 Fort Loramie, OH – As he headed to the mound for a key Shelby County Athletic League rivalry game, Fort Loramie Redskins pitcher Mack Fortman's objective was to return to form as king of the hill.
Fortman's prior outing lasted two innings. For the Redskins' pitching staff that's about as rare as a Fort Loramie loss this season.
So how'd it go facing the Russia Raiders, who gave Fort Loramie one of its toughest battles earlier this season before the Redskins' rallied late for the win?
"It was about the sixth inning – right before I gave up the first hit – that I was kind of like, 'I have a no-hitter going,'" Fortman said.
Fortman might had jinxed himself on the potential no-hitter … which would have been his second this season … but he still went the distance. Fortman tossed a two-hit shutout to help the Redskins win 4-0 and remain undefeated in the SCAL. He didn't allow a hit until Drew Sherman's legit single to centerfield. Fortman struck out four and walked three in his 90-pitch performance.
And as good as Fortman was – his curveball was dialed in and he was hitting the corners – Loramie's defense was even better.
In the top of the third, Loramie right fielder Caeleb Meyer charged a hard grounder and rifled a throw to get the runner at first. One batter later second baseman Jake Sanders went to his right, slid on one knee to field a grounder, flipped around and fired to first to end the inning.
In the sixth, third baseman Devin Raterman dove to his left to snag a sharp grounder. He scrambled to his knees and ended the inning with a force out at second.
Catcher Darren Hoying was a human backstop when needed, keeping a half dozen balls in front of him.
And fittingly, Fort Loramie ended the game with a 3-6-3 double play. First baseman Derek Meyer fielded the grounder and threw to shortstop Evan Eilerman for the force. Eilerman then sent the play back to Meyer for the final out.
"Our defense was astounding tonight," Fortman said. "A couple diving plays. A couple almost diving plays. They did amazing … We're all friends. We all play hard for each other.
"To come back like this was good for me. It got my confidence back up."
As for the Raiders (9-5 overall, 3-3 SCAL), they stayed with the Redskins (11-2 overall, 7-0 SCAL) until a tough sixth inning. A 2-0 deficit quickly became 4-0 thanks to walks and a couple miscues. Fortman walked to lead off the inning. Trevor Middendorf moved him to second with the sacrifice bunt.
Eilerman hit a liner that had the centerfielder on the run. The ball bounced off the tip of his glove for the error and Loramie's 3-0 lead.
Eilerman scored from second when the catcher tried to catch him too far off the base. The throw sailed into centerfield for the 4-0 score.
In their first meeting on March 29, Fort Loramie scored twice in the sixth and once in the seventh for the 3-1 victory.
"It's kind of the way it's been," Russia coach Kevin Phlipot said. "We played well, but we just didn't play well enough to win. (Fort Loramie) was the one that went after it. We both played solid, pitched well. They played better defense and they're the ones that made things happen. They put the pressure on us. … Credit to (Fortman). He did well. Just not enough guys on base to get the pressure on."
Russia stranded two runners in the second inning (both off two-out walks) and one each in the fifth, sixth and seventh. Jared Poling's single in the seventh was the only time the Raiders put the lead-off batter on base.
"I'm confident in who we are. The question is can we hit enough?" Phlipot said. "We're going to start hitting a little more to win these type of games. … We've said we're good enough to win any game, but at the same time anybody can beat us.
"I like what we have. We've been pitching well all year and playing good defense. What I tell them is that's going to keep us in ball games. For us to go out and beat a good team, obviously Fort Loramie, we're going to have to take it the extra step. Somebody is going to have to get a two-out hit or make something happen."
Fort Loramie led 1-0 after the first inning without a hit. Meyer led off with a walk. Sanders was hit by a pitch. After a 4-6-3 double play that put Meyer on third, Fortman hit a grounder to second. The throw eluded the first baseman and scored Meyer.
The Redskins made it 2-0 in the fifth on the game's lone RBI. No. 8 hitter Grant Albers hit a one-out single. Caeleb Meyer and Derek Meyer followed with singles to load the bases. Sanders then lofted a sacrifice fly to center scored Albers.
Fort Loramie stranded one runner each in the first and second innings and two each in the fifth and sixth. Russia starter Ross Fiessinger allowed four hits, two runs (one earned), struck out three, walked one and hit one batter.
"They're just gritty and they play hard," coach Sanders said of Russia. "They always seem to hang around. I know they made a couple mistakes today but they'll be there. They always are."
As are the Redskins. Fort Loramie debuted at No. 9 in the first Division IV state poll earlier this week. Their two losses came to Coldwater (ranked No. 6 in the D-III poll) and Wheelersburg (which received votes in D-III).
"I was concerned about our defense going into the year because these are all new players," coach Sanders said. "I didn't even know where certain players were going to be at the beginning. We've had some ups and down, but overall we've been making some nice plays. … That was the difference tonight. We made some really nice plays when we had to."
Which keeps them on top of the hill in the SCAL standings.