Temperatures in the mid-40s along with a cold breeze made playing conditions tough for Russia and Anna on Thursday. But as the have for all but one game this season, the Raiders overcame their opponent — and the conditions — behind solid pitching and clutch hitting for the 14-5 victory.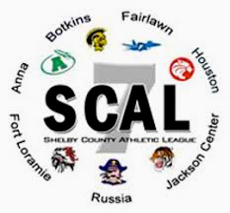 Russia, OH – A biting wind blew through Russia on Thursday evening making the mid-40s feel even colder. The chilly breeze forced spectators to huddle under blankets in the unforgiving metal bleachers. And it caused both Russia and Anna's softball teams some trouble gripping the ball – and on one occasion a bat.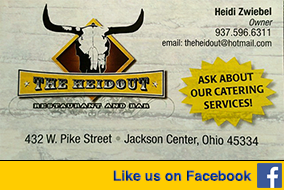 But there's one thing the wind couldn't do … cool off the Russia Raiders' softball machine.
Russia overcame the conditions – and eventually the young-and-rising Rockets – for a key 14-5 victory in the Shelby County Athletic League. The win kept Russia (10-1 overall) in the SCAL chase at 4-1, one game behind front-running Fort Loramie (11-3 overall, 5-0 SCAL).
Russia has won 39 of their last 41 SCAL games dating back to the 2017 season. Anna beat Russia in 2019 to start the SCAL season, and the Raiders reeled off 11 straight wins to win the league. On March 29, Fort Loramie beat Russia 7-5 in the SCAL opener for both teams.
On Thursday, defense and timely hitting (aided by 12 Anna walks) supported starting pitcher Makena Hoying.
Lead-off hitter Simone Puthoff went 3-for-3 with two runs batted in and five runs scored. She also walked twice. Her first swing of the day, though, saw her bat fly out of her hand and slam into the backstop fence. She singled a couple pitches later.
As impressive as she was on the basepaths, she was even more so in the field. In the fourth inning Puthoff fielded a grounder that carried her momentum toward second base, stepped on the bag and threw to first to complete the double play. In the fifth she saved a run by fielding a grounder and throwing out a Rockets' baserunner at the plate by several steps.
In the third, left-fielder Miah Monnin stranded a runner when she sprinted toward the line to glove a drive that seemed destined for extra bases.
In the seventh, first baseman Kelby Doseck crashed into the fence in foul territory after chasing down a pop up.
"We have some athletes this year who can play ball. And they're just fun to watch," Russia coach Michelle Muhlenkamp said. "We talk a lot about being ready every single pitch. Expect the ball to come to you and want to make the big play for the team."
Anna did managed 10 hits off Hoying, but they seven of them came in two innings. The Rockets scored three runs in the second on three singles and a double. They tacked on two more runs in the fifth on three singles.
Besides that Anna struggled to come up with the big hit. The Rockets stranded eight runners.
"I thought we hit the ball fairly decent, but we couldn't string anything together," Anna coach Michael Place said. "I think the walks gave Russia the momentum big time and that pushed over a bunch of the runs. … They hit the ball well and took advantage of the walks."
Brenna Cobb went 3-for-4 with two RBI and scored a run for Anna. Carissa Edwards had a pair of hits. Cobb, Edwards and Taylor Dye all had doubles.
In the circle, Anna starter Bree Metzler had allowed three walks through the first nine games. With the cold weather making gripping the ball tough, she struggled with seven walks in 3.2 innings. She also allowed six hits, struck out two and gave up eight runs (six earned).
"Our pitching has been really good," Place said. "The cold was a big factor tonight. It just wasn't her night."
Anna starts six sophomores … and with the 2020 season canceled because of the coronavirus pandemic … they are freshmen in terms of varsity experience. Still, the Rockets are 7-3 overall and 3-2 in the SCAL.
"I'm excited about (the future)," Place said. "Just once in a while you're going to have games like this."
With their experience and tradition, the Raiders are expecting a few more like Thursday, too. Russia trailed 3-1 entering the bottom of the second and took the lead for good with four runs. Puthoff's two-run triple was the big blow.
Russia added a run in the third, two in the fourth and flirted with a run-rule with five more in the fifth.
"Top to bottom I have confidence in every single one of our batters. It just shows when we can get five runs in an inning," Puthoff said.
"We have a lot of athletes on our team. A lot of the girls play at least one other sport. Coming out we knew we could do what we wanted. What we put into the game was going to show if we worked hard."
Hoying allowed 10 hits, five runs, struck out four and walked one in the complete-game win. She donned her sweatshirt in the dugout to keep her pitching arm warm. In the circle, she walked around and wiggled her fingers to keep the circulation going.
"I've never pitched in weather this cold. It definitely was a different experience for me," Hoying said. "It felt different but I'm glad I could pull through for my team. … This is a huge win for us, especially to get that SCAL title."
Hoying threw 106 pitches, including 72 for strikes. She threw a first-pitch strike to 24 of the 34 batters she faced to get ahead in the count.
"She's keeping batters off balance and that's what she loves," Muhlenkamp said. "She did an awesome job. Even when they strung a couple hits together she held her composure. That's showing a lot of maturity."
Added Puthoff: "This past year I think she's matured a lot on the mound. Last summer I think she was good. This year if she gets down in the count I know she can come back and get a strikeout."
The offense did its part, too. Seven different players had hits and eight players scored runs. Reese Goubeaux knocked in three runs, Riley Hammond and Puthoff two each and Makena Hoying, Saige Hoying and CeCe Borchers one each.
Puthoff (2), Goubeaux, Doseck and Borchers also stole bases.
"I appreciate (the offensive support) so much," Makena Hoying said. "Their bats have been alive for sure this season."
As for that rematch with Fort Loramie, which will likely determine the SCAL title, it comes on April 22 at Loramie.
"We were very upset last year when we didn't get a season because we knew how much talent we had," Hoying said. "Having that whole year off might have hurt us a little bit, but we stuck with it and it's worked out for us."