A thrilling sweep of Indiana and a disappointing showing in Michigan leaves the Buckeyes in position to control their own destiny.  The question is…how do you do it?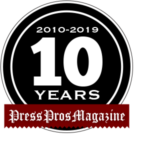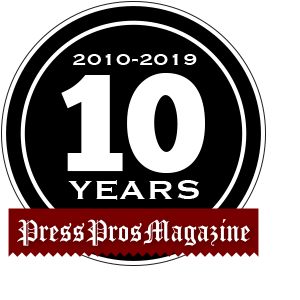 Greg Beals was understandably a bit sour when he did the post-game interviews following Sunday's avalanche loss to Michigan, and loss of the series to the rival Wolverines.
His team didn't play well, regardless of whether they should have played at all, given the weather conditions.
Twice during the 3:40 game it rained so hard as to make it hard for pitchers to even grip the ball.  But the umpires, who represent the Big Ten, didn't see fit to delay, or stop the game.  This is the conference, of course, predicated on safety protocols, which is why Ohio State only played eight football games in the fall.
But owing to the inconsistencies of the day in which we live, it allowed for playing baseball in a pouring rain, with a wet ball and conditions that allow for blown out knees, arms, and hard 5 oz. spheres thrown in proximity to one's head.  The decision to actually play the game rests in the hands of the host school, according to baseball protocol, but once lineup cards are exchanged the decision to proceed in adverse circumstances is in the hands of the umpires.  And in the eighth inning, with Michigan scoring nine runs in the midst of a deluge, veteran crew chief Perry Costello stood at first base with his hands behind his back, enjoying the bath…instead of acting upon the reality that enough's enough.
No team wants to be denied a chance to come back, but they don't want to lose their shortstop on a questionable field, either?  C'monnnn man!
So the Buckeyes finished the first semester of their season with a 13-9 marking, losing two of three to Michigan but winning five of their last seven, and stands now fourth in the Big Ten standings…behind Nebraska, Michigan and Indiana, and ahead of nine other teams, including Maryland (10-12), a team they travel to play this weekend in College Park, having split a pair of games with the Terps in Columbus on March 28 and 29.
And while 13-9 portends being competitive with Nebraska (15-6), Michigan (15-7), and Indiana (13-7), it's the age-old issue of…it could have been better that must concern Beals.
NO TRUER WORDS….
Starting with his starting pitching…at a point where they desperately need Garrett Burhenn, Seth Lonsway, and Jack Neely (for now) to be competitive on a consistent basis.  The operative word here…consistency!  Only Burhenn lives in that neighborhood currently, having pitched well in three consecutive starts against Iowa, Indiana, and Michigan, where he's averaged six innings and a 3.59 earned run average.
Lonsway was spectacular in his April 3, 17-strikeout, start against Indiana, but couldn't get out of the fifth inning Saturday in a 7-0 loss to Michigan.  The troubling line:  10 strikeouts, but 5 walks, 5 runs, and 101 pitches to record 14 outs.
Neely was little better, lasting just 2.2 innings in Sunday's Michigan finale, where he was visibly affected by the rain and blowing conditions.  His line:  2 runs, 2 hits, 2 walks and 2 strikeouts, and showed no signs of adjusting.  Michigan coach Erik Bakich was hardly complimentary when asked later.  "It looked like a meltdown,"  said Bakich.
Pitching, if you've never done it, is a tenuous mental struggle.  As Sinatra used to sing, "You're riding high in April, shot down in May."  Meaning, you're only as confident as your last start.  Talking about that fact during his zoom interview, Beals couldn't have been closer to the truth of what comes next in this weekend's series with Maryland.
"You've got to have a short memory,"  said Beals, the truest words he's ever spoken.  "We have to go home, go to work, and get back to our core values.  We can't let things fester. We're going to get right back to who we are.''
And included in that is making more of some obvious opportunities – of getting the first two men on base and not getting them over, and in to score.  "We create too many opportunities for the opponent, both on the mound and when we're hitting,"  said Beals.  "We have to put the ball in play and force the defense to make plays with men on base."
IT MAKES IT EASIER….
To his point, from the mound the Buckeyes show an increasing issue of walks allowed…and pitching from behind in the count.  During the Michigan series their pitchers consistently pitched with 2-0, 2-1, and 3-1 counts, and prior to that series they ranked second in the Big Ten with 92 walks allowed.  They rank third this week (100), trailing only Minnesota (117) and Purdue (108).
To give you a better idea, there's an age-old statistic that shows that pitchers who throw strike one retire the hitter at a 70% rate.  If they get ahead 0-2, or 1-2, that figure jumps to 84% of the time.
It makes it so much easier…if you pitch from ahead in the count!
AND THEN THE BATS….
In this week's Big Ten stats the Buckeyes now rank last in hitting…with a .230 team average.  That's last (13th), with a 13-9 record, beneath the likes of Minnesota with 4-17 record.  So a little appreciation for the pitching staff, despite some warts.  Now Indiana and Michigan rank first and third, respectively, in team ERA, so it's fair to make the point that winning five of the last seven has been impressive.  The Buckeyes, for the sake of comparison, are sixth in team ERA.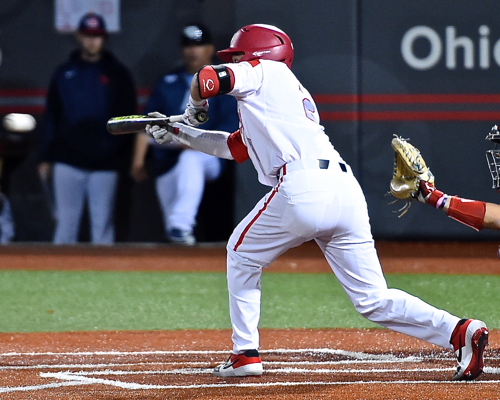 And to be 22 games into your season…to have nearly everyone except Kade Kearn and Zach Dezenzo hitting 50 points below projection…well, no one saw this coming.
But still, as Beals likes to say, you lean on your core values – your training.  There's not a lot more you can do.  No one really believed that Pohl, Todys, Okuley, Erwin, and Ernst could go this long without warming up, but given that they have there's nothing to do but adjust.
If teams are shifting three players to the right of second base, as Michigan did to Conner Pohl, drop a bunt to the third base side and take a wheel chair ride to first base.  They need base runners.
And when they get them they have to execute to put them in scoring position.  Old-time coaches like Jim Hardman and Tom Randall would say, "Make them make three more plays than you do…and they may give you the ballgame."  Translation:  Do the other things that help you win a ballgame!
THE SEASON IS NOW 22 GAMES LONG….
Because the reality is that the season is now 22 games long.  You're in fourth place, playing five teams in the next five weeks that sit below you in the standings – Maryland, Penn State, Purdue, Minnesota and Michigan State.  Don't breath easy, though, these will be the toughest games of the year.  You HAVE to win these games, and sweep a couple of series.
Gotta' find a way.  Core values, brotherhood, small ball, whatever it takes, this is why you play the game.  Remembering, of course, that the glass is not half empty – not by a long shot.  You're in fourth place – where those teams you'll be playing for the next month would like to be.  Fixing yourself is not enough.
The idea is to win…while you're fixing yourself.
Its called 'big picture'.  And you've gotta' have short memories!