It is a consolation prize for the on-again, off-again Flyers of 2021, but Anthony Grant says to a man they're excited about having at least one more game to play – none more than Jalen Crutcher.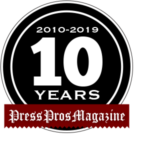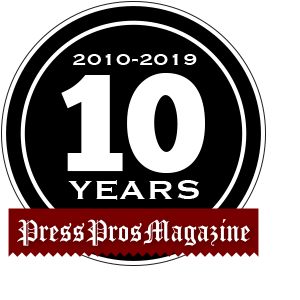 DAYTON — The University of Dayton basketball team did not make The Big Dance, the 68-team NCAA tournament this year.
They did, though, accept an invitation to The Barn Dance, the 16-team National Invitation Tournament (NIT).
Once upon a time, the 68-year-old NIT was on a level playing floor with the NCAA, like back in 1968 when the Flyers, led by Don May and Bobby Joe Hooper, won the NIT in New York's Madison Square Garden.
The NIT now is a second citizen, a trimmed-down event that will be played in the thriving metropolis of Denton, Tex. (population: 139,000) in the 10,500-seat University of North Texas Coliseum, also known as The Super Pit.
While it isn't the NCAA and several invited teams declined invitations, the Flyers quickly accepted. They will play the University of Memphis Saturday at noon in the first round.
"The seniors. . .this is a reward for them," said coach Anthony Grant. "It gives them a chance to continue their careers and represent themselves and this program in the post-season. That's an honor."
It isn't the NCAA, always Dayton's goal, and Grant realizes the NIT is a consolation prize. That doesn't mean the Flyers are not excited about the trip and on point to win it.
"The NIT is almost like a secondary prize, so to speak," Grant added. "The NCAA is the goal, but any time you get a chance to play in the post-season, that's a privilege. Less than a third of the (Division I) teams get that opportunity."
In addition to rewarding the seniors — Jalen Crutcher, Ibi Watson and Jordy Tshimanga — Grant believes it is a learning laboratory for the underclassmen.
"For the young guys, any time you can get post-season experience, whether it is your conference tournament or in this case, the NIT, I think that's good," said Grant. "So we're looking forward to the opporunity to play. We're playing a really talented team, a good team in Memphis.
The Tigers, coach by former U-Memphis legend and NBA star Penny Hardaway, finished the season 16-8, 11-4 in the American Athletic Conference.
The Flyers and Tigers played two common opponents, SMU and Virginia Commonwealth University.
Memphis split two games with SMU, winning, 76-72, and losing, 67-65. UD lost to SMU in its second game of the season, 66-64 at the buzzer.
Memphis lost to VCU, 70-59, while the Flyers lost three times to the Rams. . .66-43, 76-67, and 73-68 in the Atlantic 10 tournament.
What makes the UD-Memphis match-up extra-intriguing is that Flyers star Jalen Crutcher grew up in Memphis and has known Hardaway since he was in elementary school. Hardaway worked with him when Crutcher played for a juvenile team called The War Eagles.
Crutcher did not know about the match-up when it was announced and said, "Man, my phone was blowing up. I wasn't watching, probably playing a game with my teammates. My phone lit up and somebody said, 'You know you're playing Memphis, right?'"
While playing Memphis adds sugar and spice, Crutcher is pleased that he once again gets to dribble and shoot while wearing a UD uniform.
"My mom is the most excited," said Crutcher. "She never thought our last game would be
VCU. So my mom is as excited as anybody, I'd say.
"But I'm excited, the team is excited. . .so we're going out there to try to win the NIT," he added.

When Crutcher was a youngster, current University of Kentucky coach John Calipari was coach at Memphis, "And, of course, everybody was a Memphis fan. That was the only time I really rooted for Memphis."
Even though Crutcher was a star at Ridgeway High School in Memphis, the hometown university did not recruit him. So he signed with the University of Chattanooga. But when Chattanooga coach Matt McCall left for UMass, Crutcher transferred to Dayton, Grant's first recruit.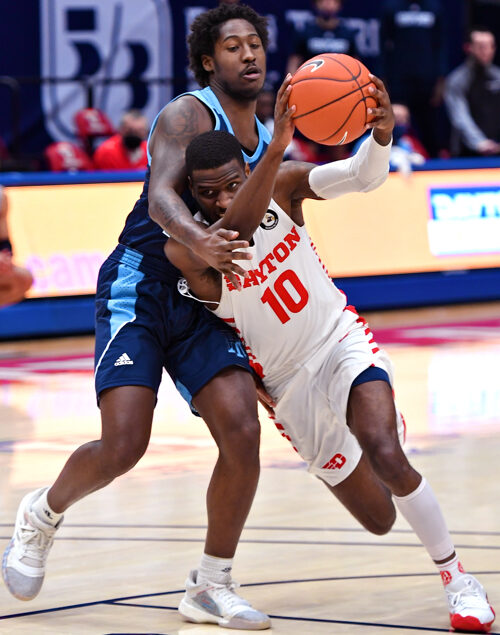 Nevertheless, playing Memphis is something special for Crutcher…and his teammates knew it.
"When my teammates saw Memphis on the schedule, they definitely looked at me," he said. "They were telling me how they want to win, just because I'm from there. We will come out with a lot of energy."
While losing to VCU in the A-10 tournaent and not receiving an NCAA bid definitely was a Dicky-downer, the NIT gives the Flyers an opportunity for an uplifting experience to finish this outlier of a pandemic-dominated season.
"This is a second chance for us," said Crutcher, a first-team all-conference Atlantic 10 guard. "Even though it isn't the big tournament, it's the NIT, it is still something where we can go out and prove a lot of people wrong, show people that we are really good."
For the Flyers, the NIT is Redemption Central, even if it is a booby prize played in the boondocks. As Grant said, "We want to normalize things and act like it is any other year. But it isn't. This is not. This is completely different with everything over the last year that every player, family and coach has had to deal with because of the pandemic. This is a year like no any others. So, to me, it was giving the guys as opportunity to decide what they wanted to do."
And Grant said, to a man, his team wants to see what life is like in Denton, Tex.