Geron Stokes is leaving Minster to become the next head football coach at Dublin Coffman. The MAC's loss is central Ohio's gain, as the era of free-thinking and free-minded football arrives in the Ohio Capital Conference.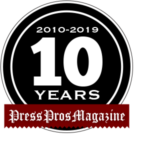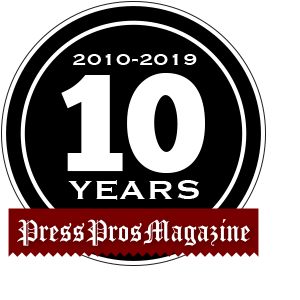 It was announced Tuesday night in Dublin, Ohio that Geron Stokes is leaving Minster High School to become the next head football coach at Dublin Coffman, of the Ohio Capital Conference.
It didn't surprise me a bit.
I never expected Stokes to retire from Minster, because while he's prone to playing possum regarding his next move, he's also one motivated by challenge, or someone's questioning if he's big enough, and good enough, to do it.
He played that way, at Urbana High School and then as the quarterback at Urbana University, where he was often the smallest player on the field, but also the most brazen. He knew no fear and epitomized the time-honored adage that the size of the dog in the fight doesn't matter. No, what does matter is the size of the fight in the dog.
He's not afraid of expectation, and there'll be plenty of it at Coffman because they're accustomed to winning, one of central Ohio's most storied programs. But he made Minster football accustomed to winning quickly, after two decades of being on the outside looking in at Versailles, Delphos St. John and Marion Local.
He shocked the football-rich MAC by winning the 2014 Division VI title against heavily-favored Kirtland, and then showed it was no fluke by winning the Division VII title in 2017 against Cuyahoga Heights.
His idea of conventional is sometimes unconventional, leading Kirtland head coach Tiger LaVerde to say this about Stokes and Minster following the 2014 championship game.
"We're accustomed to playing teams that do things because they have to. Minster does things (like throwing the ball) because they want to."
And after beating Cuyahoga Heights for the 2017 title, Heights coach Al Martin said this: "We were prepared for the passing game and they ran it down our throat. They were more physical than us."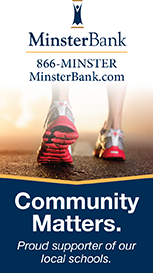 His unpredictability is not confined to the sidelines.
Instead of riding the team bus home after Minster's 2014 win to take part in a community celebration at the school, Stokes stayed behind in Columbus to thank friends and family who had traveled from distance to be at the game and support him. It ruffled a few feathers back in Minster, but it illustrated Stokes' unique perspective on personal priorities.
"Those people count, too," said Stokes of his decision.
He actually never moved his family to Minster during his seven seasons as coach, preferring to stay in his hometown of Urbana, with his family, near his roots.
He readily admits that he has one commitment as a football coach, and that to his players and their development, personal and football.
He dwells on character, improvement, and big picture.
He often downplays significant wins in favor of the reality of mistakes made in the process, leading this writer to dub him the 'prince of pessimism' after beating Marion Local in 2019. Marion would go on to win their 11th state title, just six weeks later.
"It was a great win," said Stokes. "But we really need to get better." Stokes and the Wildcats finished that year 9-2.
If his answers sound a bit care-free, don't confuse that with the indisputable truth about Geron Stokes. One man's care-free is another man's confidence, and Stokes is one of the most focused, and driven people you'll ever meet.
In just seven short seasons prior to the Covid season of 2020 he developed a new culture of football at Minster, along with a 71-31 won-loss record, two state titles and one state runner-up finish. He now owns the mark for most wins as a coach at Minster, having passed Ken Newland's previous record of 67.
And yet, on the subject of current events, outside distractions, and even politics, he chooses to remove himself from the things that threaten his focus on the greater priorities of family, personal responsibility, and responsibility to his players and the process of life after football.
"I know nothing about politics, or care," he admitted in a Press Pros interview last spring. "I've never understood why people get so upset over politics – get mad over who's president – because I'm not knowledgeable about it. I know someone is, though, and whoever they elect I'm good with it.
"Taxes? I don't even look at my paycheck to see how much I pay in taxes. Someone else who's smart in finance is making those decisions and it's out of my control. So I don't worry about it. Whatever the government, or the OHSAA, or some other governing body decides, I'll be fine. I'll figure it out."
This is what's coming to the Ohio Capital Conference – to Dublin Coffman. And there's little doubt their decision to hire Geron Stokes will impact that football-crazy league in the same manner he left his mark on the MAC.
He won the two titles, yes. But more, Stokes smiles over the fact that he left Minster having beaten all the 'heavys' – Marion Local, St. Henry, Coldwater, Versailles, and Anna. And, he leaves with gratitude for the people of Minster and what that experience taught him.
"What an incredible experience," he said last week, upon sharing his decision to leave. "It made me a better coach, a better dad, and a better man. I couldn't be more grateful."
The Hilliards, Olentangys, Westerville's, Pickeringtons, and Kilbournes won't bother him a bit. I've seen the fight in this dog. I admire his roots. He'll wear an Urbana T-shirt under his Coffman gear.
This is what's coming to Dublin Coffman!