A wild finish to an unpredictable year and an improbable shot by Tasos Cook lands Westerville Central in its first state tournament Final Four. 
By Steve Blackledge for Press Pros Magazine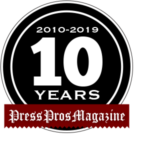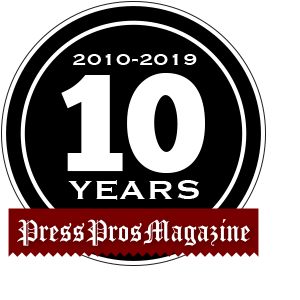 Westerville, OH – An accomplished player at the high school, college and professional levels, coach Kevin Martin rolled his eyes when describing a "silly" ritual his Westerville Central players insist on completing before leaving the practice floor each day.
"They love to mess around with last-second scenarios where somebody shoots a half-court shot for the win," Martin said. "Years ago, wasting time on something like this would drive me crazy, but I figure it's OK to let the kids have some fun now and then. Maybe there's some merit in it after all."
"Silly" would be an apt way to describe the Warhawks' players, coaches and fans during a mob scene following a Division I regional championship game Saturday at Westerville South's Ed Calo Court featuring one of the most dramatic endings imaginable … an instant classic if there ever was one.
Tasos Cook took an inbounds pass from teammate MJ Davis on the right side of the floor, took two dribbles to his left and launched a half-court runner off one foot that hit nothing but net as time expired, giving Central a 45-44 win over Gahanna and a trip to its first state tournament.
"We work on this play every day after practice," said Cook, a still-unsigned 6-foot-2 senior who scored a game-high 24 points. "It's just the way coach drew it up in the huddle. There was 1.9 seconds, so I knew I had to get it as far as I could. Sean Jones forced me to go left, I kind of lost him and I just let it fly right before the buzzer went off."
Davis said he and Cook, the Central District player of the year, have often talked about this potential last-second play.
"We run the play the same way every time with a clear out on the left side of the court with me inbounding, Tasos drawing a one-on-one matchup and him taking the last shot," Davis said. "Tasos told us in the huddle we were still going win, that we just had to believe. I ran right up behind him and thought as soon as it left his hand it was in. I feel like we're a team of destiny right now."
Westerville Central (22-2), which also won a district championship game against Pickerington North on a last-second three in the corner by Landon Tillman, will face Cleveland St. Ignatius (19-6) at 8 p.m. Saturday at University of Dayton Arena. In 2020, Central was awaiting a regional semifinal matchup against Thomas Worthington when COVID-19 wiped out the season.
"In situations like that, you need a little luck," said Martin, in his third year at Central and 13th overall. "Tasos made a really good decision on his catch to veer back left and get the shot off in time. Even though he was off balance, the shot looked to be on line. Man, I think that was the craziest finish I've ever been a part of."
During a mob scene, Cook found a despondent Jones sitting on the floor with his back against the wall and the two stars embraced. It was Jones who could have been the hero of this third meeting between central Ohio's top two teams. Amazingly, all three were decided by one point. The tie-breaker went to the Warhawks.
There were five lead changes and four ties in this taut battle of momentum swings. The pendulum seemed to be pointed toward Gahanna (22-3) until Quincy Clark snapped a five-minute scoring slump for Central with a three-point shot.
Davis hit a huge trey at the 1:02 mark to draw the Warhawks even at 42-42.
Obviously playing for a final shot, Lions coach Tony Staib called timeouts at the 34.2- and 10.4-second marks to draw up a play almost everyone in the sparkling new building knew was coming.
Known for his ability to shake defenders with his dazzling ball skills, Jones took the inbounds pass, made a shimmy move to create space and hit a pull-up jumper at the free throw line to give Gahanna an apparent win.
"That was Sean Jones being Sean Jones," Cook said. "We just had to keep our heads and try to answer."
Video showed the ball going through the net at 1.6 seconds, but the scoreboard showed 0.7 when Central was granted time out. After conferring with the scorer's table, the referees decided to reset the clock to 1.9 seconds. That discrepancy, ever so slight, could have made Cook's final shot a tad more difficult.
"We did everything right there," Staib said. "We put the ball in the hands of our star player and he delivered. On the final play, we played it like we wanted to play it. We didn't want to get beat deep so we guarded them straight up. (Cook) is dribbling left and leaning right when he shoots. They make, what, a 50-footer to beat us. What can you do?"
Jones, an All-Ohio 5-11 junior guard with several Division I offers, had 15 points and four assists and Javan Simmons added 12 points.
Gahanna, the top-seeded team in the district and sixth-ranked in the final AP poll, was trying to get back to the state for the first time since 2010. The task was made more challenging when 6-4 forward Jarius Jones was lost to a torn ACL on Feb. 5 and starting guard Cam Johnson was one of two players sidelined by COVID-19 tracing this week.
"I'm proud of our guys and the effort they showed all season despite being a little short-handed," said Staib, who finished his 19th year at Gahanna. This was their third regional final defeat. "I'm probably going to kick myself wondering what I could have done differently, but the bottom line is they made one more play than we did today."
Just one year after celebrating its first district title, seventh-ranked Central will attempt to be the last of the three Westerville schools to win a state championship. Martin helped Westerville North win it all in 1994 (the Warriors also made the final four in 1995 and 1996) and Westerville South prevailed in 2016, one year after being runner-up.