Generational in the sense that not that many remember when it last happened, Botkins squeaked past a determined Cedarville team to claim its first state tournament berth in 27 years!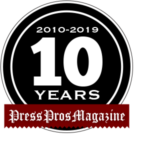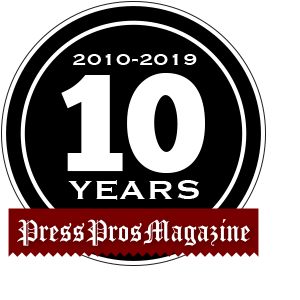 Vandalia, OH – Cedarville senior guard Trent Koning can say years from now that he hit his last high school shot.
Problem is, it came too late, and it wasn't a five-pointer…just a three.
And then this.  The 25-3 Botkins Trojans didn't care – didn't contest it.  Up by five points with two seconds left on the game clock Koning's shot was pure from the top of the key, but it only cut the deficit to 42-40, and those two additional points sent the Botkins Trojans to their first state tournament in 27 years!
Jubilation, as players hugged, coaches hugged, cheerleaders hugged, and people in the crowd hugged.  And trust it…they were ALL there.  The only one left back in Botkins before tipoff was the guy left working Meyer's Tavern, to get ready…just in case.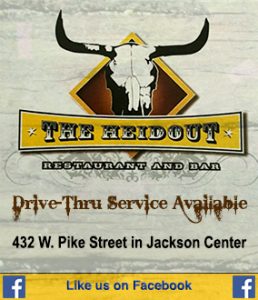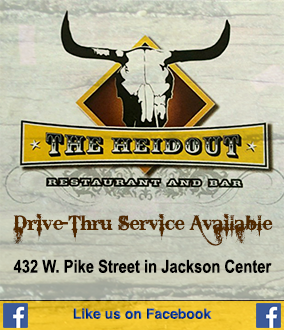 "Speechless,"  said third-year coach Sean Powell.  "But we believed we could do this.  That's a good basketball team, and Koning is a great player.  But we play in the Shelby County League against Caleb Maurer, Finkenbine, and Masteller, and Aiden Reichert.  We're accustomed to playing against great players."
They say what goes around, comes around, but that fact is time sensitive in Botkins, the northern-most member of the SCL.  It's been 27 years since the Trojans last made it to Columbus – to St. John Arena – in 1994.  And their stay was not all that memorable.  They fell in the state semi-final game to Worthington Christian.
Since then, a regional semi-final appearance in the early 2000s, but aside from that…where does the time go?  If you had asked the first twenty people you could get to after Friday night's win at Butler's Student Activity Center…probably none of them could give you details on the last time Botkins went to state.
And…they earned it!  It was hard, tough basketball.  The kind Jayden Priddy-Powell would later describe as kinda' like the Shelby County League.  Jayden, however, was caught up in the moment, because compared to league play against Anna and Fort Loramie this was a blood letting.  If you drove the lane to the rim you were going to get whacked in the head.  You might get a call, or you might not.  Fouls were purely discretionary.
But no one seemed to mind.  Botkins came out and scored immediately, and Denton Homan and Priddy-Powell combined to score 11 of the Trojans' 13 points in the first eight minutes to hold a 13-9 lead at the end of the quarter.
Obviously, Trent Honing was a concern, and priority.  The player that had jilted Jackson Center, and tripped up Tri-Village to get to the regional final, was one of the hottest players in the state, averaging 20 points and equally dangerous as a distributor from the point position.
But the combination of Jayden Priddy-Powell, Zane Paul, and Jameson Meyer took him as their personal challenge and would hold him to just three field goals for the game, and 14 points, far beneath his projected impact.
Priddy-Powell, would suffer foul problems, collecting his third early in the second quarter, and was forced to sit.  Paul and Meyer, who hit his only three-pointer of the game in Priddy-Powell's absence,  took that responsibility in stride, guiding the Trojans to a 20-14 halftime lead.
Cedarville's Isaiah Ramey, came out like a flash to start the third quarter, hitting a bucket and a pair of three-pointers to pose a new threat.  Priddy-Powell matched that threat, scoring seven of his own before collecting his fourth foul at the 1:20 mark of the quarter.  Forced to sit, Cedarville prepared to exploit his absence.
"I was so caught up in the game I didn't even know I had three fouls,"  Priddy-Powell said later.  "I was just attacking the rim.  But when I had to sit I stayed in the game, supported my teammates, and kept asking the coaches when I could go back in."
But again, Zane Paul and Jameson Meyer assumed the massive duty of not turning the ball over, while getting the ball to Jacob Pleiman for his only bucket of the quarter – and all the while harassing Koning, holding him scoreless.  Botkins finished the quarter with a 29-26 lead.
Sean Powell had enough confidence in Paul and Meyer to leave them out there to start the fourth.  And while it will be forgotten fifty years from now, they rewarded his confidence with five minutes of the best basketball you could ask for in the absence of your top playmaker and scorer.
Teamed with Carter Pleiman, Jacob Pleiman, Denton Homan and Dylan Topp, they held Ramey scoreless in the final frame, while limiting Koning to just one made shot and five made free throws – 8 points – for the quarter.
"We knew we could do it without Jayden in the game,"  said Paul.  "I've been a four-year starter here, I've been in situations like that before, he's my teammate and I had to pick up the slack.  I just had to hold out until he got back in the game."
"We were in our stall offense, and we knew we had to execute it well,"  said Meyer.  "We knew if we didn't turn the ball over they'd foul us.  No turnovers, not bad shots, and that's what we did."
That, plus they got just enough points to keep Cedarville's back to the wall.  Priddy-Powell (16 points) would come back in with three minutes remaining to provide secure ball handling, while Paul scored on a bucket and a pair of free throws to finish with 6 points.  Jacob Pleiman (7 points) added a shot at the rim and a free throw…enough offense to set up a wild last minute of possession for Cedarville, with multiple attempts to score at the rim, lots of contact, but no points…and no fouls called.
In the meantime…Carter Pleiman.  Pleiman had missed a pair of free throws in the second quarter, and missed them badly.  Now, in the waning moments and Cedarville pressing all over the court, he was the target of a pair of fouls, sending him to the line with a chance to ice the game.  He SWISHED four in a row, amounting to that five-point margin with seven seconds left in the game.
"I just tried to be calm, to clear my head,"  said Pleiman, who finished with 6 points.  "I knew the Cedarville crowd was loud. I tried to shut that out and just focus on the rim."
It took the entire seven seconds for Koning to wriggle free to get that final shot, and he hit it pure – nothing but net.
But by the time the ball cleared the net the Botkins bench was pouring on the floor, setting off an emotional celebration – that jumping and hugging we wrote about.
Someone would later douse Sean Powell with water in the locker room, and he looked like a drowned rat by the time he talked with the press.  He didn't seem to mind.
"We knew they were going to fight,"  he said of Cedarville (24-2).  "We knew that Koning was capable of coming out in the second half and taking over the game, and Jayden, Zane, and Jameson all did a good job of containing him."
Later, in the quiet of his locker room, Powell looked for a dry shirt while waxing nostalgic about his three years as coach, and the journey that ended 27 years of waiting for a return of Botkins basketball relevance.
"I really need to thank the Lima Perry community,"  he said.  "That's where I was coaching JV seven years ago with Matt Tabler, and we were in this position.  And Herb Lane passed away….."  his voice trailing off.  "Those guys helped put me on this path.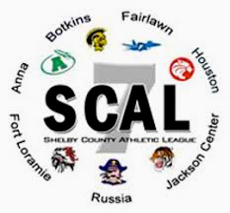 "And my son (Jayden Priddy-Powell)…at the time he was living in Cincinnati, in the seventh grade, and I called him after Perry lost to Yellow Springs in the regional final.  I called him and he told me he was going to get me to state.  It wasn't even realistic at the time, but we went to work, he never put the ball down, and he came out here tonight to lead these guys and get his dad to the state tournament.  This really feels good."
There were plans Friday night in Botkins.  And a good thing that one lone guy got the tavern ready.  There won't be much sleep, just a lot of appreciation for time lost, and time well spent.  And for Sean Powell, of course.
Suddenly, 27 years doesn't seem so long.