Depth, talent and experience is a tough triple threat for anyone to deal with, but that's what Fort Loramie features and it's worked for another trip to the state semifinals for head coach Carla Siegel and the Redskins.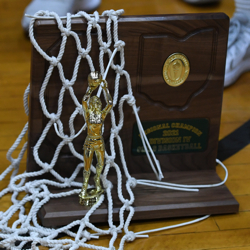 The scouting report on once-beaten and top-ranked Fort Loramie would look unconventional at first glance, but will make considerable sense soon enough. 
"Watch out for the earthquake," it might say. "But don't forget about the tsunami."
Set your defense to take away certain players, plan offensively around your best options, and it's likely that even if you're successful, the Redskins will unleash an overwhelming flood from somewhere that proves decisive.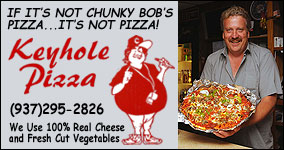 Saturday night in Division IV Region 15 finals, Dana Rose's career-high 24 points and the combined three-point excellence of Colleen Brandewie and Corynn Heitkamp did the damage in Loramie's 61-37 dismantling of Tri-Village.
That sends the Redskins (27-1) into the state semifinals on Thursday at the University of Dayton Arena, providing their next opponent a completely different box score from many others this season.
Senior Kenzie Hoelscher leads Fort Loramie in scoring, but she didn't get into double figures in either game at the regionals.
In a Thursday win over two-time defending state champion Minster, it was Jadyn Puthoff's career-high 21 points and previously-injured Ava Sholtis who came up big for the Redskins down the stretch.
Rose, Heitkamp and Brandewie took their turn against Tri-Village, but there's no telling who it will be next time.
"The people that struggled on Thursday night, there was no hanging of their heads," coach Carla Siegel said. "Everyone was happy for J.P. and Ava. Tonight, Dana stepped up. Corrynn stepped up. Colleen Brandewie had a great game. There are six or seven girls on this team that can start and six or seven girls on this team that can score on a given night."
Heitkamp's first of three first-half triples helped Loramie break from a 12-8 struggle in the final three minutes of the first quarter. Rose boosted that 15-8 margin with a driving layup, after which Brandewie hit from beyond the arc before Heitkamp did so again.
When Rose closed the quarter with a free throw, the margin was 24-10 and would never fall under 10 the rest of the way.
"The sets early that we were running were effective," Tri-Village coach Brad Gray said. "But you can't keep going to that stuff time after time against a team as good as they are defensively. They pick up on what you're trying to do and they took that stuff away."
Loramie paid special defensive attention to point guard Riley Sagester, who scored 19 Thursday in the Patriots' advance past Legacy Christian.
She found no space against an array of Redskins defenders until scoring six points late in the fourth quarter.
"She is a great shooter," Siegel said of Sagester. "She averages 18 or 20 points a game as a sophomore. We've heard about her for two years. I just said, 'Let's see what she does with Loramie defense.' We wanted to pick her up at half court and not give her any open looks. We had four different girls on her and all of them did a great job sticking to her like glue."
Without Sagester's perimeter offense, Tri-Village found it harder and harder to work the ball inside to 6-2 center Meghan Downing.
She led the Patriots (23-3) with nine points.
"I thought we would be able to get away from them better than we did, but we weren't able to." Gray said. "We were exposed. We can either accept it and say, 'They're better,' or we can say, 'We're going to figure out how to beat that kind of a team,' whether it's them or someone else. We feel like we have a chance to get back to this stage, but we don't want to get embarrassed again, and tonight we got embarrassed."
The Patriots start three sophomores and two juniors, so the future is an alluring consolation.
For Loramie, called home en route to Columbus before arriving to play a state semi-final last year when COVID cancelled the tournament, the future is much more immediate.
"Obviously last year was pretty devastating," Rose said. "I know everyone on this team is 100 percent happy to get back here to where we are. We definitely want to finish through to the end."
"I think it made us hungrier to get back where we were so we could pick up where we left off," Heitkamp said.
Just like last season, the Redskins are No. 1 in Division IV as they head for the state semifinals, seeking their third title in eight seasons.
"We're excited," Siegel said of the trip down I-75 to Dayton. "That's a beautiful arena. The atmosphere is awesome. It's our first time there, so we'll see what happens. We're ready to play and we're excited to play."
Bruce Hooley is a former sports editor of the Troy Daily News and the host of the We Tackle Life podcast.