Despite seeing an 11-point lead evaporate over the final 3:50, the Anna Rockets held on to win its third straight Division III district championship when McKane Finkenbine sank a pair of free throws with 1.2 seconds left to hold off Greeneview.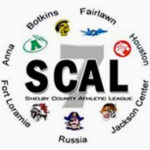 Vandalia, OH – It's tradition for Anna Rockets' boys basketball coach Nate Roberts to get drenched with water in the locker room after every big victory. On Friday night, if such a thing was appropriate, it might as well have been holy water.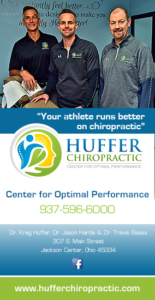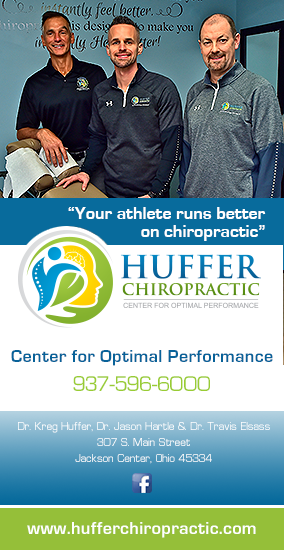 Anna trailed the Greeneview Rams by one point with 6.4 seconds left. Greeneview held possession of the ball and prepared to inbound it under Anna's basket. The Rockets needed a miracle
It came seconds later.
Greeneview's Rhett Burtch successfully inbounded the ball. The pass, however, went to a Rams' player charging toward the baseline. His momentum was carrying him out of bounds so he passed the ball right back to Burtch. Burtch then looked left and tossed the ball to teammate Myles Witt, who didn't make a clean catch.
Anna junior McKane Finkenbine rushed in, grabbed the loose ball and bounced a layup off the rim … but was fouled with 1.2 seconds remaining. His first free throw tied the game. His second free throw … both swishes … provided the winning points, 60-59, and lifted the Rockets' to a Division III district championship at Vandalia-Butler's Student Activity Center.
"I don't really know (how I got the ball)," Finkenbine said. "I figured I'd go for it. If I didn't go for it we're going to lose. … I just told myself I have to make these free throws for the team."
Greeneview managed a full-court pass, but the Rams' final shot – a catch-and-release attempt from about 10-feet away – never had a chance and bounced harmlessly off the side of the backboard.
Anna (21-5), making its fourth consecutive district appearance, claimed its third straight district title. Third-seeded Anna plays the winner of No. 1 Cincinnati Taft and No. 12 Indian Lake in the D-III regional semifinals on Wednesday. Taft and Indian Lake play its district title game 4:30 p.m. Saturday at Northmont High School.
"I was definitely a little nervous," Finkenbine said of stepping to the free-throw line. "But I knew they were both going in. Our coaches always say free throws are 90 percent mental. That's what I was telling myself."
"How lucky is that to go to him?" Barhorst said. "Our best free throw shooter on the team. He's money every time he gets to the line."
Finkenbine's 3-pointer with 3:50 left in the fourth pushed Anna to its largest lead at 56-45. The Rams refused to go quietly. They ripped off a 10-0 run capped by Rhett Burtch's 3-pointer, his second of the rally, to pull within 56-55 with 1:48 left.
Anna senior Isaiah Masteller and Burtch traded scores, keeping Anna in front 58-57 with 1:13 to play. After an Anna turnover with 33 seconds left, Greeneview took its final lead, 59-58, on a Carter Williams drive with 20 seconds remaining.
Anna, playing for the final shot, got a good one with Masteller's drive to the rim. But Greeneview's Cole Allen was waiting with the blocked shot. Anna junior Zach Ambos grabbed the rebound and was called for traveling, setting up the Rams' fateful inbounds pass with 6.4 seconds.
"I'm elated. I have so many emotions going through my body," Barhorst said. "I'm not sure exactly what all happened there at the end. I just know these guys have always had fight. They've always had togetherness. This group has come together just as good as any group I've had.
"I'm so proud. Sometimes you have to have the ball bounce your way. It did."
Finkenbine led Anna with 22 points and Masteller had 21. Ambos finished with nine, all coming on 3-pointers in the second half. Senior Ben Kovacs added six and senior Isaac McDermott two.
Ambos hit a pair of 3-pointers in the fourth quarter that delayed the Rams' final charge.
"He's been stepping up the second half of the season hitting big shots for us like that," Barhorst said. "He's our best defender on the ball. He doesn't let his man get past him. Tonight he stepped up. If it wasn't for his play we don't win. We don't even come close to winning."
"Coming out of the locker room coach told me I needed to make a couple of big shots in the second half," Ambos said. "It felt good and it went in."
Seeing his team down by a point with 6.4 seconds left? That wasn't such a good feeling. The Rockets knew they still had a chance as long as time was on the clock … but doubts couldn't help but creep in.
"(I wasn't having) positive thoughts. That's all I'm going to say," Ambos said. "But McKane got that steal and the foul shots. Best shooter on the team and I knew they were going in."
Of Anna's three straight district championships this one is the most unexpected. The Rockets graduated all five starters from last season's team that finished 22-5.
Masteller was one of the first players off the bench last season and Kovacs lettered. Finkenbine split time between varsity and JV as did Ambos.
"I think (winning a district title is) great with everybody saying we're going to have a down year this year," Finkenbine said. "I think we proved to a lot of people wrong and we're going to continue to prove a lot of people wrong."
"At the beginning of the year no one really believed in us," Ambos said, "losing all the people that we did. We're just trying to keep it going and keep winning."
Greeneview (17-7) was led by Burtch's 18 points. Ethan Caudill added 13 and Williams 10.
Anna shot just five free throws in the game and made four. Greeneview was 8-of-12.
Neither team led by more than five points in a first half that saw four lead changes and three ties. Anna led the entire third quarter, including by nine in the opening minutes, and kept the lead until the Rams scored with 20 seconds left in the fourth.
Both teams missed their share of quality looks and layup attempts at the rim, something not uncommon with the SAC's shooting background that features balcony seating.
"You gotta have these kind of games to overcome," Barhorst said of facing pressure situations during the tournament. "I don't know. This team just seems destined to win."