The Buckeyes kick off their 44-game schedule Friday with a four-game series against Dan Hartleb's Illinois Illini.  Important?  You can't begin to understand all the reasons why.
Three things command our focus here in Greenville, South Carolina on the eve of the 2021 Big Ten baseball season.
Greg Beals' Buckeyes kick things off tomorrow afternoon with a four-game series against the Illinois Fighting Illini.  Junior Garrett Burhenn is the projected starter, the righthander from Indianapolis coming off a 2-2 year in 2020 (8.02 era) in a Covid-shortened 14-game season.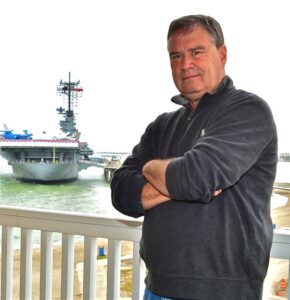 But first, answers to those who question why, in the middle of the high school basketball tournament season, do we dedicate so much attention to baseball, a full month before the Ohio high school season kicks off?
The answer is…we're not subtracting from our basketball coverage.  There'll be plenty, as you'll see.  It's just that we always make room for baseball.  And where college baseball is concerned it's part of a commitment we make annually to the benefit of amateur baseball;  and the Ohio State Buckeyes happen to sit at the top of the food chain of amateur baseball in Ohio.  The point being…there is a concern among many that amateur baseball is under siege because of culture change and the constant competition for athletes' time in the summer from football and basketball.  High school sports have to share athletes, and those respective coaches largely want their players involved with football and basketball activities in the spring and summer, not baseball.
But at the same time a lot of athletes WANT to play baseball, and don't want to stop playing when they graduate high school.  Press Pros Magazine promotes college baseball for the purpose of kids being able to read about it and understand that there's a place for them if they have the skills, commitment to improve, and a dedication to being a good teammate.  If you can do that there's likely a place for you at Miami, BG, OU, Ohio Northern, or even Ohio State, scholarship or none.
And another thing…if you can read about them on Press Pros, they can read about you, too.  Baseball does not have the recruiting budget and personnel that football and basketball has, so a good way to learn about prospects is through the internet.  And trust it, they read once they know you're there.
The second issue is that of the baseball, itself, this weekend.  This is going to be raw in the sense that teams have not had the requisite three weeks of out-of-conference play to tune things up, audition for playing time, and acclimate themselves to being outdoors.  This is right-out-of-the-womb baseball and the stakes couldn't be higher.  Lost time means less time to settle in, that's a #1 priority for Beals and the staff.  How fast can they settle in?
With no Big Ten Tournament this year winning percentage means everything if you want one of those coveted NCAA tourney berths come June.  And while not every team in the Big Ten is equal to that of the projected front-runners – Michigan, Ohio State, Maryland, Iowa, and Indiana – they're all starting out with the same handicap.  None of them have played, and none of them can afford a slow start.  Every game is a conference game, and every game has additional consequence pertaining to conference standing and overall winning percentage.
So, the pressure is on coaching staffs to put their best hunch for immediate dividends on the field.  And the pressure is on the players to perform immediately if they're called upon.  There's no time for an 0-for-15 start at the plate. There's no time for pitchers to work themselves into competitive shape.  And while baseball success has always been predicated on failure 70% of the time, hitting .300 may not play as it normally would in a sprint-to-the-finish situation like this year.
The third issue centers squarely around offense, because this, like any other baseball season, projects that the pitchers are going to be ahead of the hitters.  And if that's the case the Buckeyes, and Beals, believe they're going to be advantaged.  They're pitching rich with their weekend rotation back for a third season. and with a bullpen of big arms that's talented and deep.
But will they score runs, and score them early?  Illinois returns a pitching staff that nearly matches that of the Buckeyes in earned run average from a year ago – 4.58 (the Buckeyes pitched 4.77).  And their offense returns 86% of its hits from 2020 and 83% of its runs, significantly from sophomore Brandon Comia (.426).  It's a small sample size, yes, and numbers can be deceiving, of course.  But the Illini is talented in their eight position players, and experienced.
Beals believes that they will score runs, improving on last year's .242 team batting average, which is again deceiving because just when they were beginning to hit the season was shut down because of the Covid virus.  Dillon Dingler hit three home runs in his last five games.  Nolan Clegg was showing life (.333), Conner Pohl (.245), Mitch Okuley (.300), Brent Todys (.256), Zach Dezenzo (.189), Nate Kraffa (.196) and Nick Erwin ).368), but was it enough to hang your hat on for the fact of a quick start this weekend?
Well they have no choice, but if it's any consolation, Illinois and the rest of the Big Ten had the same sample size, meaning 83% of what?
And trust it, no one wants to go home after this opening weekend 1-3, or God forbid…0-4!
Last, believe it that Beals and his staff need to see the product.  They need to know if they've recruited as well as they believe they have.  All the Big Ten teams have the equivalent of two freshman classes, given the extra year of eligibility granted by the NCAA due to Covid, which means that 50% of players recruited in Division I baseball over the past four years are relatively untested.
Are they concerned?  Well, yes and no.
Yes, because they need to know that their instincts were correct.  That's just pure human nature.
And no, because every coach tries to recruit character as much as they do baseball skills.  And character is a big part of the deal when you sign with Greg Beals and the brotherhood of Buckeye baseball.
And so it begins.  Beals said on Tuesday that he can't wait, and I'm sure Garrett Burhenn and the rest are right there with him.
And now you know why this weekend is so important.