It took St. Henry two overtimes to knock out Lima Perry, and New Bremen broke Minster's heart with a last-second three-pointer to set up an all-MAC district final Friday at Wapakoneta.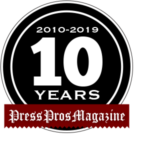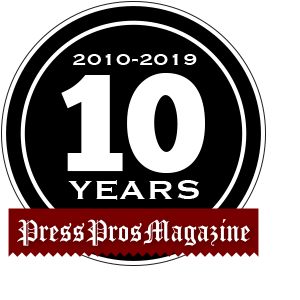 Wapakoneta, OH – If you wrote all the twists and turns of Tuesday night's Division IV district semi-finals with St. Henry, Lima Perry, New Bremen and Minster, it would be the length of a James Michener novel by the time you were done.
A pair of games that at times were sin ugly, and yet by the time St. Henry had knocked out Lima Perry in double overtime in the evening's first game, Redskins' coach Eric Rosenbeck said, "This was the best basketball game I've ever been a part of."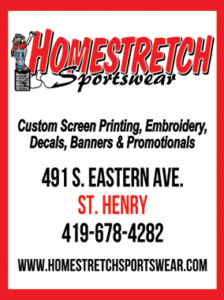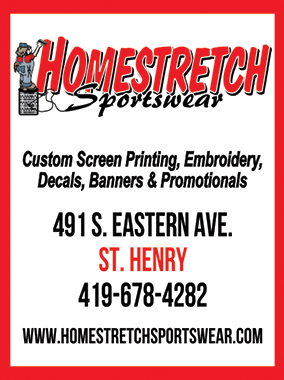 In the nightcap New Bremen's Cory Stephens might have challenged that, as junior forward Reece Busse hit a corner three with .08 left on the clock to break the hearts of rival Minster, 40-39, negating a stirring second half comeback by the Wildcats, who had trailed by as much as eleven points in the first half.
Whether or not Eric Rosenbeck would admit that it was the best game he'd ever been privy to in the first half is a matter between him and his conscience.  In one of those games this year where the Redskins were simply offensively challenged, they struggled to score, trailing 10-9 at the end of the first period, and 21-14 at the halftime break.
But to the 'Skins' credit they did as they always do…played defense and caused a quick and athletic Perry team to play beneath the pace they preferred.
Games have two halves though, and little by little St. Henry began to creep back on the shooting of Bennett Gels, Carter Ontrop, and Logan Lefeld.  In the third quarter St. Henry outscored Perry 20-13 to tie the game at 34-34.
Perry would not go away, however, and played St. Henry tough down the stretch to tie in regulation, 47-47, but not before St. Henry's Casey Bruening was heard with a dramatic three-pointer to help deny the Commodores a regulation win.
"Our seniors weren't ready for their season to end,"  said Rosenbeck later.  "I whole-heartedly believe in our kids and their toughness, and Casey Bruening wasn't about to have his career end in the fourth quarter.  He's made play after play all year, and to me he's first team All-League.  He made the big shot [to give us a chance].  I couldn't be more proud of him."
Both teams stumbled through the first overtime, finishing tied again at 52-52.
But in the second OT Lefeld got loose underneath to score and give St. Heny a three-point lead…and then with a minute remaining and the Redskins nursing that lead senior Carter Ontrop decided he'd give Rosenbeck whatever his cardio vascular could take, pulling up for a wing three-pointer in front of the St. Henry bench that was light years from high percentage basketball.
As loud as it was in the gym you could still hear Rosenbeck over the din, shouting, "No, no…no!"  And just as his final "No' rang out Ontrop's shot swished through the nets to boost the lead to six…and break Perry's resolve to fight on.
"I was open,"  said Ontrop afterwards.  "And I figured I might as well take the shot.  I heard him yelling behind me, but it went in.  We've had so many close games this year we're used to those situations, and this is just what we do."
Lefeld and Ontrop both finished with 19 points to lead St. Henry, while Bruening added 9 and Bennett Gels had 12.
For Perry, Terry Riley and Bubby Knight had 16 points each, while Jefferey Simpson finished with 13.  The Commordores ended their year with a mark of 16-5.
St. Henry finished things out at the foul line to improve to 18-7 and stamp their bid for Friday's district final with New Bremen, who won their game with Minster in similar fashion…just not in overtime.

New Bremen came busting out of the gate in the second game to take a 13-7 lead at the end of the first quarter on the strength of balanced scoring by all five starters…and for the fact that Justin and Johnny Nixon were the only two able to hit shots for Minster.  It was a trend that continued in the second quarter as the Wildcats fell behind by as much as ten points, but cut the deficit to 6 by halftime, 20-14, as the Nixons were making their presence felt on both ends of the court.
Offensively, they scored 13 of Minster's first 14 points.
And defensively Justin Nixon was either swatting shots outright, or altering them.  He would finish with four blocks for the game, and what seemed like a hundred rebounds.  No one for New Bremen – Mitchell Hays, Nate Rindler, David Homan, Trevor Bergman, or Reece Busse had more than four points…but Minster, outside of the Nixons, simply could not score.  They shot, collectively, 24% for the half.
But they started to find it in the second half.  Justin Nixon was proving hard to stop around the rim, as guard Eric Schmidt, who was having his own offensive issues, was putting the ball in his hands down low, and the 6'5″ senior was having his way, despite taking a physical beating.  He would finish with a game-high 19 points, and probably took that many body shots doing it.  Some were called…some were not.  He didn't seem to mind.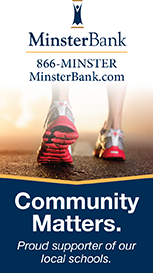 On the other end Minster's defense was digging in, holding serve, as little by little forward Bryan Falk began to heat up.  Falk would hit a deep three with 30 seconds left in the third quarter to cut the New Bremen lead to three points, but Bremen answered with a three by Hays to help push the lead back to nine by the end of the quarter.
Nixon came right back in the fourth and kept pounding in the paint, scoring eight of his 19 points while Falk hit another corner three-pointer to help Minster cut the margin to 39-37 with under a minute remaining.  Finally, Nixon would hit a pair of free throws to time the score for the first time at 37-37…and after a New Bremen turnover he would give the Wildcats their first lead of the game with a move past Nathan Rindler to score his 18th and 19th points of the game.
New Bremen had one more possession, however, and after working the clock to 6.8 seconds, Cory Stephens called a time out to set up what he hoped would be one final play.
Whatever he set up wasn't there, however, as guard David Homan could not shake free.  And as time was running out he found Reece Busse standing alone in the corner.  Busse took the pass and rose to shoot all in one motion, and with .08 seconds on the clock the ball was clearly out of his hands.  It hit nothing but net as time, and Minster's season, ran out.
"It's not over until the clock hits zero,"  Cory Stephens said with a tired smile, afterwards.  "Tonight was a game between two well-coached teams that battled for 32 minutes.  Basketball is a game of runs, and whoever can extend runs and shorten the opponent's opportunity to make runs is what it comes down to."
That, and a heroic moment for Reece Busse and the Cardinal program.
"Yeah, and he's a kid who lives in the gym,"  added Stephens.  "He's a gym rat and that's not the first shot he's hit this year.  David did a great job to find him, and we tell the kids if you let it fly good things can happen."
It was the biggest athletic moment in Busse's young life, and Mona Lisa never had a bigger smile as he talked about it outside the New Bremen locker room, still wet from the showers.
"Yeah, that and beating our rivals,"  he confessed.  "Coach did a great job of getting us ready, and we were trying to run a play to get Mitchell the ball on the block, but it got tipped out.  Dave got it, I cut around the back side and I think they lost me.  He got me the ball and I just shot it.  I didn't think about for a second.  I was just hoping I'd get it off in time."
He did, of course, and etched basketball (17-7) in the growing list of big Cardinal finishes for '20-'21, scoring a game-high 11 points in the process.  Minster bows out of the tournament with a record of 18-4.
Things move on to Friday night now as St. Henry and New Bremen will meet for the district title, the winner moving on the regional round.  In their earlier meeting back on December 18 St. Henry came away with a 45-42 win in another one-possession finish.
Game time is 7 pm at Wapakoneta High School for the all-MAC final.
And really…who's surprised at that!