Major league spring training is upon us, and the college baseball season starts this weekend.  And despite the years and advancing infirmities, that fact of a new season, and the renewal of that which is simple and good, gives each one of us hope for something better.
The college baseball season starts in a matter of days and Press Pros, as always, will travel with the Ohio State Buckeyes for their season opening series with Illinois, played in Greenville, South Carolina.
And before you question…yes, we'll give full attention to the activities at home – the girls regional round of the state basketball tournament, as well as the boys' district action.  In our case we don't sacrifice anything.  We just always make room for baseball!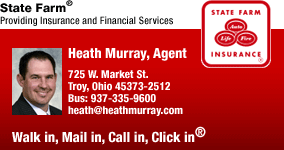 There's a reason why I think it's special to every boy who every longed for the start of the Little League baseball season – who played high school baseball, or American Legion ball.  It was the feeling of belonging to a team, the sensory high that came from the smell of a new glove or a baseball right out of its wrapping.
It was the feel of a new uniform, or your first uniform.
The sensation of your first base hit, or just hearing the crack of the bat.
I well remember the first out I recorded as a high school pitcher, in a JV game playing for Piqua and coach Bucky Wise…against old Fairmont West High School.  I struck out my first hitter in that game, too.  It was the third out of the first inning, and I was hooked for life.
I remember my first high school varsity win, against Piqua Catholic in my sophomore year.
And I clearly remember my first college win in my freshman year at Ohio State, against Miami Dade South.  I pitched five innings, gave up three runs on six hits, and watched nervously as we hung on to win 6-5 after I exited the game.
I remember my first major league baseball game, May 10, 1962, at old Crosley Field in Cincinnati, meeting Wally Post, and then seeing him hit a pinch-hit home run in the eighth inning to beat Casey Stengel's New York Mets.
One of my favorite major leaguers growing up was Roberto Clemente, and I remember going to see him play at Forbes Field, in Pittsburgh, the summer before I started college.  That old ballpark was so unique – reeking of beer and cigar smoke,  457 feet to center field, and the infield tarp that came up from underground to cover the field during a rain delay.
And now, one of my saddest and most graphic baseball images is the YouTube video of Forbes Field the year they tore it down, set to the song There Used To Be A Ballpark Right Here, performed by Frank Sinatra.
Actually, they've adapted that song to a number of old ballparks now gone, but I never got to see Ebbett's Field, Comiskey Park, or Sportsman's Park.  I did see Forbes Field, and wouldn't trade that day for anything.
Recently I drove along Forest Avenue in Piqua and stopped at the old ballpark – Hardman Field.  I got out and walked along the terrace, where my high school teammate Tom Bodey once hit a home run out to right to beat Bellefontaine.  It landed in Ben Jackson's front yard and I remember Ben walking over during the game to bring that baseball back.
I remember the home run I gave up to Troy's Denny Dickensheets in the spring of 1969 that went "over" the light tower in left field at Hardman and came to rest in Forest Hill Cemetery.  Someone retrieved that one, too.
I remember the home run I gave up to future big leaguer and hall of famer Dave Winfield during my sophomore season at Ohio State.  He hit it at the old ballpark, Trautman Field, and it came to rest on the awning over the front door of  the Woody Hayes Athletic Facility, about a hundred feet beyond the center field fence.  Equipment manager John Bozick kept it around for the next three years, just to remind me.
If you think that baseball doesn't imprint a young man for life, ask anyone who's every played a significant amount of it, and they'll share some of the same kinds of stories, as well as the nostalgia of places they've been and players they remember.
Forbes Field, by the way, was the scene of Bill Mazeroski's home run in the bottom of the ninth inning to beat the New York Yankees in the 1960 World Series.
And eleven years later I came to know the winning pitcher of that game, Harvey Haddix, who lived in Springfield and played baseball with my high school coach, Jim Hardman.  At Hardman's urging I went to Haddix's house while I was in college and he taught me a few things you could only get from a fourteen-year veteran of the big leagues.
And when I watch the video above, and listen to Sinatra, I always think of Mazeroski, Haddix, and Clemente.
Jim Hardman always told us at Piqua:  "You can only play baseball for so long, but you can love baseball forever.  And if you're lucky,"  he once said over a beer in his backyard on Janet Drive, "it'll love you back."
Is there any question that he was right?
Don't try to call me on Friday, OK.  And don't worry about me, either.  I'm going to be in a better place.
At a baseball game!