Despite valiant efforts and lofty expectations, both Coldwater and Versailles came one victory short of the state championship match.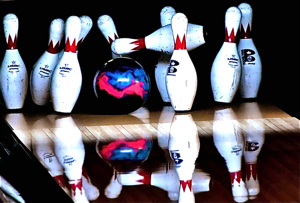 COLUMBUS – Sometimes your best just isn't good enough.
That's a cliche which often holds true in life, but it was true in the literal sense for Coldwater in Saturday's OHSAA Division II Boys State Bowling Championships.
Ahead two sets to one against Fairport Harding in the semifinals in a best-of-five match, the Cavaliers bowled their highest Baker score of the tournament at 234.
The Skippers converted for strikes on 10 of their 12 opportunities to do so and rolled a 255.
"We didn't finish it," Coldwater head coach Rick Hartings said. "We didn't carry really good. We left four straight ten pins, and if we carry one or two of those we win."
Coldwater lost the decisive fifth set and failed to repeat as state champions, with Versailles racking up individual accolades but falling short in its own semifinal match to leave the MAC's two best sitting third and fourth in the state of Ohio, one win shy of a showdown for all the marbles.
"I'm really happy on how everybody bowled as a team," Versailles head coach Tyler Philpot said. "I'm really proud of the two seniors, Tyler and Sam. They kicked butt today. It was pretty awesome."
The Cavaliers' fourth-set shootout with the Skippers wasn't the end of their team's frustration. It continued into set five.
Fairport Harding, out for revenge after falling to Coldwater in last year's state championship match, missed a two-pin spare pickup in the second frame, and Coldwater capitalized with a strike from sophomore Brandon Hammons. A third-frame foul left Harding open once again, but that's when the tide of the decisive set turned.
Coldwater sophomore Hayden Beougher, the team's top individual finisher, whiffed on a one-pin pickup, and Harding rattled off a turkey in frames four through six.
And suddenly the Cavaliers could hit nothing but nine pins on their first throws.

"We just wanted to stay clean and make quality shots and put the pressure on them," Hartings said. "But when you go nine-spare, nine-spare and a spare when you know they're gonna throw a lot of strikes — it's gonna be tough. You start pressing a little bit."
Still, sophomore anchor Keaton Bruns had a chance to tie the set and send it to a roll-off with a spare/strike combo in the 10th frame.
A 6/10 pickup, two pins that sit next to each other, was required. Bruns hit the 6-pin dead center and missed the 10 by two inches at most. Coldwater lost.
After the match, Bruns sat by himself near lane one in the alley awhile, gazing onward.
Coldwater's brightest star, a main reason the team got in a position to compete for a championship in the first place and a key piece to their title run in 2020, still holds two years of eligibility.
"It's a team effort. We just didn't strike enough," Hartings said about the final sequence. "Didn't put them away."
Versailles faced similar hardships in its semifinal tilt with Mechanicsburg.
Philpot forecasted between the qualifying and championship rounds that the team that picked up the most spares would be champions at the end of it all, but his team ran into a strike-rolling buzzsaw in the Wildcats.
And much like Coldwater losing a rematch of last year's state finals, Versailles met a team hungry for vengeance — the Tigers beat Mechanicsburg in both the sectional and district championships this season.
Fulfilling its coach's prophecy, the Tigers lost set No. 1 after leaving frames six and seven open. They tried to claw back with a double in frames eight and nine, but fell short via a 181-166 final.
Mechanicsburg left its 7th frame open in game three, but Versailles responded in kind with an open 6th. Following a turkey from the Wildcats the score settled at 203-157, and Versailles trailed two sets to one.
Mechanicsburg rolled seven consecutive strikes from frames two through eight in game four, sealing Versailles' fate.
Philpot said the inability to break down the oil on unused lanes hurt Versailles' chances. He added that Mechanicsburg, a squad Versailles is quite familiar with by now, was a tough matchup.
"We just couldn't catch a break," Philpot said. "I thought we were in the pocket all day. Mechanicsburg, they just got some lucky shots. And that's part of bowling. You can be on fire all day, catch a bad break and that's all it takes."
The lone set Versailles took was its sole game without an open frame.
There's still plenty to smile about in Versailles, however.
Not only did the team earn its highest finish in school history at third in the state, beating its previous high mark of fourth, it also collected individual accolades as though they were bowling-themed trading cards.
Junior Landon Henry picked up second-team All-Ohio honors with a 647-pin series in his three qualifying games.
Senior Sam Bensman topped that with a 651-pin series and a finish as the No. 8 bowler in Division II, also second-team All-Ohio.
He was a fan of the oil setup at Wayne's Webb. Versailles' qualifying-round lanes suited his sweeping right-to-left hook.
"We practiced on a bare pattern," Bensman said. "It was real heavy oil on the outside. You've just gotta send it straight up five-board and let the ball work from there."
But the true piece de resistance was senior Tyler Gehret.
Gehret won the whole thing. His 684-pin series took home the individual state title and set a school record for the state championship — keep an eye out for a full feature on that later from PressProsMagazine.
"I just got a new ball," Gehret said. "I started off slow my first game, then I just kept bowling. Managed to get in the pocket a couple times and build some confidence up. After that, it was just repetition."
Beougher's 605-pin series placed him No. 20 in the state for Coldwater, 14 pins short of making an All-Ohio team.
The MAC also sent an individual competitor to the state championships, with Minster junior Chandler Hoskins tossing a 558-pin series. He bowled a 220 in his final game.
The SCL sent an individual as well in Russia junior Patrick Bohman. Bohman proved consistent, bowling 192, 200 and 196 for a 588-pin series, but it wasn't enough for an All-State nod.
Back on Coldwater, there may have been a touch of foreshadowing for its semifinal strife with a few first-round flukes.
The Cavaliers started qualifying on lanes 21 and 22, getting off to an uncharacteristic start with two open frames.
Just as the team settled into rhythm, the pin-setting machine on lane 21 stopped working. It forced the squad to move to lanes one and two.
"They got in their own head [in qualifying], they got in their own way," Hartings said. "We had to battle though that, and then we had a lane break down. We had to wait a little while. Then they end up moving us down to one and two, we had to call the guys down. They weren't happy about that."
Lane one proved tougher than lane two, or 21 or 22 for that matter, and there's scoring evidence to back this up.
Bowlers alternate lanes in standard games. In game three Bruns bowled on lane one for his odd frames and lane two for his evens.
He left the 1st, 3rd and 5th open. He went spare, strike strike in the 2nd, 4th and 6th.
In qualifying-round baker games Coldwater followed a lane-two 177 with open frames in the 1st and 6th on lane one. A series of strikes to close salvaged a 171.
"Lane one was definitely hooking more," Hartings said. ""We were trying to figure that out, getting guys left farther, changing balls. But still, just repeating shots. If you're making them left, move. You still have to throw it good."
A bumper randomly popped up on lane two during the second game, as if a lane breakdown and odd oil weren't enough strange happenings for the Cavaliers.
They still managed to qualify as the No. 3 seed for championship rounds, with Versailles finishing No. 1.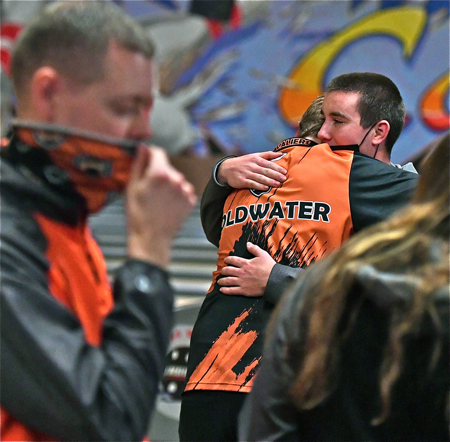 Both teams battled through their quarterfinal matches in four sets before falling in the penultimate round.
Versailles is loaded with talent among its underclassmen, Philpot said, and should look forward to more state championship tournament appearances.
"The future looks bright," Philpot said. "Obviously losing a state champion and Sam Bensman, eighth in state, that hurts a lot. But we'll get back to work next year and go forward."
At Coldwater the expectation is state championships at this point, that's the blessing and curse of winning nine total titles — five girls and four boys — in the 15 years the OHSAA has hosted state bowling tournaments. No other school has more than two on either side.
But that doesn't mean the Cavaliers should leave the 2021 state tournament dismayed, Hartings said. Every single bowler featured at the championship can return.
"The boys are disappointed, but they'll be back next year," Hartings said. "We had no seniors. So look out next year."