Versailles senior Tyler Gehret set a school record and bowled his way to an individual state crown Saturday.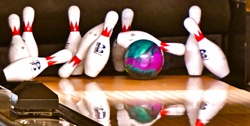 COLUMBUS – Versailles bowling coach Tyler Philpot sat on a wooden chair inside the dimly-lit, empty pool hall at Wayne Webb's Bowl in Columbus.
With his mask pulled down to reveal a face filled with bittersweet pride, his eyes began to water when speaking on Tyler Gehret.
"His senior year, to bowl like that — it just gets to me," Philpot said. "He's worked so hard."
It wouldn't be the last time somebody started wiping their visual receptors thinking about Gehret's journey.
Soon after Philpot's moment, individual results were announced at the 2021 OHSAA state bowling championships. All-State bowlers are revealed 15 to 1, and with every score revealed below Gehret's 684-pin total his mother Christy, with a phone in hand to record the outcome, began shaking a little more.
The runner-up was announced. It wasn't Tyler. Christy Gehret started shedding tears of joy.Out of approximately 1,500 boys that compete in the category, Tyler Gehret was Ohio's Division II state bowling champion.
"It just felt surreal," Gehret said minutes afterward. "Like it still hasn't set in yet that I got first in the state."
It stood as a testament to Gehret's near-lifelong journey to the top of a sport he's always strived to better himself in, even if Versailles fell short in the state tournament semifinals against Mechanicsburg.
His senior year, at the season's ultimate tournament, Gehret bowled a personal-best 267 in his second game en route to Ohio's bowling crown.
"It feels amazing. I've never felt something so good in my life," Gehret said about bowling his high score at the state championships. "It's amazing to come here, on such a big stage, and bowl so good. It means so much to me."
Gehret's grown up in bowling.
He and Sam Bensman, the other senior on Versailles' team, have been together developing their craft since seventh grade.
Gehret's gone from a relative unknown in the Tigers' program to shining brightest when it counted most through his hard work, Philpot said.
"Hard work is a lot of mental," Philpot said. "You've gotta stay mentally in it. Especially in a big atmosphere like this. You've gotta stay focused. You've gotta execute the game plan. You've gotta think the whole time. It's mentally draining."
He's also grown as a leader of the team.
Philpot called Gehret a vocal leader, a guy who picks up his teammates when they get down at critical moments. Even Saturday, when junior Landon Henry limped through his second game, Gehret was the first person to tell him, "It's fine, we're alright. We got you."
"As a team player, a leader, this year he's grown especially," Christy Gehret said. "I've seen him really be a leader, really boost the team up, which makes me proud. And he grew a lot in height as well."
Gehret doesn't always provide the voice you want to hear, according to Bensman, but it's usually what you need to hear.
"Out on the lanes, you'll get in your head a lot," Bensman said. "He'll come back and tell you, 'Hey you're not doing anything wrong. You're just being a little baby.' Depends on who you are, but that just brings me up and makes me feel a lot better."
Bensman added it's something Gehret's good at outside the bowling alley, too — he's always there to pick you up when you need it.
Gehret's development came to a head from the opening jump of his crown-jewel second game.
Seven straight strikes opened the set, and after converting a one-pin spare in the 8th frame, he found the pocket a couple more times to dust off the tournament's No. 2 game overall.
Consistency was still required to convert that one performance into an individual state title, and consistency is something Gehret held with a 204 in his first game and a 213 in his third.
"I told the other moms I thought I was gonna be sick," Christy Gehret said. "To have him go out with a bang like that was just everything a mom could hope for. You get nervous with your kid, and you want him to do well."
After an open 5th frame in that final round, he closed with five consecutive strikes — unaware that if he'd missed any of the first four he'd have fallen short of the state title, which he won by eight pins.
He also broke the Versailles school record of 664 pins at the state championship, set by fellow title-winner Michael Davidson in 2013.
"You've just gotta stay focused," Gehret said. "I stayed focused the whole time. I tried my best not to worry about anything going on, any other teams around me. Just stay focused on the games I had and it worked for me."
The teammates Gehret led all season were talking him up with relentless excitement as the results were being read. Being on the floor with him, they were the first to congratulate his ultimate achievement.
"They were just like, 'Holy cow, you did it,'" Gehret said. "They were just as shocked as I was. We were just amazed that I was able to get first."
Gehret also bowled anchor in Versailles' three Baker sets during qualifying, and combined with his standard game performance, he easily made the largest contribution to the team's lockdown of the No. 1 seed for championship play.
Not bad for an athlete that slipped off the Varsity squad earlier this season.
"He was on JV a little bit this year because he was struggling," Philpot said. "To bowl anchor in the last three baker games, he hasn't bowled anchor all year. Usually it's Landon or Jay [Mumaw]. Out of the three baker games, I think he had six or seven strikes. So that's just a phenomenal job by him."
Versailles' day as a team didn't come to such a poetic end.
Gehret bowled lead-off in best-of-five Baker sets come championship play, and after the Tigers bested Woodridge in the quarterfinals, they fell to Mechanicsburg 3-1 in the semis.
But to paraphrase the words of the OHSAA bowling state tournament's public address announcer, by winning Saturday's tournament, Gehret will always be a champion.