Behind the consistent, cool presence of Alison Fox and Jasmine Schulze, Coldwater picked up its fifth state championship in girls' bowling Friday.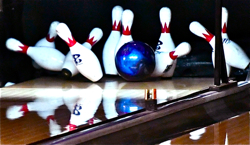 COLUMBUS – Since the OHSAA began hosting state bowling tournaments in 2007, no team in Division II has won more than two championships on either the boys or girls side.
Except Coldwater. Coldwater's won the big one four times on the boys side, and after heartbreaking runner-up finishes in 2018 and 2020, the Coldwater girls' bowling team captured its fifth title to cap the 2021 season in Columbus, Ohio Friday.
"We didn't want to finish second," Coldwater head coach Rick Hartings said. "These girls have two seconds in the last three years, and the qualifying was good — but we knew it wasn't gonna be easy. Just wanted to do it like we did it all day, just maintain and throw good, quality shots and not have very many opens. And that's what they did."
On the Shelby County League side of things, Fort Loramie finished a respectable 10th in the state after a 2,813-pin qualifying round.
There's one thing that Hartings has structured his program to breed: consistency. Consistency is modeled by Coldwater in many ways.
It's modeled by the Cavaliers' No. 1 finish in the qualifying round, in which they knocked down a total of 3,470 pins. No single bowler finished 10 frames below 168 pins.
For reference, out of the 15 standard games a team bowls in qualifying, Fort Loramie, the SCL's lone representative in the state championships, totalled four games at or above that mark.
It's modeled too by the squad's individual performances. Three players earned All-Ohio honors. Senior Ryleigh Brown knocked down 584 pins across her three sets to finish as the No. 11 bowler in the state. Sophomore Jasmine Schulze collected 595 pins to earn second-team All-State, No. 10 overall.
Then there was the true model of consistency: Senior Alison Fox. Her 665-pin total placed her as the state runner-up individually, 48 pins ahead of No. 3.
"This is the best I've bowled all year," Fox said after qualifying. "I don't know if I like these lanes, if there's more oil on them maybe."
Fox buried six strikes in-a-row on two separate occasions during qualifying.
When she wasn't picking up strikes, Fox turned nine-pin throws into spares — 14 of them in fact.
"She's very consistent, not real flashy," Hartings said. "To her eyes, in the regular season, she probably had a little bit of a disappointing season, but still averaged mid-170s, almost 180. But she likes this bigger atmosphere." 
Coldwater's consistency crashed through in the best-of-five, eight-team, baker-set championship tournament after qualifying.
In three matches the Cavaliers lost just one set, the only game in which they bowled below a 161.
Fox and Schulze proved most critical in those stretches.
Coldwater swept through the quarterfinals but fell in the first set of semifinal action against Hubbard.
Schulze responded by going on a five-strike tear, and teamed up with Fox and Brown for a game three turkey that gave separation to Coldwater in the set. It polished said set off with a 214-159 victory to go ahead 2-1.
"Jasmine Schulze was like, lights out when we needed strikes," Hartings said.
Coldwater posted a rare trio of open frames in set four, and needed Fox to open her final frame with a strike to keep pace with Hubbard.
She did so, then left the seven pin standing with her second ball.
Meanwhile Hubbard's anchor rounded her team out with a 164, and a quick glance at the scoreboard let Fox know her spare pickup could secure the finals.
She hit the pin dead center. Coldwater advanced 165-164, 3-1 in the match.
"Some of it's just her stepping up, being a senior," Brad Fox, Alison Fox's father, said. "Being the leader. She's kind of taken on that role."
Second-seeded Napoleon, who beat Coldwater head-to-head earlier in the season, was knocked out in the quarterfinals by seventh-seeded Ben Logan. Instead the Cavaliers drew sixth-seeded Greenon in the finals.
Greenon followed up a turkey with two open frames in the first set, leaving the door open for Coldwater to surge back. Both teams were even at 171 entering the final frame.
Fox and the opposing anchor threw nines on their first bowl. Greenon's bowler missed the pickup, and so did Fox, triggering a 9th and 10th frame roll off where the coaches each pick one bowler to face each other.
In spite of the open frame, Hartings went back to Fox. 
A fan whirring above the crowd produced the only audible noise in the alley. Parents folded their hands and fidgeted.
Fox closed both her frames. Her opponent did not. Coldwater led the championship match 1-0.
"She's got the most experience," Hartings said. "She missed that 10-pin, kind of got a little emotional, and I'm like, 'Hey, timeout, we didn't lose, we tied. So now you've gotta go back in and throw a good shot.'"
The Cavaliers cruised through set two with a 188-146 victory.
In what proved to be the tournament's final set, Greenon left frames one, three and eight open.
Coldwater's consistent Cavaliers closed every frame. 
Coldwater pushed ahead after senior Gracie Obringer, subbed in during championship play for junior Lily Schoenherr, and Schulze doubled up.
"Lily bowled good all day, but in match play she just got a little bit to where she was getting the ball too far to the right," Hartings said. "We tried to make some main changes, and it just wasn't going right.
"[Obringer's a] good spare shooter, and we just told her, 'Keep the ball close.' Her ball arcs. And we thought she could get away with a few more strikes. And she was clutch too down the stretch, and stayed clean."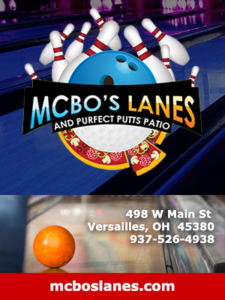 Another strike in the ninth from Schulze ended any hope Greenon had of a comeback.
"It was an indescribable feeling," Schulze said. "I knew as soon as it came off my hand it was gonna be in the pocket, and it was a strike. I knew my team was gonna be proud. I knew my family was gonna be proud."
Poetically, Fox closed her high school bowling career with a strike, but didn't see the pins fall because she had collapsed to the ground with her teammates in tears of joy. Like her sister Madison in 2017, she'd brought another state championship back to Coldwater.
"I really wanted one," Fox said. "I've been here three times and I got second place the other two. So I really wanted a first."
Another player whose contributions should not go unnoted is sophomore Julie Bertke. She provided a strong lead-off weapon to Coldwater's arsenal, opening several baker sets with a strike.
While Coldwater stands at the peak of Ohio bowling, Fort Loramie is a team just beginning to climb the mountain.
The Redskins competed at the state level for the first time in their school's history for either boys or girls Friday, and it showed.
In the first qualifying round game, Fort Loramie left five of its first 10 frames as a team open, and followed those jitters up with a 6-of-10 open start to the second and an 8-of-15 start to the third.
The team trailed a qualifying position for championship rounds by 91 pins after said struggles, and despite a much improved stretch of baker games, missed advancement by 69 pins. It finished its first OHSAA championship No. 10 in the state.
"They kind of feed off each other," Fort Loramie head coach Doug Thomas said. "Strikes breed strikes. The more marks you get, the more everybody else picks up their game. You get a couple people that have a bad shot, it gets a little bit down."
The good news for Fort Loramie? All but one starter from this team can return next season.
Talented freshman Gianna Bulcher could be a staple of the program for years to come, bowling above 160 in all three of her games Friday. She led the team in pins during both the district and state championships.
Sophomore Sarah Thomas battled through an injury that swelled her throwing-hand thumb to twice its normal size, and had she been at her usual level Loramie could have inched closer to championship round qualification.
After sitting the third game in favor of freshman and alternate Ashlee Hess, Thomas closed five of her six frames in Baker sets.
"I think they're gonna be hungry to come back next year," Thomas said. "I've already got a lot of girls asking me about summer leagues and tournaments that they can bowl in."
Coldwater wasn't the only MAC school represented at the championships Friday, as Fort Recovery sent junior Abigail Lauber as an individual qualifier. Lauber's chances at All-State were squandered by five open frames in her second game, but she finished strong with three doubles in her final game, in which she bowled a 189. Her total for the tournament was 519.
Back on the Cavaliers, Hartings credits the long-term success of his program to the development of players and coaches beneath the high school level.
Coldwater could teach seminars to small businesses on how to build infrastructure.
"You start 'em young," Hartings said. "We have a really good youth program. We have really good coaches and parent support. But our kids bowl in the offseason, that's a big thing. We might take April off, miss some tournaments here or there, take a week off, take a month off. But May 1st we have a summer pass and our kids come back in. They're hungry."
The next step for the Cavaliers' bowling dynasty? Following up the girls' title with a crown for the boys Saturday, Hartings said. After bowling Division II's highest score in districts and watching their female counterparts win it all, they'll be the odds-on favorite to do the same.