It was no contest as Anna easily wiped past Northridge, and Arcanum coasted over Indian Lake to set up the anticipated rematch of last year's Division III sectional final.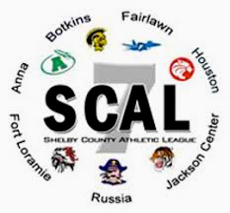 Covington, OH – They say that Arcanum has had the score of last year's final game written on the chalkboard since the first day of practice.  Anna 42, Arcanum 40.
"It was a hard-fought game,"  said Anna coach Jeff Maurer following his team's 50-11 sectional win over Northridge at Covington Wednesday night.
"If I was in their shoes I'd feel the same way.  I'm sure they want to get us back."
They're going to get that chance, as Abby Moore's Arcanum Trojans set a school record for wins in a season in the Wednesday nightcap, blowing past Indian Lake 61-27, highlighted by a 24-point performance by junior Hailey Unger.
And while 20 wins is an enviable milestone, it by no means is enough, according to Moore.
"These girls are so motivated,"  she said following #20.  "They're not ready for this special season to end."
Simple as that!
And as it turned out…simple for both Anna and Arcanum.
Anna made short work of Northridge, owner of just two wins entering Wednesday's game, and no match for Anna's skills and athleticism.  The Rockets raced out to a 19-2 first quarter lead on the strength of Ella Doseck's seven quick points, and by halftime the Polar Bears were warming the bus for the trip back to north Dayton.
Doseck finished with 15 points for the game, complemented by teammate Mary Landis's 10, as the Rockets visibly played down to the level of competition in the second half while subbing freely to ensure that the starters were healthy when they boarded their own bus.
Maurer, who garnered Press Pros area girls Coach of The Year honors last year, smiled at the mention of motivation in Arcanum for the rematch.
"That's why we play," he said.  "And believe me, they've got a great team. They have such great balance, two really fine guards, and Taylor Gray is an impact player in the post for them.  We'll have to bring our 'A' game next week (Monday)."
The night's second game started out almost identically.
Arcanum's Hailey Unger and Madelyn Fearon came out firing threes while the defense turned Indian Lake 14 times in the first half.  Arcanum ran out to a 25-4 lead at the end of the first period, and for all intent it was game, set, and match.  Indian Lake would continue to scrap in the second half, fighting the running clock of the National Federation's new 'mercy' rule in tournament play…but never got the deficit beneath 30 points despite Arcanum, like Anna, subbing freely to keep fresh bodies on the floor…and the starters healthy.
It again raised the question posed in our Monday column of this week…if games involving teams with less than a requisite number of wins need to be played?
"I think it's an honor for these girls to have the opportunity,"  said Arcanum's Moore.  "They go out and work hard everyday, and you do want to see them get all they can get.  Still, I think my girls get the message that it's about more than just basketball, and that you want to respect every opponent."
Which is fine if you're on the long end of 61-27, and Hailey Unger again made sure that Arcanum was.  The junior hit three three-pointers on her way to a game-high 24 points, and had 11 by the end of the first quarter.
Fearon, who's just as capable as a scorer, finished with 11 points, including three three-pointers of her own.
Taylor Gray, who didn't score in double figures, made her presence felt with four thunderous blocks at the rim on defense, justifying Jeff Maurer's claim about Arcanum's balance.
"We're excited now to play them (Anna),"  added Moore.  "We've been using that final game from last year as our motivation all year – for every game, not just to get to Anna and play them again.  It's not about revenge, it's about the motivation to be as good as we could be throughout the season – to give our best every night."
It's going to happen, next Monday at Versailles High School.
"We want to earn the respect that comes with winning 20 games,"  said Moore.  "These girls have worked hard and I think they've earned that respect.  We are a pretty good basketball team and they've been disrespected this year.  But this is going to be a great opportunity to earn some of that respect.
"I have so much respect for Coach Siegel at Fort Loramie, and the years that I coached in D-IV I spent a lot of time learning from her.  Play tough defense, create turnovers, and score off those turnovers.  I want to be like those Loramie teams – aggressive, up-tempo, defensive-minded basketball.  I mean, who doesn't?  That's the culture we want to build at Arcanum."
Which either suits Jeff Maurer and Anna just fine, or makes them squirm a bit.  The Rockets, like the rest of the Shelby County League, are very familiar with Loramie-style basketball, and lost twice to Siegel's Redskins this year.
The rematch is set, and both coaches agree.  It ought to be a heckuva' game!