The Botkins Trojans took the Russia Raiders' best shot Friday night. And despite being a little stunned in the first half, the Trojans rallied in the second to secure their first SCAL title since the 1992-93 season.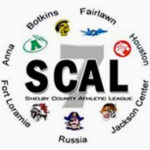 Russia, OH – Twenty-six basketball seasons have come and gone since the Botkins Trojans last won a Shelby County Athletic League title. The final 14 seconds of that wait? They might have been the most agonizing of all.
Botkins held a two-point lead over the Russia Raiders, who whole-heartedly embraced their spoiler role Friday night with a gritty and physical effort. The Raiders held the ball the final 1:21, aided by a pair of time outs. The final shot was theirs. And they nearly got two of them.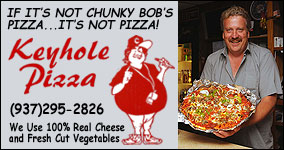 Coming out of a timeout with 14 seconds left, Russia worked the ball directly under the basket with about seven seconds left. Botkins' defense collapsed inside, forcing a tough shot that bounced off the bottom of the backboard. Russia won the scramble for the loose ball, kicked it out to the three-point line for a wide-open three.
The shot fell short of the rim. And even if it had gone in to beat Botkins it wouldn't have mattered. The shot didn't beat the buzzer.
For the first time since the 1992-93 season the Trojans finished atop the SCAL standings with a 37-35 victory over Russia. Botkins (18-3 overall) shared the league title with Anna (17-5), both with identical 10-2 league records. Anna secured its share of the title with a 41-39 win against Jackson Center.
"I wasn't even alive then," sophomore Carter Pleiman said of the last time Botkins celebrated a championship. "It's just a cool feeling. Emotions haven't really caught up to me yet."
Botkins coach Sean Powell knew the feeling. The third-year coach likely felt numb standing outside the bus during an interview. And the bitter 21-degree temperature had little to do with it.
"Because of Russia's effort tonight it hasn't kicked in yet," Powell said about 15 minutes after securing the win. "The scare was a little too much that it hasn't kicked in. Tonight when I get with my family and be able to sit down and have a drink, I think it'll kick in."
Anna and Botkins entered Friday night tied for the SCAL lead. A win guaranteed at least a share of the title. Jackson Center (14-7) was one game back. A Jackson Center win and Botkins' loss would have forced a three-way tie for the title.
Of the two, Botkins appeared to have the easier path against a Russia team the Trojans beat 61-39 on Dec. 29. What's that saying about appearances … about how they can be deceiving?
"Russia really punched us in the face in the first half," Botkins junior Jacob Pleiman said. "Russia came ready to play. They always do. This is a tough place to play. It just feels good to come out of here with one."
Russia took a 6-5 lead on freshman Hayden Quinter's drive down the lane with 4:02 left in the first quarter. It ballooned to eight, 19-11, in the second quarter. The Raiders – riding a solid defensive effort that pushed the Trojans' offense past the three-point line – was able to hold off the Trojans until 1:09 remained in the third.
Jacob Pleiman scored four straight points on a drive down the lane and on two free throws for the 25-25 tie. Still, Quinter answered with a 3-pointer to regain the lead.
Four straight free throws from Botkins senior Jayden Priddy and Jacob Pleiman pushed the Trojans back in front, 29-21. Quinter hit two of his own to put Russia back in front with 5:45 to play.
The Pleiman's both scored, the second basket with 5:10 left, pushing Botkins to a 33-30 advantage. Russia junior Jordan Meyer pulled the Raiders within one, but Priddy restored the lead to three with two more free throws with 4:31 remaining.
Russia freshman Brayden Monnin drilled a 3-pointer to tie the game with 3:23 to play. Both teams missed shots until 1:21 showed on the clock. Botkins senior Zane Paul grabbed an offensive rebound for the putback and free throw, which he missed, giving Botkins the 37-35 lead for good.
"Me and my friends … it was always our dream to win a Shelby County title," Jacob Pleiman said. "Growing up we were never competitive like that. It was a big dream to be that group that will always be remembered as who did it. Me and my guys, we got it done tonight."
Both Jacob and Carter Pleiman finished with 12 points. Priddy had eight and Paul five.
"I'm just and underclassman here trying to do my job. I'm just trying to follow everyone's lead," Carter Pleiman said. "Our group of seniors have been playing for a while. We have a lot of varsity letterwinners. They knew what they were doing down the stretch. That helped."
So did Powell's … umm … intense halftime speech.
"Keep playing," Powell said, diplomatically. "I felt like Russia came out and punched us in the mouth. I felt like they were the aggressor. I had to remind our boys who we were. They put in all the work to get to this point and we had 16 minutes to get a championship."
"At halftime we got a little chewing out," Carter Pleiman said. "We got ourselves back into it. Russia did some things we weren't used to. It really got them in a groove. Good thing we came back."
Quinter led Russia with 15 points. Sophomore Zane Shappie added six, Monnin had five, Meyer four, sophomore Ben Bohman four and senior Jonathan Bell two.
"I like the direction we're heading," Russia coach Dave Borchers said. "I'm proud of the way the guys played tonight as an underdog against the No. 1 seed in the tournament. Man, we just missed on an opportunity tonight. I love the heart."
Russia (9-12 overall, 3-9 SCAL) entered Friday with two straight wins and played Anna to a 56-48 loss before that. Friday night's battle to the end had Borchers optimistic heading into the Division IV sectional tournament.
"I think our fight within ourselves has improved," Borchers said. "We're not sitting back and expecting anybody to beat us. I'm not saying that we were earlier in the season. We just talked about how far we've come since the first game of the season, when we got it handed to us pretty good. How much heart plays a part of that. Playing hard each position. Sprinting back on defense every time. … Our attention to detail is better. I think the game has maybe slowed down for these guys a little bit. We're not having to think as much and we're now reacting better.
"Credit to Botkins, they got in our face and disrupted our plays (on the final possession). They did an excellent job on defense. We still got a look, and a miss and a rebound. I can't fault our execution. …. We just didn't get the (first) shot to go and didn't have enough time after the rebound."
Botkins, ranked No. 8 in the D-IV state poll, has won four straight games following a 67-63 double-overtime loss to top-ranked Antwerp. In addition to that loss, Botkins' other two setbacks came by three points to Anna and nine to Fort Loramie.
On Friday night, they shook off a pesky Raiders team determined to throw a wrench into SCAL standings.
"It was a little bit nerve wracking," Jacob Pleiman said. "Our guys, we put in a lot of work over the summer. You sink to the level of your training. Our training was enough today."
Botkins has six seniors on the team with Denton Homan, Parker Geis, Tyler Free, Garrett Greve, Paul and Priddy. Their goal when Powell took over the program was to win a league title. That was a lofty goal considering no Trojans' team had done it since the 1992-93 season. So, what was special about this group?
"They're unity," Powell said. "These kids are together. I have six seniors who have been together ever since grade school. They got it done.
"Maximize your effort every day and hopefully we'd get to the top of the conference and be able to compete against the top schools like a Russia. The plan was day by day."
Day-by-day for three years … and 14 seconds.