Coldwater girls honed their state title hopes with a win in the MAC tourney, and Saturday's boys competition was marked by a lot of strikes and a lot of big scores.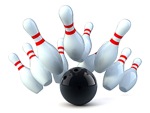 Coldwater, OH – The inaugural MAC Conference bowling tournament debuted Friday night with some predictable results.
That being, the favored Coldwater girls splashed the rest of the league with a convincing performance, finishing first, ahead of Versailles (2nd place), Fort Recovery (3rd place), and Marion Local (4th place).  Minster, New Bremen and Parkway, in that order, concluded the standings, one through seven.
"The plan is to get back to the state tournament, and win it this year,"  said Coldwater's Jasmine Schulze last week.  "It would be cool if we could sweep both boys and girls – make it an even ten."
Her reference is to Coldwater owning four state titles for both boys and girls, the boys winning the Div. II crown as recently as last year at the Wayne Webb Bowling Center, in Columbus.
The girls, seeking their fifth overall title last February, garnered the runner-up trophy.  Needless, to say, the motivation is high to return and win the BIG trophy this year.
Saturday morning marked the boys competition at Pla-Mor Lanes, and as expected the Coldwater boys, the #1 seed, swept through their opening match with Parkway to meet St. Henry, the #4 seed, in the tourney's second round…while Versailles and New Bremen squared off in the other semi-final match to determine the finals pair.
Big numbers and a lot of strikes marked the preliminary round.  Coldwater's Keaton Bruns, who's perfected the popular two-hand style feature by the top players on the PBA tour,  grabbed high-game honors with a 258 and a 484 for individual scores.  Bruns, by the way, owns two 300 games already in his short competitive career.
Teammates Hayden Beougher was right behind him with a 454…while Brandon Hammons had a 439.
Other high scores:  St. Henry's Ben Rindler had a 225, Minster's Austin Moeller had a 225, Versailles' Sam Bensman had a 239 and two-game total of 459, Landon Henry had a 235, New Bremen's Nick Alig had a 244 and totaled 425.
Final tournament results were not available at the time of this posting, but will be later today on the www.wohsbc.com site, and the official MAC site,  www.midwestathleticconference.com.
The OHSAA state bowling tournament is scheduled for February 26 and 27 for Division II boys and girls…and March 5 and 7 for the Division I boys and girls championship.