A year of Covid near-inactivity has a physically transformed Zach Dezenzo itching to play, and the Buckeyes' shortstop is determined to improve, and committed to compete and prove himself.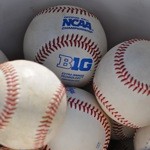 Columbus – Nobody was more frustrated at the end of the 2020 season, such as it was, than Ohio State sophomore shortstop Zach Dezenzo.
The prospect of having your season end after just 14 games was bad enough.  19-year-olds that are 6'4″ and weigh 220 pounds, with Dezenzo's talent, want to play…as many games as possible.
But his and the Buckeyes' season was shut down after just 14 games and 6 wins, and on a personal note…he had started slowly – hadn't played well.
Coming off a freshman campaign where he had started nearly every day, hit .250 with 10 homers and 37 rbis, he had expected more.  But eager to take the next step, the Alliance, Ohio native hit just .189 in those fourteen games, with NO home runs, and just seven runs batted in.
And worse, just as he WAS beginning to see the ball better, make hard contact, and feel good about his play…it all came to an end.
There was no summer baseball, as many leagues like the Prospect, Great Lakes, and Northwoods shut down, too, leaving Dezenzo and others like him to sit and wonder – when, and what next?
Fall baseball on campus was different, abbreviated, and with no Scarlet and Gray series as a send-off to winter training and the start of the 2021 season in February, as per norm.  In short, there was absolutely nothing normal about 2020, leaving him and others to take time for personal commitment, and hope for the best.
He made the most of it, as was evident in January when the Buckeyes convened at Bill Davis Stadium for winter workouts.  Bigger, stronger, and more mature-looking, Zach Dezenzo looked the prototype of a Big Ten linebacker or free safety, not one of the conference's best shortstop and third base prospects.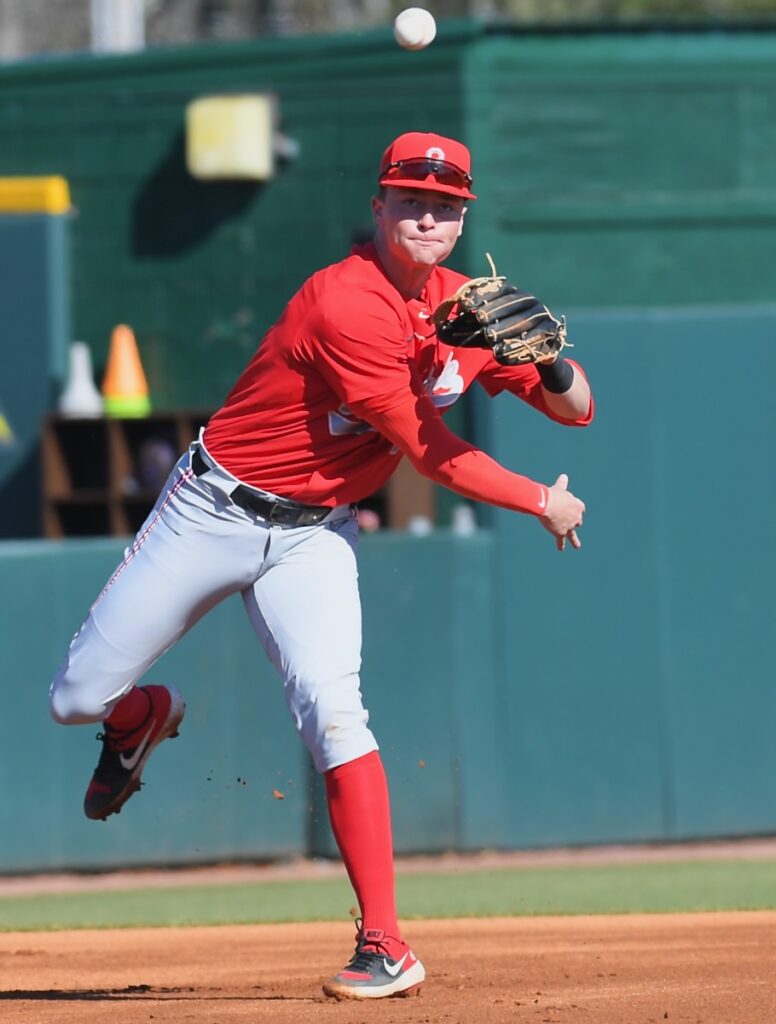 Blessed with a powerful throwing arm, defensively, his bat looked quicker, sounded louder, as he hammered pitch after pitch off a machine throwing 90 miles per hour.  Every pitch was met with intent, as if to make up for lost time.  And when they moved across the parking lot last week to begin team workouts at the Woody Hayes football facility, Zach Dezenzo was at the head of the line.  No one was more ready.
"He's done an unbelievable job of getting his body ready during the layoff,"  says Buckeye assistant, and hitting coach, Matt Angle.  "He put on good weight, kept his speed up, got stronger, and just improved his overall body composition.  He's 100%, able to rotate faster, wait longer, and be more controlled.  We're excited to see what he can do with it."
"It feels good to be back and doing baseball,"  he admits.  "To be back in some kind of baseball routine.  No one really knows what's next, but you work and hope that things work out.  We're waiting to hear."
In the interim…here's the news.
Big Ten baseball will start for the Buckeyes on the weekend of March 5 – 44 games, all conference games, and location for those first two weeks of play to be determined.  Early March weather in Columbus is not conducive to baseball, so the word will come down this next week as to who they play, and where, if they have to move south.
"We're told we'll find out something on Monday, the 8th,"  says head coach Greg Beals.
It won't matter who, or where, to his shortstop.
"Absolutely,"  Dezenzo says.  "To have the season taken away last spring was heart-breaking.  I can only speak for myself, but I think everything feels the same. I'm ready to play some baseball.  Just the waiting for this…there have been some elements of discouragement.  But I never stopped working.  I take it day by day, attack the work process the best I can, and prepare myself and this team for a great season.  That's the mindset."
Missing, of course, are those first four weeks of southern baseball – those 14 games – against non-conference competition to hone the arms and bats for Big Ten play.  There'll be none of that with the refined 2021 schedule.  Play will start on March 5th with a conference opponent to be determined in a matter of days.  Dezenzo and the Buckeyes know there'll be no time for acclimation.  They have to come out hot, and win!
"Every game is going to have a lot of weight,"  he says.  "Every one of them matters.  Those fourteen games?  I don't know that anyone's going to regret it, because we are going to get to play baseball.  Personally, I want as many games as I can possibly get, but this year is going to be different."
His motivation is off the chart.  This is his draft-eligible year, and with his frame, versatility, bat and throwing arm, Zach Dezenzo is playing to not only win…but to make the best impression possible on major league scouts.
"It's a big year for me, absolutely.  But the pandemic hasn't changed my approach one bit.  My mindset is the same.  I have a goal for us to play for each other and be the best we can be, because we do have talent.  The goal is to get hot quickly, roll through the season, and play for the team – be the best that we can be."
The photos don't lie.  This is a bigger, stronger, and more committed Zach Dezenzo, with all the talent necessary to take him to the next level.
"I wouldn't expect him to be here next year," Beals said recently.
All the more reason to be ready, to show, to prove…to play baseball!