Led by the effort of seniors Ben Knostman, Zach Frederick, Nick Robbins and Gabe Dean, the Tippecanoe High School boys basketball team claimed its first league title since 2010. People are noticing, too. The Red Devils have climbed as high as No. 3 in the Division II state poll, too.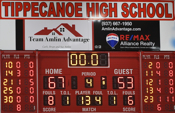 Tipp City, OH – Three seasons ago the Tippecanoe Red Devils boys' basketball team was struggling through a 7-16 season that included losses in seven of its final nine games. In the words of current senior Ben Knostman: "We weren't that great of a team."
Two seasons later the Red Devils have taken a pitchfork to what ailed them. It was worth the wait.
And the weight.
Led by seniors Zach Frederick and Knostman, the Red Devils started adding muscle during the off-season by working out at MPower Gym in Vandalia.
As a result, Tipp clinched the Miami Valley League title – its first boys basketball league title since 2010 – with a 67-53 victory against Sidney on Friday. Tipp (15-0) is also ranked No. 3 in Division II of the Associated Press state poll – trailing only No. 1 Akron St. Vincent-St. Mary and No. 2 Lima Shawnee – and received three first-place votes this week.
Adam Toohey took over the Tipp program prior to the 2017-18 season. He asked his players to embrace the "brotherhood mentality of what are you going do to for someone else?"
"How are you going to serve someone?" Toohey asked his team. "We tell them don't be the best on the team, be the best for the team. They've bought into that."
Stat-wise, perhaps no one more than Knostman. The Winthrop University commit has seven triple-doubles (points-rebounds-assists) and five double-doubles (points and rebounds/assists) through 15 games. He had five double-doubles and two triple-doubles in 20 games last season.
In a 68-53 win against Piqua on Jan. 15, Knostman missed a quadruple-double by two blocks. He finished with 23 points, 14 rebounds, 14 assists and eight blocks.
He's a pass-first player with a knack for swooping to the basket for rebounds. The reach with his 6-4 frame doesn't hurt, either. One of his favorite passing targets is Frederick, a 6-5 shooter who can get physical inside or go finesse outside with a team-leading 32 three-pointers on 80 attempts (40 percent). Frederick has four double-doubles with points and rebounds He's missed five more by three rebounds or less.
Nick Robbins, the smallest of the four seniors at 5-10, does a little bit of everything on the court with 5.2 points, 2.7 rebounds and 2.6 assists. The versatile playmaker, Toohey said, is destined to be a coach someday.
"Nick Robbins is the best secondary-playmaker on our team and probably one of the best in Ohio," Knostman said. "He catches the ball on the wing … and makes something happen almost every time."
"Off the court, I think he's a glue for our team's personality," Frederick said. "He's not only a glue player on the court but I think off the court he's really good at bringing everybody together and staying positive."
Then there's Gabe Dean. The 6-3 forward plays a key role in support with defense and 4.3 points and 2.1 rebounds per game.
"I think he's probably the most improved player on our team," Knostman said. "He's the best dunker, but we haven't seen it yet. He's turned into a really solid player all the way around."
One of Dean's biggest contributions comes at practice … he's in charge of picking the music. And just like opposing defenses have found out trying to stop the Red Devils – will it be Knostman down the lane, Frederick from outside, Robbins in a gritty drive or Dean inside – you never know what you're going to get.
Dean's playlists have contained everything from bubble gum pop music to former battle rappers.
"It goes all the way from Call Me Maybe to (rapper) Meek Mill," said Toohey, a classic rock and 80s/90s kind of guy. "We go over to LT Ball (to practice) and he's got an LT Ball playlist and it's all this goofy stuff like 'What Does the Fox Say'? … Him and I are always fighting who the DJ is. But his stuff is getting better."
Just like the Red Devils these past few seasons. They're in harmony on the court with classical ball movement and hard rock defense. Tipp is outscoring its opponents by an average of 72.3- 50.0.
"The chemistry," Knostman said of his favorite thing about the Red Devils. "We move the ball amazingly. Everybody scores. Everybody plays defense. Everybody does everything. It's not just one person. We all play together.
"We didn't have these goals, for sure. … Coming back (from our sophomore year) we never expected this. It's cool. We knew we had the ability, we just never expected it to be this good."
Last season Tipp finished 14-9 overall and 13-5 to win the MVL's Miami Division. Sidney (19-5 and 15-3 MVL) won the overall MVL title. Tipp's shot of confidence with that division title carried into the summer of 2020, despite not being able practice because of the COVID-19 pandemic. Still, the players organized their own workouts and got together as often as possible.
Then there were the sessions at MPower Gym.
Knostman started going to MPower during the spring of 2020. Trainer Sammy Faulkner helped Knostman put on about 10 pounds of muscle mass. The biggest gains came with his vertical jump, his speed and injury prevention. Knostman said he struggled with nagging injuries with weak ankles and hips throughout his career. This year has been different.
Knostman said he couldn't dunk a basketball prior to working with Faulkner. Now he's doing it in practice.
He's flirting with averaging a triple-double with 15.5 points, 10.3 rebounds and 10.0 assists.
"I try not to pay attention to it," Knostman said. "People outside of basketball like to look at that, but people inside basketball it's all about wins and losses. We don't really care about the stats."
Frederick started working out at MPower in February of 2020. He's packed on about 20 pounds of muscle in the roughly eight months he's worked with Faulkner. He put that power on display in a 76-65 win over West Carrollton with 31 points and 19 rebounds on Jan. 16.
"I think what's helped us most is how much we've grown off the court in the weight room," said Frederick, who averages 15.6 points and 8.3 rebounds. "Me coming in as a freshman, I was 6-foot and maybe 130 pounds. … I always dreamed of having this kind of season and that's what I was working for in the off-seasons, but definitely never thought it would become this big."
In addition, junior Cole Coppock averages 11.5 points and junior Gavin Garlitz 10.4. Junior Griffin Caldwell and sophomore Stanley Clyne add depth off the bench.
"I think our bench has done a good job trying to bring energy," Frederick said of playing in front of mostly empty gyms this season. "Your teammates are pretty much the only people in the gym besides your parents. I think the bench has done a great job bringing us energy on the court."
Prior to applying for the Red Devils' coaching job Toohey, who then worked and coached in the Mason School District near Cincinnati, said had never heard of Tippecanoe. But he and his wife, Anne, were looking to work at a smaller school. He researched Tipp's program and liked what he found. Tipp also had a math intervention specialist job open, which is what Toohey does. His wife is a school counselor. Tipp had an opening for that, too.
"I was like, 'I think God's pointing us in this direction,'" Toohey said.
Toohey wasn't the only one getting a nudge. Knostman's family lived in Texas until they moved to Ohio for his 8th grade year. Knostman's dad is originally from Troy. After about 20 years in Texas they moved back to the area for a Chick-fil-A franchise opportunity. Frederick, a former Kettering resident, lived in Arizona until his family moved back to the Miami Valley the summer before his freshman year.
"I'm not one for fate. I believe God has a plan," Toohey said. "It's funny they're here at the same time from far-away places."
As for Knostman, there's one thing he won't miss. Though he's willing to help out the family business, he's often up at 4:30 a.m. … even during school days … to work at Chick-fil-A at 5 a.m.
"It's not really a choice," Knostman said, smiling. "It's more my dad tells me to do it. It's definitely helped a lot with my work ethic and knowing I can get this done."
After work he shoots around in Tipp's Pat Wampler Gymnasium at 7 a.m. before school. After school it's more gym time before practice.
"I don't know how he does it," Frederick said.
Frederick and his teammates are glad Knostman does. Sometimes, at the urging of his Red Devils' teammates, Knostman brings in Chick-fil-A chicken biscuit sandwiches.
"Every once in a while we convince him to bring a little bit in. It helps the team, for sure," Frederick said, smiling.
Tipp's four seniors will go their separate ways after the school year. The Red Devils' coaching staff isn't looking forward to that day, either. They say they'll face what they call PTSD … Post Tipp Senior Disorder.
"Sometimes you get a year where everybody here wants to be here and wants to play," Toohey said of the players embracing their roles. "A lot of people say what's the secret? They're just good people. They're raised by good families. Character counts."