What one might suspect…the Nixon advantage spelled the difference for Minster, but not the one you expected.  Younger brother Johnny goes for 24 in the Wildcats commanding win over St. Henry.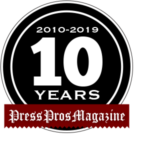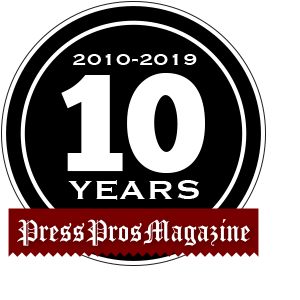 Minster, OH – As it happened…Minster-St. Henry turned out to be the classic reason why you actually play the game;  because speculation over the outcome is sometimes as useless as horns on a hoot owl.
Friday's showdown for undisputed first place in MAC boys basketball was anything but what you would have expected…from two unbeatens (in league play) and a St. Henry team prepared to shut down Minster's monarch in the middle, Justin Nixon.
But surprise – the other Nixon, younger brother Johnny, turned out to be the force that ultimately ruined any Redskins' idea of stealing one on the road.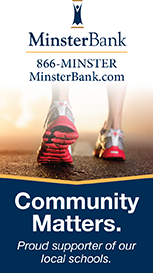 Older brother Justin got his points, alright – 15 of them.  But junior Johnny exploded for 10 in the first half, 14 in the second, to power Minster (13-4, 7-0 in MAC) to a 56-41 win.
"This feels amazing,"  said Nixon, grinning ear-to-ear in a loud Minster locker room afterwards.  "Justin had a big first half, I got the ball in the second half and it just worked out.  It was fun to do."
Actually, baby brother wasn't keeping count…because he outscored his older brother in both halves, a major unseen obstacle for St. Henry coach Eric Rosenbeck as he game-planned throughout the week.
And another unforeseen…St. Henry never got into its comfort zone of pressure defense, turnovers, points off those turnovers, and momentum that carried over to confidence on offense.
For the game St. Henry managed to shoot just 40%…while the opposite stat turned up to favor Minster.  Minster shot 57% from the floor, and a whopping percentage around the rim, thanks to the Nixons operating at will from point-blank range for 39 of the Wildcats' 56 points.
Minster came out ready to play, scoring the first five points of the game before Justin Nixon (averaging 15 ppg) ever touched the ball.  Brother Johnny would spring for 6, Bryan Falk for 2, and Eric Schmidt a three-pointer before Justin scored his first bucket at the 4:05 mark of the first quarter.
St. Henry was the exact opposite, struggling to find any rhythm, or someone to step up and make that big shot that allowed them to pressure Minster off the inbounds pass.  It was 13-8 after the first period, but still well within range.

And the Redskins began to find the range in the second quarter, with Bennett Gels, Carter Ontrop, Logan Lefeld, and Casey Bruening combing for 14 points to tie the score at 22-22 with 15 seconds left before the halftime break.
But an uncharacteristic defensive breakdown allowed Justin Nixon to get the rim with the ball, score and pick up a foul, and complete the three-point play to give Minster a 25-22 halftime lead.
"That was disappointing,"  said Rosenbeck later.  "Our coverages weren't as crisp as they should have been, they did a great job of moving the basketball on that play and he converts the 'and one' before the half."
If there is such a thing as momentum on one play…the manner in which Minster came out in the third quarter seemed to dictate that Nixon had given it to them on a silver platter.
Minster got to the rim, almost at will, something that never happens against St. Henry when it's on its game.  Eric Schmidt, Falk, Johnny Nixon (twice), Justin Nixon (twice)…and Brady Hoelscher punctuated their aggression with a dagger three-pointer from the corner.  It was a 17 point quarter, and Minster went into the final eight minutes with a 42-33 lead, their biggest of the game.
St. Henry was game, and had won six of their last seven.  And Jaden Lange personally kept them within reach of Minster with a pair of three-pointers in the third quarter.
But Minster came out with a confidence in the fourth quarter that belied any hopes of a comeback bid…and this with point guard Eric Schmidt sitting on the bench with his fourth foul at the 4:40 mark of the third.  It didn't seem to matter.
Sub Adam Ketner took his place long enough to see the lead build to double digits in the early moments of the fourth.  Johnny Nixon would turn out to be 'Johnny on the spot' – wherever he was the ball turned up with him for one point-blank opportunity after another.  He would score ten points in eight minutes to cap his big night, leading all scorers with 24 points.
With three minutes remaining Rosenbeck saw the writing on the wall and began to sub.
"I thought our defense played much better in the second half,"  said Minster coach Mike McClurg.  "In the first half they ran some sets that we knew were coming, but we weren't quick enough.
"But we cleaned some things up at halftime – our assistant coaches did a great job of making adjustments – and once our defense started playing at a high level our offense began to click.  We pretty much kept in front of them and didn't let them run their stuff – made them take some tough threes.  I think they wanted to take advantage when Eric was out of the game with foul trouble, but we handled it well enough,  got it across half court, and when we get it across half court we usually score because we've got guys who can share it and finish around the rim.
"Johnny Nixon was pretty good just finding space, getting offensive rebounds, and finishing around the rim.  I think he was having a lot of fun playing a little two-man game with his brother down in the post.  That's what it looked like to me."

Johnny Nixon had his 24, Justin Nixon had his 15, while Schmidt had 8, Falk finished with 6, and Brady Hoelscher's three-pointer accounted for his only points.
Bennett Gels had a solid game for St. Henry (14 points), but it wasn't nearly enough, nor did he have enough support.  Logan Lefeld played hard to score 10, Jaden Lange concluded with 7, and Carter Ontrop and Casey Bruening each had 5.
Minster now has sole possession of first place with two league games remaining…and the obvious goal of winning their first outright league title since before the MAC Conference was even constituted.
St. Henry (11-5, 5-1 in MAC) likewise has time to make up ground, but they're no longer in control of their own destiny – they'll need some help.
"There's some hurting people inside our locker room," Eric Rosenbeck said before packing to leave.  "We're built to hold teams to some single-digit quarters and we didn't do that tonight.  But I love this team because I know they're invested as much as I am as a coach.  The hurt that I saw in showed me the passion they have for winning.  They're resilient and I've got to do my job better to give them the best possible chance."
And…not much time for Johnny Nixon, or Minster, to enjoy the moment.  It's February now – almost – and defensive-minded Jackson Center comes in on Saturday night on the heels of a 55-30 win Friday over Russia.  The Tigers' record is now 14-4.