Three weeks from the qualification for the state tournament, MAC women bowlers remind that they intend to be just as competitive as the boys.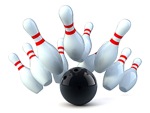 New Bremen, OH – When we did our initial bowling feature for the 2020-'21 season back in December…on the defending state boys champs from Coldwater, we heard about it soon enough.
"What about the Coldwater girls team,"  one wrote.  "You know…they finished runner-up last year.  Please don't forget about them."
We haven't.  But the Saturday schedule of the boys bowling at 9:15 am and the girls bowling at 1:15 pm makes it a little tough.  For the sake of time, you just can't spend the entire day at a bowling alley.
But what goes around does come around, and Saturday afternoon we did, in fact, catch up with the reigning runners-up in Division II bowling…those same Coldwater Cavaliers, bowling against New Bremen at Brian Alig's Speedway Lanes.
Coldwater had a good day, as per usual.  They beat New Bremen and did it largely on the strength of senior Alison Fox and sophomore Jasmine Schulze, two of the principles on this year's team intent not only to get back to this year's state tournament, but win it.
"That's the plan,"  said Schulze, who for her age competes with a lot of cool and confidence.
"We have a good chance to get there, but we have to keep our attitude,"  she added.  "It would be cool if we could sweep (both boys and girls)."
"It would mean a lot to me personally because it's my senior year,"  said Fox, a member of last year's tournament team.  "I don't feel like I'm bowling as well as I did last year because of the down time from Covid, but it comes and goes.  The time off definitely set me back."
For New Bremen Brian Alig pointed out senior Katie Howell, a two-sport athlete in basketball and bowling who says that it's time for bowling to take its rightful place at New Bremen…along with other championship contenders, volleyball and football."
"There's no reason why we shouldn't,"  says Howell.
Her parents used to own a share of Speedway Lanes, so she's grown up around the sport.
"I hadn't bowled since my freshman year, but I was asked if I'd like to come back this year and I'm glad I did.  I think we can get to the state tournament – if we bowl well.  We've had days when we've really bowled well, like at St. Marys.  So if we can do that I think we can get there."
To a man (or girl), nearly everyone you talk to in girls bowling reminds that a title in bowling is just as tough to achieve – and means as much – as a title in basketball or football."
"I don't think it means as much as football at Coldwater,"  says Schulze.  "But probably because people don't realize it's going on (the tournament).  But we've won eight of them now – four for the boys and four for the girls,  and it would be nice if we could sweep it this year and come home with an even ten."
Their coach, Rick Hartings, believes that goal is attainable.
"There's no question that we can get there,"  says Hartings.  "It's just a matter of handling the pressure once you do.  But we've got a good team and we've got a lot of veterans.  I think our girls like that bigger setting, and I even think we can qualify in the top eight."
"I enjoy the pressure – don't mind it,"  smiles Schulze, an honor student at Coldwater whose dream is to have a career as an orthopedic surgeon.
"I don't,"  admits Fox.  "But we have a really good team and if someone is having bad day there are plenty of good bowlers to make up for it."
Sectional qualifying begins in three weeks – the MAC tournament starts in two.
"This is a really good time for high school bowlers,"  says Hartings.  Made better, of course, if you're a favorite to get back to state and win title number five.
It's priority one for Ryleigh Brown, Julie Bertke, Lily Schoenherr, Jasmine Schulze, Courtney May, and Alison Fox.